San Francisco truck crash injures 7 people, officials say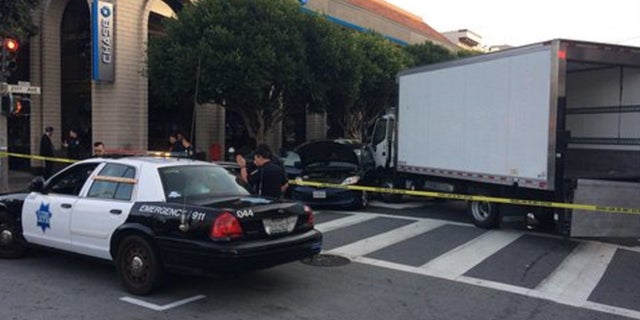 Seven people were injured in San Francisco on Monday after a truck reportedly crashed into another car and two pedestrians, authorities said.
Police said a box truck was driving near Geary Boulevard and 21st Avenue when the driver allegedly attempted to make an illegal turn before crashing, Fox 2 reported.
There was no indication the crash was terror-related, police told The Mercury News. Cops took the driver into custody, KGO added.
The truck slammed into a car with a family of five, as well as two elderly pedestrians, according to San Francisco Fire. Four medical units reportedly were sent to the scene.
The two pedestrians – one suffering life-threatening injuries and the other with serious injuries – were rushed to the trauma center, officials said. The family, whose ages range from preteens to adults, sustained minor injuries and will be released, according to Fox 2.