What happens when a group that claims its intention is to promote peace, love and unity applies for a permit to rally in a national park?
In the case of "Patriot Prayer," the first response, after being granted the permit, is to be labeled a white supremacist hate group by Democratic leader Nancy Pelosi.
Pelosi apparently didn't check with the controversial left-wing organization Southern Poverty Law Center before making the pronouncement.
Not even the SPLC, known for using a broad brush when it brands conservative organizations as hate groups, has come to judge Patriot Prayer as harshly as the California Democrat.
The SPLC reportedly does not consider Patriot Prayer to be a hate group, and its organizer, Joey Gibson, is not considered an extremist.
The SPLC actually reported that at a recent rally, Gibson shouted from the stage, "F*** white supremacists!"
Patriot Prayer bills itself as a peaceful First Amendment advocacy group that appears in locations where there have been past confrontations over free speech. For example, Patriot Prayer organized the Evergreen State College protest outside Seattle where Gibson was pepper sprayed by counter-protesters.
That rally came after leftist hecklers confronted a professor who spoke out against an event in which organizers asked white students to voluntarily leave campus for one day as part of an exercise in equality.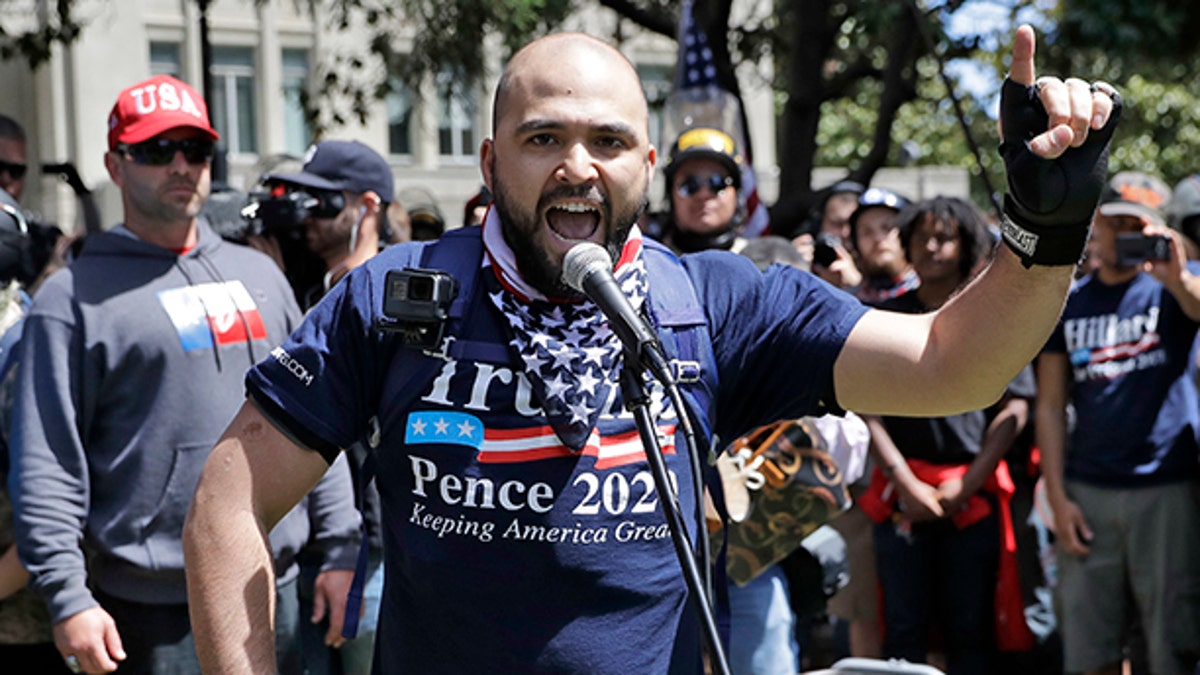 Patriot Prayer's next event is billed for this Saturday at Crissy Field inside San Francisco's Golden Gate National Recreation Area, and comes after violent Bay Area clashes earlier this year over speeches planned by conservative commentator Ann Coulter and English political commentator Milo Yiannopoulus.
Gibson told Fox News this weekend's rally is rooted in "a philosophy about promoting love and peace but doing it in a way that's respectful. It's about building bridges."
Indeed, Gibson argues that he's trying to inform supporters of Antifa – a broad group of left and far left leaning people - about the violent ways of the group to "bring them out of the darkness" and he says he has made converts like Tara "Bern."
Tara, a Bernie Sanders backer who now lives in Washington state and served in the army, uses "Bern" as her last name on Facebook to "protect my family when I get into politics."
Tara wrote on Gibson's Facebook page that she marched in Seattle with Black Lives Matter, Antifa and other leftist groups because she "heard there was a Nazi rally."

"As we marched past the police towards the rally, my group was yelling and cussing at the officers and at that exact moment," Tara wrote, "I felt in my heart it was wrong."
When she finally reached the supposed 'Nazis,' she found out they were actually just a free speech group.
"Speakers were preaching about love and peace, and my group wanted to rip them to shreds. I felt in my spirit that what the Antifa were doing by calling everyone to violence, was wrong," said Tara.
Nevertheless, on August 15, Pelosi issued a strongly worded statement slamming the National Park Service decision to permit the next event at Golden Gate, and claimed that Patriot Prayer is actually an execrable hate group.
"The National Park Service's decision to permit a white supremacist rally …raises grave and ongoing concerns about public safety," Pelosi wrote. "Free speech does not grant the right to yell fire in a crowded theater, incite violence or endanger the public in any venue."

Pelosi then went on to "wonder" whether the decision to permit the "white supremacist rally" was made "under guidance from the White House?"
And she questioned whether the National Park Service is "at all equipped to ensure public safety during a white supremacist rally?"
Gibson, for his part, told Fox News that calling his rally white supremacist is "beyond insane."
And, he said, Pelosi actually made the rally "more dangerous."
"Nancy Pelosi said it was a white supremacist rally so she could bring out extremists on the right and the left," Gibson said. "She's telling white supremacists to come into town."
A left-wing group aligned with Antifa called By Any Means Necessary said it would be on hand in the wake of the Pelosi statement.

BAMN has routinely violently attacked anyone it considers a fascist at past rallies. Indeed, California law enforcement has blamed BAMN for inciting violence at extremist protests.
At the same time, Gibson worries that white supremacists or neo-Nazi hate groups could show up as well. But he said he plans to keep groups such as "Identity Evropa" out, because he has a NPS permit to rally, and they don't.
"San Francisco is not gonna be a huge problem (with hate groups) because we have a permit so we can control who can come in," Gibson told Fox News, "If anybody shows up with a flag or uses hateful rhetoric they can go stand out with Antifa."
That has city and park officials scrambling to come up with a plan to avoid yet another devastating riot in the San Francisco Bay Area.
A source tells Fox News that the Patriot Prayer permit was issued before the violent riots in Charlottesville, Va. that left a woman dead, and San Francisco officials have asked the NPS to rescind the permit.
They have so far refused to do so, and the source tells Fox News that even though the San Francisco Police Department is ramping up staffing this weekend, and canceling days off for all available police officers, the SFPD is still looking to the NPS and the United States Park Police to handle whatever happens.
The USPP and NPS will expect the SFPD to assist, but the source tells Fox News that may not work out in the feds' favor -- "SF wants to distance themselves from the entire problem. Constitutional free speech rights, notwithstanding."
SFPD Officer Giselle Linnane told Fox News, "The Department is working closely with our local, state and federal partners to put together a comprehensive plan for events this weekend."
Fox News is awaiting comment from the NPS in San Francisco.
But like Charlottesville, and other confrontations between extremists that were well telegraphed in advance, the signs are there that this weekend's rally could devolve into violence, regardless of the intentions of the Patriot Prayer organizers, and the efforts by law enforcement.
And that's a problem for veteran California law enforcement officers like retired Commander Sid Heal, formerly of the Los Angeles Sheriff's Department and now a prominent police adviser.
"It is MUCH easier to arrest them one at a time than before they have assembled," Heal told Fox News. "That has changed dramatically in the last 36 months. Because of the excessive criticism for intervening too early or intervening too harshly … many police agencies have adopted a 'wait and see' strategy that surrenders the initiative to the belligerents."
"The politicians like Nancy Pelosi don't like people coming in talking about freedom," said Gibson. "At the end of the day they don't care about racism. They want a revolution in the country."
Pelosi's office did not respond to Fox News.