Russian mob ran illegal poker games for celebrities, feds say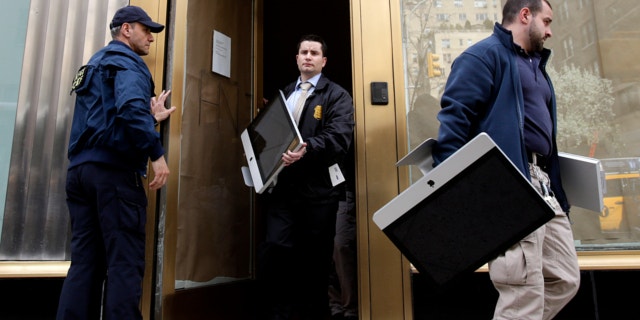 NEW YORK – Nearly three dozen people were charged on Tuesday in what investigators said was a Russian organized crime operation that included illegal, high-stakes poker games for the rich and famous and threats of violence to make sure customers paid their debts.
Federal authorities in New York City weren't naming names but said the poker players included pro athletes, Hollywood celebrities and Wall Street executives. None of them were charged.
The money-laundering investigation led to arrests Tuesday in New York, Los Angeles, Miami and elsewhere around the country. There also were FBI raids at a $6 million apartment in Trump Tower on Fifth Avenue and a prestigious Madison Avenue art gallery owned by two of the defendants.
George Venizelos, head of the New York FBI office, said the charges against 34 individuals "demonstrate the scope and reach of Russian organized crime."
He added: "The defendants are alleged to have handled untold millions in illegal wagers placed by millionaires and billionaires, laundered millions, and in some cases are themselves multimillionaires. Crime pays only until you are arrested and prosecuted."
New York Police Commissioner Raymond W. Kelly said proceeds from the high-stakes illegal poker games and online gambling were allegedly funneled to organized crime overseas.
Among those named in an indictment filed in federal court was a wealthy Russian fugitive, Alimzhan Tokhtakhounov. He was already under indictment in a separate U.S. case accusing him of bribing Olympic figure skating judges at the 2002 Winter Olympics in Salt Lake City.
In a two-month period beginning in late 2011, the money-laundering ring paid Tokhtakhounov $20 million in illegal proceeds, the indictment said.
Along with the illegal poker games, the ring operated "an international gambling business that catered to oligarchs residing in the former Soviet Union and throughout the world," the indictment said.
Prosecutors alleged proceeds were laundered through shell companies in Cyprus and in the United States by a criminal enterprise with strong ties to Russia and Ukraine.
Assistant U.S. Attorney Harris Fischman told a U.S. magistrate judge in Manhattan that Vadim Trincher, 52, directed much of the international racketeering enterprise from his $5 million apartment at Trump Tower.
"From his apartment he oversaw what must have been the world's largest sports book," Fischman said in a successful argument to have Trincher held for trial without bail. "He catered to millionaires and billionaires."
Trincher's apartment is located directly below one owned by Donald Trump, authorities said.
Fischman said FBI agents found $75,000 in cash and $2 million in chips from a Las Vegas casino in Trincher's apartment after he was arrested at 6 a.m. He appeared in court in a white t-shirt and jeans.
Fischman said the government had a strong case against Trincher in part because of recorded conversations between Trincher and his customers captured for several months through a court-approved wiretap.
On one of those calls, Trincher could be heard warning a customer who owed money that "he should be careful, lest he be tortured or found underground," Fischman said. He said the government was in the process of seizing Trincher's apartment.
Trincher's attorney, Michael Fineman, said his client was denying the allegations. He said he had lived in the United States since 1989 and in New York City for nearly a decade and also owned property in Las Vegas. He said he earned money through legal gambling, though Fischman countered that the government could only find one instance in which Trincher won $1 million at a legal poker tournament.
Hillel Nahmad was expected to surrender in Los Angeles, authorities said. Earlier in the day, agents in New York raided the Helly Nahmad art gallery in a Madison Avenue hotel. Among charges against him, Nahmad is accused of conspiring to commit wire fraud in connection with the sale of a painting worth about $250,000. It was not immediately known who will represent him in court.