'Roundeye Noodle Bar' in Philadelphia blinks, plans name change in face of criticism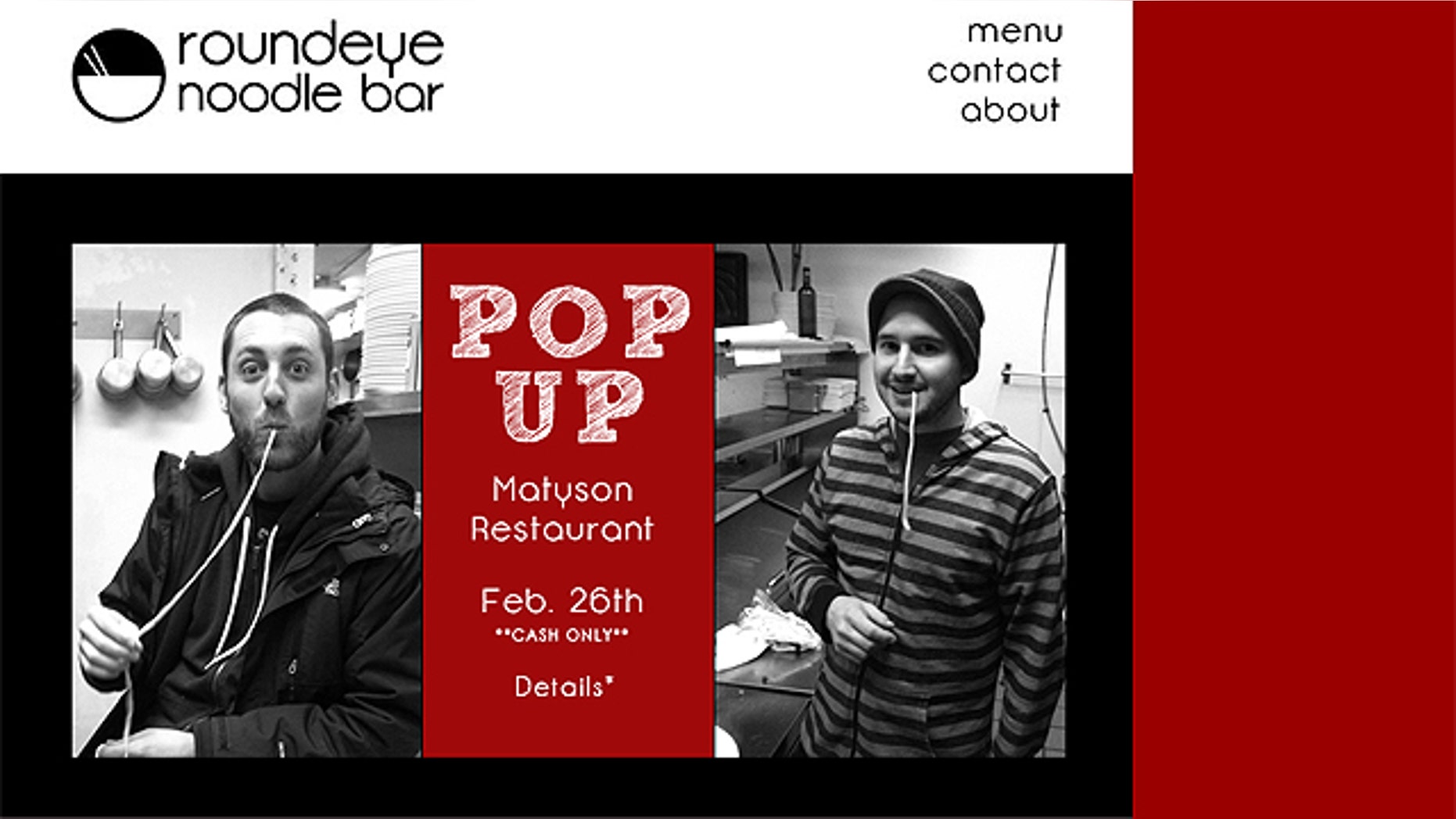 A pair of Philadelphia restaurateurs who never visualized the uproar branding their shop with an ethnic slur would cause has decided to change the venture's name, FoxNews.com has learned.
After the name "Roundeye Noodle Bar" generated criticism from Asian-Americans, co-owner Shawn Darragh said the downtown Philly pop-up restaurant will get a new moniker. He said he never meant to offend anyone, including the group Asian Americans United, which initially objected.
"It obviously wasn't meant to be offensive, it was kind of like a joke on ourselves," Darragh, 28, told FoxNews.com by phone. "Our food is Asian cuisine, but we're kind of using French and American techniques, so we looked to come up with a name that had an Asian feel but was also American."
The restaurant, which features $10 pork belly ramen and $9 mushroom miso soup among other dishes, held a promotional event on Sunday. Darragh's partner, Ben Puchowitz, also 28, has been manning the stoves at nearby Matyson for four years. But it was the duo's choice of a name -- and not duck pho -- that caught the attention of Ellen Somekowa, the local advocacy group's executive director.
Somekowa declined to discuss the matter when reached by FoxNews.com, but she told Philly.com that the name "Roundeye" led to connotations of a "very hurtful racist" slur.
"If you grow up Asian in America, there is no more common put down than ridicule of the shape of our eyes," she told the website. "There is no way to hear the name, 'Roundeye,' without at the same time hearing what it is being contrasted to ... a very hurtful racist slur -- SLANTEYES."
Helen Gym, a board member of the group, echoed Somekowa's take.
"In the owners' words, they are 'two white boys from the suburbs' ... creating a 'hip noodle spot,'" Gym wrote, according to Philly.com. "But if these self-named 'white boys' are the 'roundeye' noodle makers, what does that make the Asian noodle places they're modeling their place after? As a city notoriously home to Chink's Steaks, it's really a shame that a well-regarded spot like Matysons [sic] would lower their reputation to a legacy of petty, derogatory names in an effort to be 'hip.'"
In an email to FoxNews.com on Tuesday, Gym said the matter is a "very local issue" that will be resolved amicably.
"We're encouraged to hear about a possible name change and look forward to supporting them in the future," Gym's email read.
Darragh said he understood the group's concerns with the name, adding that he planned to write an apology.
"We're both businesspeople and we obviously wouldn't put something out there that is offensive, that's why we're so quick to change the name," he said. "Once their point of view was explained, I understood it. If you approach it the way they're approaching it, I understand it, but there's different angles to everything."
Representatives from the Asian American Legal Defense and Education Fund were unable to comment on the matter.