Rescuers call off search for wreckage of 'ghost' plane that slammed into waters off Jamaica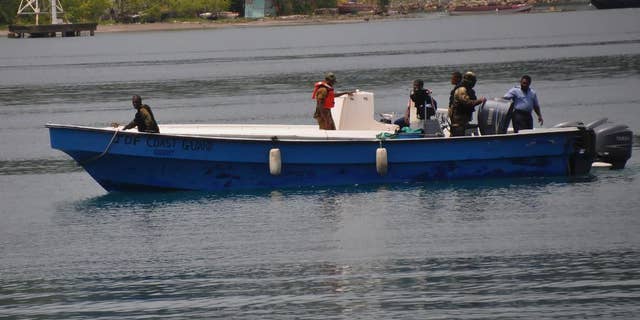 KINGSTON, Jamaica – After scouring an expanse of white-capped waters off Jamaica for three days, rescuers have called off a search for a small plane that crashed after a ghostly journey down the U.S. East Coast and the northern Caribbean, but a U.S. agency said Monday it is ready to lead a probe of the accident if wreckage can be found.
The head of Jamaica's civil aviation authority, Leroy Lindsay, said his agency is talking with the U.S. National Transportation Safety Board and French authorities on "where, how and when to start the investigation into what caused" the crash of the U.S.-registered, French-made plane.
The single-engine aircraft flew 1,700 miles (2,700 kilometers) Friday before running out of fuel and slamming into deep waters some 14 miles (22 kilometers) off Port Antonio on Jamaica's northeast coast. Aboard, and apparently incapacitated, were a prominent New York state couple, Laurence and Jane Glazer.
NTSB spokeswoman Kelly Nantel said Monday the agency will lead an investigation into the incident once the wreckage of the plane is recovered.
But it was unclear who might recover it.
Both Jamaican military officials and the U.S. Coast Guard announced Sunday they were calling off searches, though the Jamaica Defense Force said it will monitor coastlines for any possible debris from the crash. Fishermen and coastal residents have also been urged to report any suspicious debris.
"I doubt there will be any further search," Lindsay said Monday, indicating the crash investigation will likely focus on what can be learned from the U.S. side, since that's the airspace where the pilot went unresponsive
Lindsay has said that French authorities volunteered equipment and expertise in raising wreckage of the French-made Socata TBM700 if it is ever located on the sea floor, which could be about 2,000 meters (6,500 feet) below the surface.
Jamaica Coast Guard Commander Antonette Wemyss-Gorman said it was "beyond our capacities locally" to recover wreckage at such depths.
The plane was carrying the Rochester real estate developer and his entrepreneur wife, both experienced pilots. During its eerie journey Friday, U.S. fighter pilots were launched to shadow the Glazers' unresponsive aircraft and they reported seeing the pilot slumped over and its windows frosting over.
___
Associated Press writer Joan Lowy contributed from Washington.
___
David McFadden on Twitter: http://twitter.com/dmcfadd