Remnants of iconic 600-year-old tree to become furniture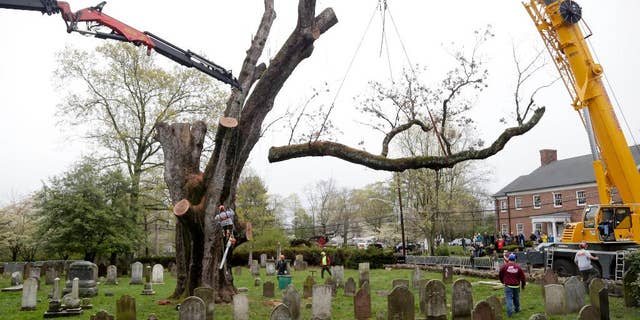 BERNARDS, N.J. – Remnants of a 600-year-old white oak tree in New Jersey that was believed to be among the oldest in the nation will become furniture.
The trunk and limbs removed last week from the grounds of the Basking Ridge Presbyterian Church in Bernards were to be delivered Tuesday to Pollaro Custom Furniture in Hillside.
News 12 New Jersey (http://bit.ly/2pDN4UU ) reports the company will transform the wood into altar tables for the church and meeting tables for Bernards town hall.
The tree weighed 116,000 pounds and took two days to take down after it began showing rot and weakness during the last couple of years.
Officials say Gen. George Washington held a picnic near the tree with Marquis de Lafayette.
Another white oak cultivated from the old tree's acorns was recently planted at the church.
___
Information from: News 12, http://www.news12.com