Reid: GOP presidential hopefuls shouldn't use Iran bill for political posturing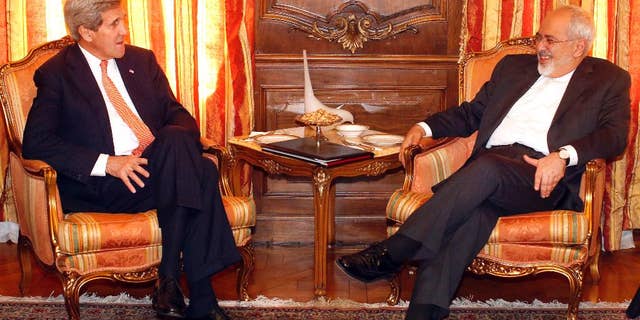 WASHINGTON – Senate Minority Leader Harry Reid on Tuesday urged Republicans to back legislation empowering Congress to review and possibly reject any nuclear deal with Iran and warned GOP presidential hopefuls not to use it as a "platform for their political ambitions."
Reid said the full Senate should pass the bill with the same bipartisanship that occurred in the Senate Foreign Relations Committee, which unanimously approved the measure 19-0.
"A number of my Republican colleagues have stated publicly, in their efforts to be a Republican nominee for president, what they want to do with this bill," Reid said. "I'm concerned that they and others want to use this good, bipartisan piece of legislation as a platform for their political ambitions. This bill is too important to be a pawn in anyone's political game."
Senate Majority Leader Mitch McConnell also said preventing Iran from developing nuclear weapons should not be a partisan issue. At the same time, McConnell predicted vigorous discussion and a robust amendment process as the Senate starts debate on the bill.
Maryland Sen. Ben Cardin, the ranking Democrat on the foreign relations committee, lamented amendments filed that addressed Iran's human rights records, its interference in other nations, its ballistic missile program or support of terrorism.
"Every member of this body agrees that Iran needs to respond to these issues," Cardin said, describing many of the amendments as "poison pills" that could stop congressional approval of any deal or perhaps even scuttle the ongoing, delicate negotiations with Tehran.
Sen. Marco Rubio of Florida, for instance, wants to require Iran's leaders to publicly accept Israel's right to exist, a nearly impossible mandate. Sen. Ted Cruz of Texas hopes to put the onus on advocates to win congressional approval of a deal, and not on opponents to gather enough votes for rejection.
"Stopping Iran from becoming a nuclear-weapons state is so important that we cannot be distracted by other issues," Cardin said.
The bill has gained the tacit approval of Obama, and proponents are trying to discourage any changes. They recognize that politically driven amendments could undermine Democratic support and sink the carefully crafted measure.
The legislation would block Obama from waiving congressional sanctions for at least 30 days while lawmakers weigh in. And it would stipulate that if senators disapprove the deal, Obama would lose authority to waive certain economic penalties — an event that would certainly prompt a presidential veto.
Among proposed additions to the bill are demands that Iran release any U.S. citizens it is holding and refrain from any cooperation with nuclear-armed North Korea. Another insists that any agreement be treated as an international treaty, requiring two-thirds ratification by the Senate.
Another set of amendments would block any sanctions relief for Iran until it meets goals the U.S. set years ago as negotiating stances and has long since abandoned.
U.S. Secretary of State John Kerry and Iranian Foreign Minister Mohammad Javad Zarif met Monday in New York for the first time since April 2, when world powers and Iran sealed a framework agreement. They now have little more than two months to meet their own June 30 deadline for a comprehensive accord.
Neither man spoke to reporters as the meeting got underway, but earlier Kerry told a U.N. conference on nuclear non-proliferation that a deal would make the world a safer place. "I want you to know the hard work is far from over and some key issues remain unresolved," he said. "But we are, in fact, closer than ever to the good comprehensive deal that we have been seeking. And if we can get there, the entire world will be safer."
___
AP Diplomatic Writer Matthew Lee in New York contributed to this report.