Probe finds guards easily smuggle booze, drugs, blades into NYC's Rikers Island jails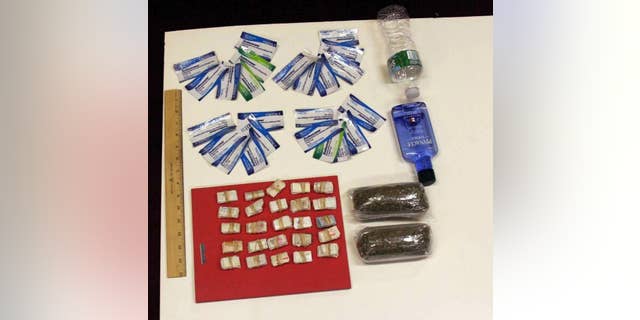 NEW YORK – New York City jail officials plan tighter screening of guards and other employees after a city investigation found they were easily able to smuggle vodka, heroin, marijuana and razor blades into Rikers Island in exchange for hundreds of dollars in "courier" fees from inmates.
A report Thursday from the city's Department of Investigation revealed guards were routinely allowed to put lunches on top of X-ray machines, rather than through them, and were regularly waved through security after setting off metal detectors.
The report found one undercover investigator posing as a guard was able to smuggle in more than $22,000 worth of contraband — including booze, drugs and a razor blade — in six separate attempts at six different Rikers jails.
"Clearly our investigation indicates that this is a real problem," said DOI Commissioner Mark Peters.
The report comes after a series of investigations by the anti-corruption agency — which this year alone resulted in charges against 10 jail guards, 30 inmate arrests and multiple jail sweeps. Guards were accused of smuggling contraband into lockups to inmates for courier fees that averaged about $600. In one case from last year, a guard got $2,000 for smuggling in 150 grams of marijuana.
One jail nurse told investigators he sneaked clear alcohol such as vodka in Poland Spring water bottles while darker liquor could be put into Snapple iced tea bottles, neither of which would be checked by guards.
Peters and Department of Correction Commissioner Joseph Ponte said some of the recommended reforms already are being implemented, such as mandating that supervisors oversee searches at shift changes and requiring that food go through the X-ray machines in clear containers.
Other recommendations in the report included putting drug-sniffing dogs at porous security checkpoints, turning over screening to specially trained security staff and eliminating extraneous pockets from uniform pants.
But training security staff, hiring more canine units and implementing search protocols up to Transportation Security Administration standards could take up to six months to fully implement, Peters said.
In a statement, Ponte said he had "zero tolerance for anyone, including staff, bringing contraband into DOC facilities." Guards who get caught are arrested and criminal investigators are called. The department can then initiate the administrative process of firing them.
"It's true that this report provides hard and detailed evidence of smuggling," Peters said. "But it also provides DOC a set of reforms that they've already started to put in motion."
The investigation comes following continued scrutiny of the nation's second-largest jail system, where inmate violence has steadily surged in tandem with use-of-force by jail guards. Mayor Bill de Blasio has vowed to reform the troubled jail system.
Last week, as The Associated Press first reported, the department's top uniformed officer announced that he would resign by the end of the year following disclosures of violence and other problems at Rikers. Two other officials also have announced they'll retire as jail officials redesign the department's management structure.