President Trump 'crashes' wedding at his New Jersey golf club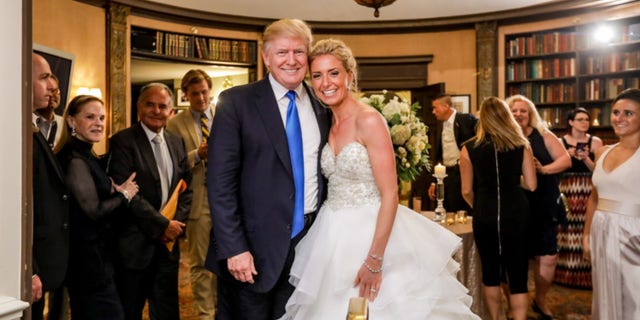 NEWYou can now listen to Fox News articles!
President Donald Trump surprised newlyweds on Saturday by making a brief appearance at their reception at his New Jersey golf club.
The president was at the Trump National Golf Club in Bedminster, N.J., this weekend, according to NDTV. While on his retreat, newlyweds Kristen Piatkowski and Tucker Gladhill were surprised by Trump's surprise appearance at their reception.
IVANKA TRUMP SURPRISED BY 'VICIOUSNESS,' 'FEROCITY' OF FATHER'S CRITICS
Trump posed for photos with the guests and autographed "Make America Great Again" hats for his fans.
"It was very brief. He waved to everyone," Sean Burke, a wedding guest, told The Washington Post. "The bride came running out, and he gave her a big hug and a kiss, so she was just ecstatic. And then the groom found out, too. No one knew it was going to happen."
Some of the guests chanted "USA" after Trump departed.
SPONSORS FLEE NEW YORK CITY THEATER COMPANY OVER TRUMP-KILLING SCENE
"It was a nice surprise to have the president pop down after dinner & personally congratulate Kristen & Tucker," Kat Kellerman, a wedding guest, told the Washington Post. "He was very gracious and personable."
This is not Trump's first surprise appearance at a wedding. The president stopped in during a wedding reception in February at his Mar-a-Lago club in Palm Beach, Florida.
Photo by: Drew Noel Photography