Prep school graduate gets a year in jail for sexual assault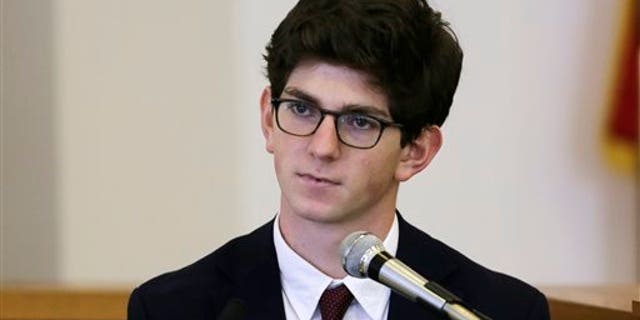 CONCORD, N.H. – A graduate of an exclusive New England prep school was sentenced Thursday to a year in jail for sexually assaulting a 15-year-old freshman girl as part of a tradition in which upperclassman competed to rack up sexual conquests.
Owen Labrie, 20, of Tunbridge, Vermont, could have gotten 11 years behind bars. He was also given probation.
The case scandalized St. Paul's School in Concord, a 159-year-old institution whose alumni include Secretary of State John Kerry, former FBI Director Robert Mueller, at least 13 U.S. ambassadors and three Pulitzer Prize winners, including "Doonesbury" creator Garry Trudeau.
Labrie was originally charged with rape, accused of forcing himself on the girl in a nearly deserted academic building in 2014, just before his graduation. He was 18 at the time. A jury in August cleared him of rape and convicted him instead of misdemeanor sexual assault for having intercourse and other sexual contact with an underage girl.
He was also found guilty of a felony count of using a computer — specifically, Facebook and email — to lure the girl to the encounter.
His arrest exposed a competition at the $55,290-a-year boarding school called Senior Salute, in which upperclassmen kept score of how many younger students they had sex with.
Labrie, an aspiring divinity student and captain of the soccer team, told authorities the two had consensual sexual contact but not intercourse, saying he stopped short in a moment of "divine intervention." At trial, he acknowledged bragging to friends that he had intercourse with her.
In a videotaped statement played in court Thursday, the girl, now 17, said she was subjected to verbal and physical retaliation from other students after her return to St. Paul's and has been living in almost constant fear since the assault.
She said she has been made to feel as if she "didn't deserve to live" and "would be better off being dead." She also said she has problems concentrating in school.
Prosecutors asked Superior Court Judge Larry Smukler to give Labrie 3½ to 7 years in prison, while Labrie's lawyer, J.W. Carney Jr., argued for probation and community service, saying that what the jury called sexual assault was really a "consensual encounter between two teenagers."
Carney also said his client felt "enormous remorse" about the encounter and was humiliated by the crude language he used to describe the girl to others.
"He's now known by so many people as the St. Paul's rapist even though the jury rejected that moniker," Carney said. "His life has been one of trauma trying to deal with these allegations and the emotion of the trial."
In the wake of the scandal, Labrie lost his full scholarship to Harvard and has been all but disavowed by St. Paul's, which stripped him of a religion award and refused to add his name to an engraved list of graduates.