Pregnant Woman Crashes Through Ceiling During Break-In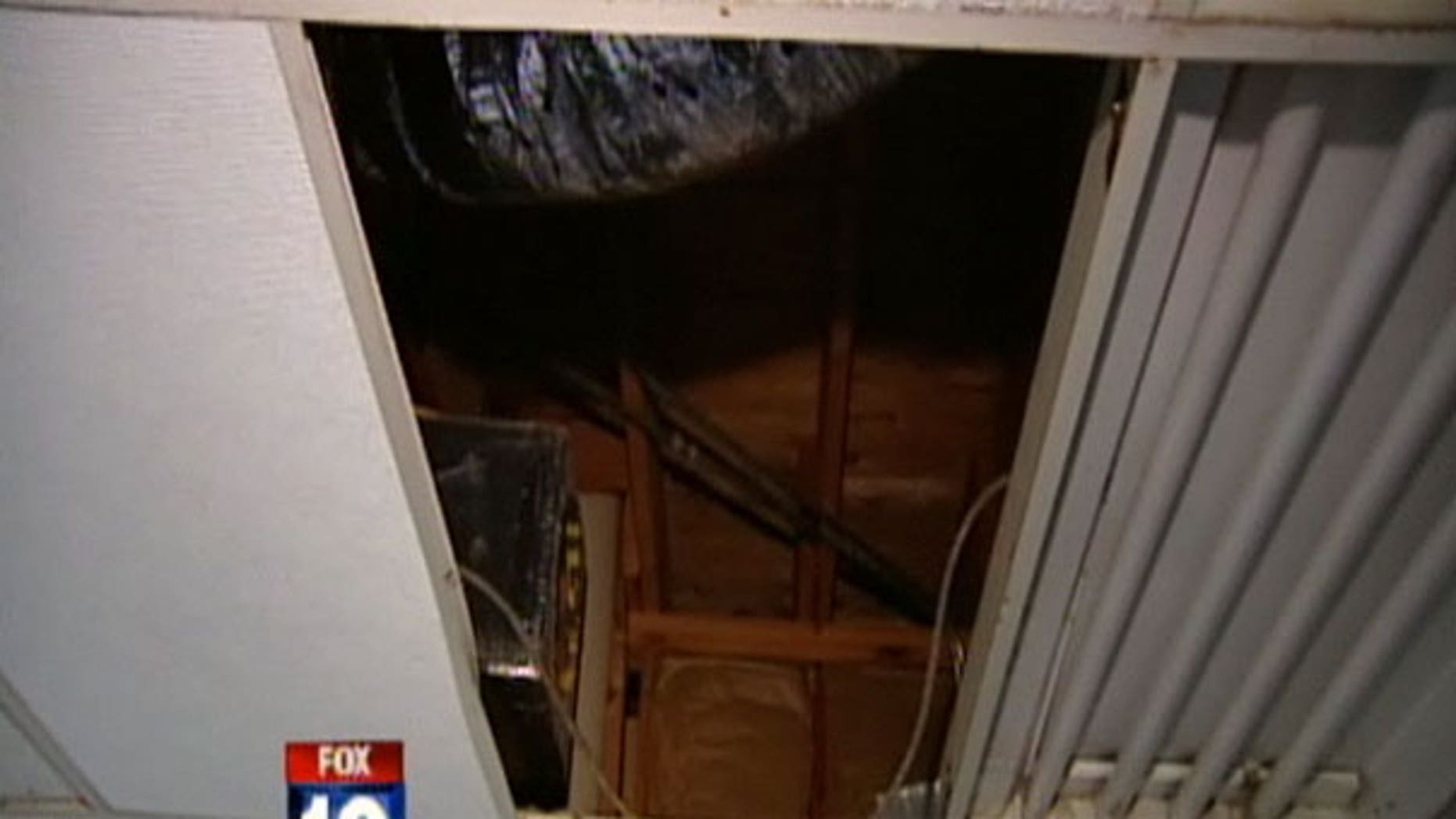 A woman who claimed to be five months pregnant was arrested Sunday for trying to break into a Phoenix horse racing track through the ceiling, MyFoxPhoenix.com reported.
The woman had two accomplices with her, but somehow she was the one picked to crawl into the attic and down through the ceiling to get to the money room, police said.
The soon-to-be mom was crawling along the beams between the ceiling tiles when she fell through. A Turf Paradise employee heard the loud crash, and a security guard found the woman tangled in cords and wires and calling for help.
Bill Deeter told MyFoxPhoenix.com that the woman's language was "colorful" as she tried to free herself.
Deeter had already located the woman's two companions, Michael Darling and Fausto Camargo, inside the building, where they were lookouts.
Deeter calmly directed her to a room where about a dozen police officers were waiting. He had to use a ladder to help her down.
"She said she was pregnant, said she was afraid she was miscarrying. So they took her to the hospital. The other two -- they took to jail," Deeter told MyFoxPhoenix.com.
General Manager Vincent Francia said he was amazed that the woman wasn't hurt considering how large the property is and how far she crawled.
"I thought, 'Oh, gee whiz, this is just unbelievable,'" Francia said.
Turf Paradise is in the middle of preparing for its big opening in October.
Francia said now he'll be combing through every past and present employee file extensively in case this was part of an inside job.
"If this really were their intent, how would they know where the money was located? There's rooms all over this facility," he said.
Though he said he wasn't angry, he did have a message for the suspects.
"Whatever their difficulties in life, this is not a way to resolve them," Francia said.
The suspects told police they came up with the plan because they needed new tires for their vehicle.
Police have not released the female suspect's name, but they said she will face burglary charges along with the others once she's released from the hospital.
Click here to read more on the surprising burglary from MyFoxPhoenix.com.