Powerful storms take aim at the Great Plains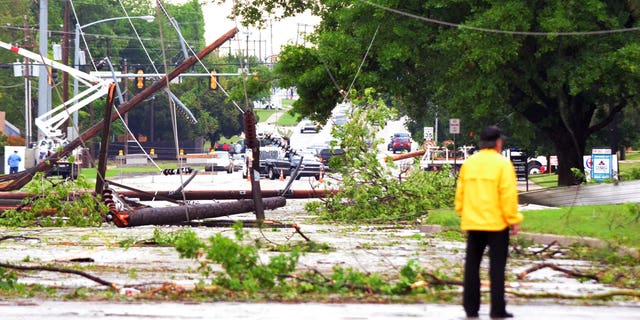 NEW YORK – Officials in Iowa have confirmed a tornado hit a hospital Saturday night, though they say there have been no reports of death of injury.
Warren Woods, the mayor of Creston, Iowa, told Fox News he was not aware of any deaths or injuries at the Greater Regional Medical Center, and the patients are currently being moved. The Associated Press also reported there were no injuries reported at the hospital.
More than three dozen tornadoes were reported across Kansas, Nebraska, Oklahoma and Iowa Saturday, as the US heartland braced for a night of dangerous weather and "life-threatening" twisters.
Earlier, for only the second time in U.S. history, the Storm Prediction Center issued a high-risk warning more than 24 hours in advance, said Russ Schneider, director of the center, which is part of the National Weather Service. The first time was in April 2006, when nearly 100 tornadoes tore across the southeastern U.S., killing a dozen people and damaging more than 1,000 homes.
The National Weather Service says more than three dozen tornadoes have been reported Saturday.
As of 8:00pm ET there were 48 tornado sightings across four states, with the first wave clustered in southwest Kansas.
There were reports of damage to homes in the town of Hanston and Kansas-based KWCH-TV reported a number of overturned cars and downed power lines in three counties.
At 7:00pm local time, the station reported a large, dangerous wedge tornado was on the ground near Ottawa County and heading towards Dickinson County.
Several tornadoes were also reported to have touched down in central Kansas' Saline County and in southern Nebraska's Harlan County.
A tornado formed in Woodward, Okla., and a brief touchdown was reported. Another twister was reported on the ground several miles south of Greenfield, Iowa. According to the National Weather Service (NWS), several tornadoes developed around Nuckolls County, southern Nebraska.
Saturday's string of twisters came on the heels of a tornado that touched down Friday in Norman, Okla., just south of Oklahoma City, downing utility poles, ripping roofs off more than a dozen homes and buildings, and leaving 10 people with minor injuries.
There is high risk for severe weather into the overnight hours extending into Sunday when the same storm system moves east, the Fox Extreme Weather Center says.
The strongly worded message came after the National Weather Service announced last month that it would start using terms like "mass devastation," "unsurvivable," and "catastrophic" in warnings in an effort to get more people to pay attention. It said it would test the new warnings in Kansas and Missouri before deciding whether to expand them to other parts of the country.
Friday's warning, despite the strong language, was not part of that effort but just the most accurate way to describe what was expected, a weather service spokeswoman said.
It's possible to issue earlier warnings because improvements in storm modeling and technology are letting forecasters predict storms earlier and with greater confidence, said Chris Vaccaro, a spokesman for the National Weather Service.
In the past, people often have had only minutes of warning when a siren went off.
The worst weather is expected to develop late Saturday afternoon and extend into the overnight in Oklahoma and Kansas, but other areas also could see severe storms, forecasters said. The warning issued Friday covers parts of Illinois, Iowa, Kansas, Missouri, Nebraska, Oklahoma and Texas.
The Associated Press and Newscore contributed to this report.