Postgame prayers to continue at Delaware high school, but coaches benched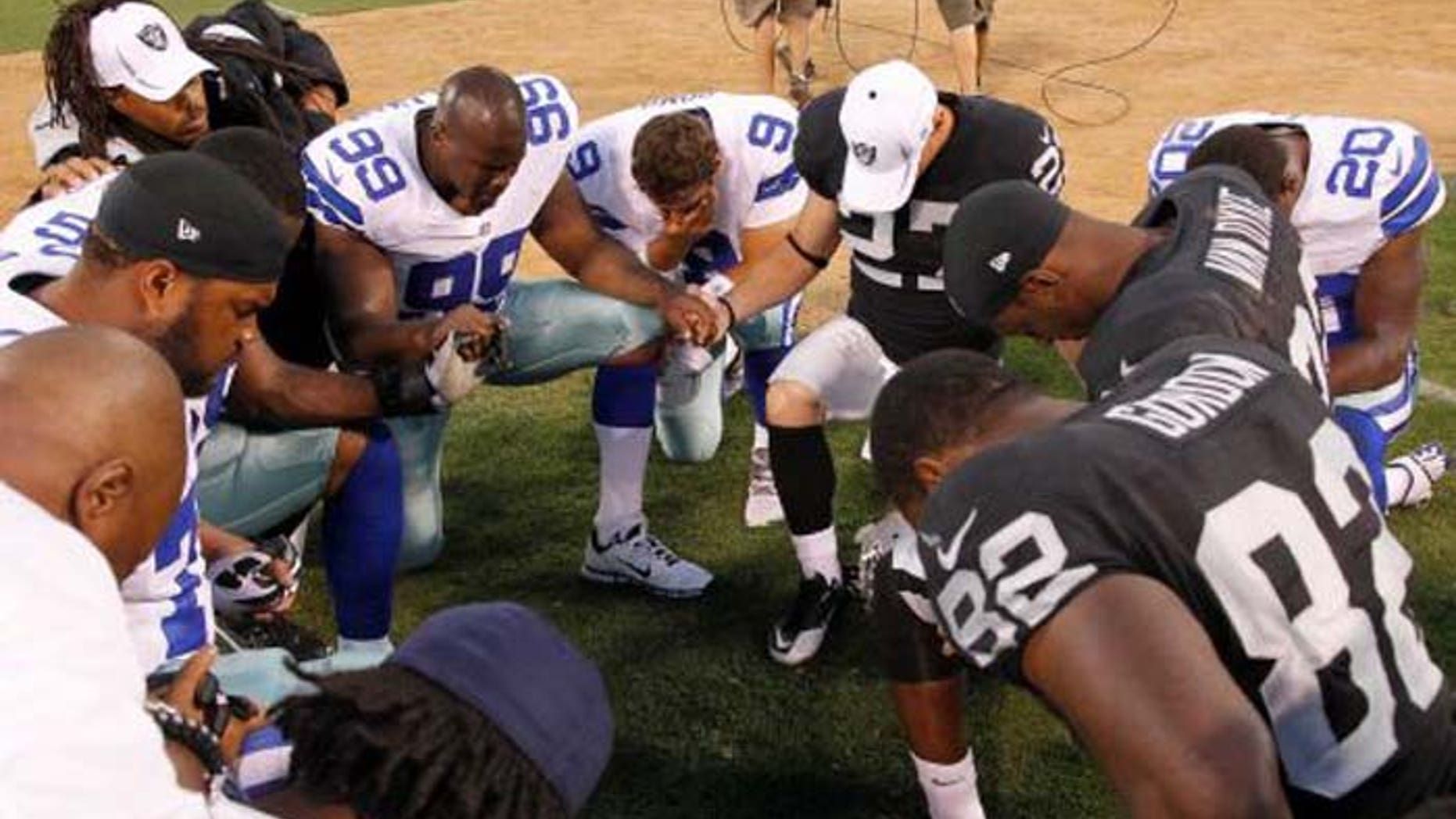 An atheist group succeeded in sidelining football coaches at a Delaware high school from post-game prayers, but the holy huddle will continue as a players-only affair, according to a report.
The Wisconsin-based Freedom From Religion Foundation (FFRF) sent a letter to Cape Henlopen School District Superintendent Robert Fulton earlier this month to allege a "serious constitutional violation" occurring at Cape Henlopen High School: Coaches participating in postgame prayers with players. One photograph in a local newspaper showed head coach Bill Collick in a prayer circle with his team on Oct. 3, The News Journal reports.
"He's got his hands on players and he's bowing his head and he's participating in a prayer circle with students," said Elizabeth Cavell, an FFRF staff attorney who drafted the letter to Fulton. "Our objection to that is it violates the Establishment Clause of the Constitution, which has been interpreted to say that public school districts and their employees cannot advance or endorse religion while acting in their official capacity."
[pullquote]
Fulton replied to inform Cavell all district employees, including coaches, would be reminded of laws regarding separation of church and state. On Friday, following a home game against Sussex Tech, the postgame prayer circle had a lineup change. As the Vikings gathered to pray after a 49-13 loss, Collick and his assistants stood nearby, but did not join the players.
"We're satisfied with that," Cavell said. "We're expecting that staff, including coaches, are not going to be participating in prayers with the students in the future."
Fulton's response to Cavell upset some Cape Henlopen supporters who felt the superintendent backed down to a the out-of-state, atheist organization. But Cavell said the law is on the side of her group.
"We've taken lawsuits in the public-school context, but I don't think we've taken a lawsuit on coach-led prayer," she said. "The law is pretty well established, so it doesn't lead to much litigation."
Collick, meanwhile, said he has prayed with players throughout his four decades in coaching, including during his entire run at Delaware State University from 1985-96. He vowed to continue to impart wisdom on his players whenever he can.
"We will continue to move forward and be about respect and do the things we know that good citizens and good people need to do," he said.
But football players at Cape Henlopen High School are far from the only Delaware public-school athletes who pray before or after games. Dozens of teams in the state regularly gather for prayers and at least one coach is involved most of the time, the News Journal reports.
"Before the first time we do it, I throw it out there that this is strictly voluntary," Brandywine coach Tom Wood said Friday. "You do not have to participate if it goes against your religious beliefs. I'm not pushing my religion on anybody.
"This is just something that has always been done in football, from the time I was a Little League player, from the Brandywine Warriors, up through my playing days in high school. And everywhere I've been as a coach, it's been the same way."