Police: New Mexico Kidnapper Thwarted by Alert Neighbor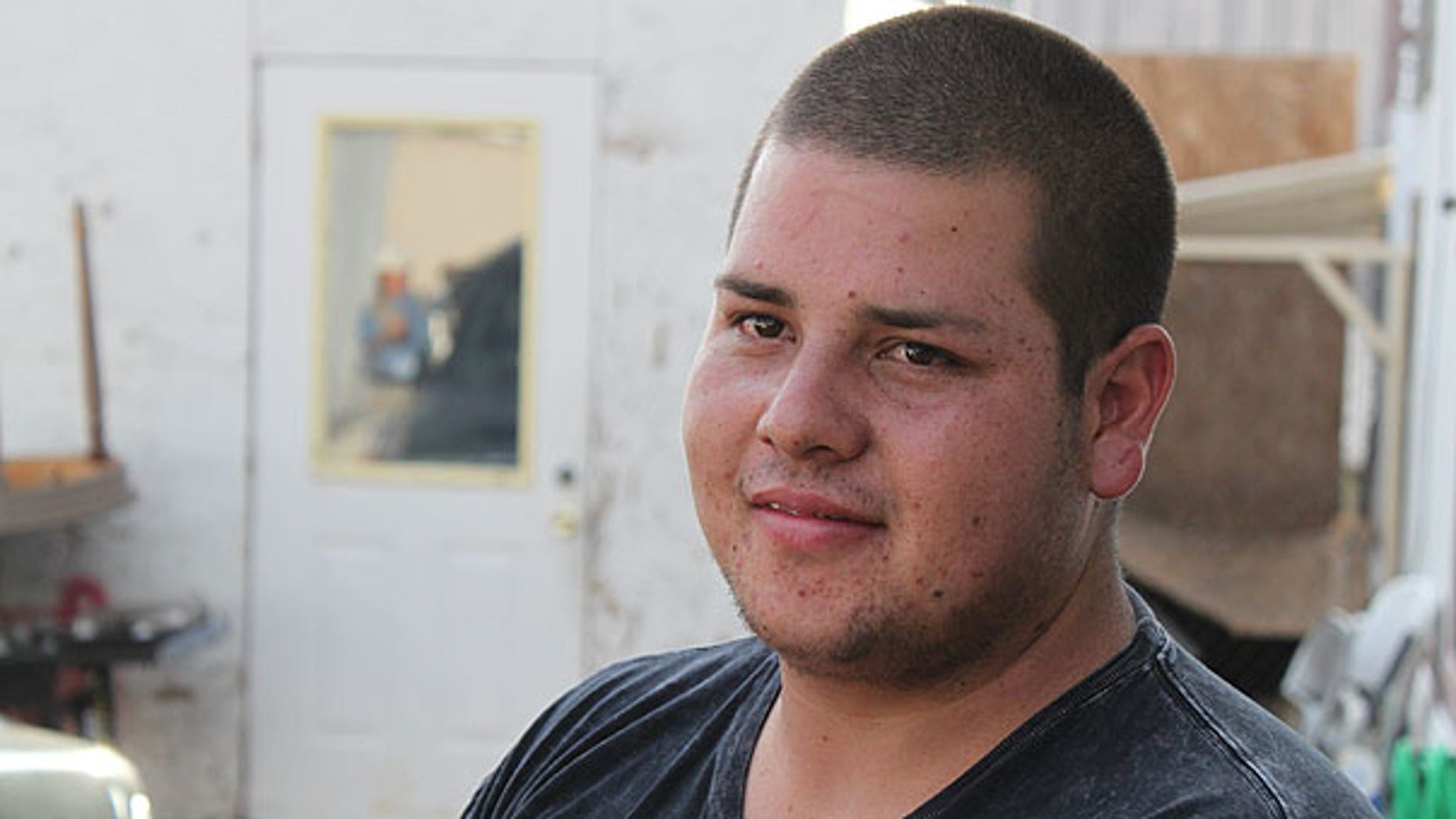 ALBUQUERQUE, N.M. – The pair of 911 calls came in quick succession from a New Mexico mobile home park.
On one, a frantic 12-year-old says her little sister is missing. On the other is the wife of the man who would be credited with saving the 6-year-old from every parent's nightmare.
"We are outside of my mom's house here," Martha Diaz told the dispatcher. "We heard a man going, 'Hey, hey let her go. Let her go.' So we turn around ...
"The man came running to us and said, 'They stole a little girl.'"
Phillip Garcia, 29, had snatched the girl moments earlier on Monday afternoon in Albuquerque, taking her away in a blue van, police said.
Diaz's husband, Antonio Diaz Chacon, jumped in his black pickup and gave chase. Garcia tried to lose him by driving through a maze of residential streets, "turning, and turning," Diaz Chacon, a 24-year-old mechanic said Tuesday night as a swarm of media stood outside his home to hear his story. The events were interpreted and relayed from Spanish to English by his wife.
Finally, Diaz Chacon said, the man crashed into a telephone pole.
Garcia fled on foot, and Diaz Chacon grabbed the girl and took her home. Garcia then returned to his wrecked van and took off but was later captured by police, authorities said.
Hidden under a rock just 25 feet from the van was packing tape and a tie-down strap, police said.
Inside the impounded van were tostadas, a glove, a Leatherman tool, a black satchel, orange strapping similar to the strap found hidden under the rock, police said.
"This little girl was very lucky," police Sgt. Tricia Hoffman said. "We can only guess what would have happened to this child."
"Throughout the county we see situations like this and they do not end typically well," she said.
Diaz Chacon, she said, "did an amazing, amazing job and he saved this girl's life"
Diaz Chacon said he was proud people considered him a hero, but that he never thought twice about taking the action. While he was chasing the van, he said, he thought of his own two girls, one 7 years old, the other 5 months, and how he would want someone to do the same for him.
"I told him 'I don't know how you could have gone after him," his wife said, shaking as she recalled the events in front of their house in the normally quiet sprawling South Valley neighborhood, where even on the evening after the abduction kids played freely in the streets on their bikes and scooters.
"How could you have gone after him, not knowing where he's going, what he's going to do? But he saved a life." Garcia was charged with kidnapping, child abuse and tampering with evidence. Hoffman said Garcia is from Albuquerque and had a revoked license but she was unsure if he had a criminal record.
Garcia immediately "lawyered up," declining to give any statement to authorities, Hoffman said. Garcia was still jailed Tuesday and no lawyer had yet been listed as taking the case, according to court officials.
There have not been any other recent child abductions or attempted abductions in the city, Hoffman said.
The girl told police she had gone to a neighbor's to pick up some tostadas and was walking home when the van stopped and the man grabbed her.
"She went to go to the neighbor's and on her way back we don't know what happened to her. ... When she was coming back or on her way, she just like disappeared," her sister said in the 911 call.
The girl was grabbed with such force, police said, that bruising had already begun to appear on her chest and back Monday evening. The girl told police the man put his hand over her mouth and she bit him.
She said the man shoved her on the floorboard to keep her head under the window view, according to the police report. She told police there were no backseats in the van and described other details consistent with impounded van, police said.
She also described rolling in the van when it crashed, and breaking a fingernail. Police said they found what appeared to be a piece of fingernail in the van.
During her interview, police said the girl was concerned that she was unable to bring the tostadas home because she had left them in the van.