Police: New Jersey Man Hired Mistress to Kill Wife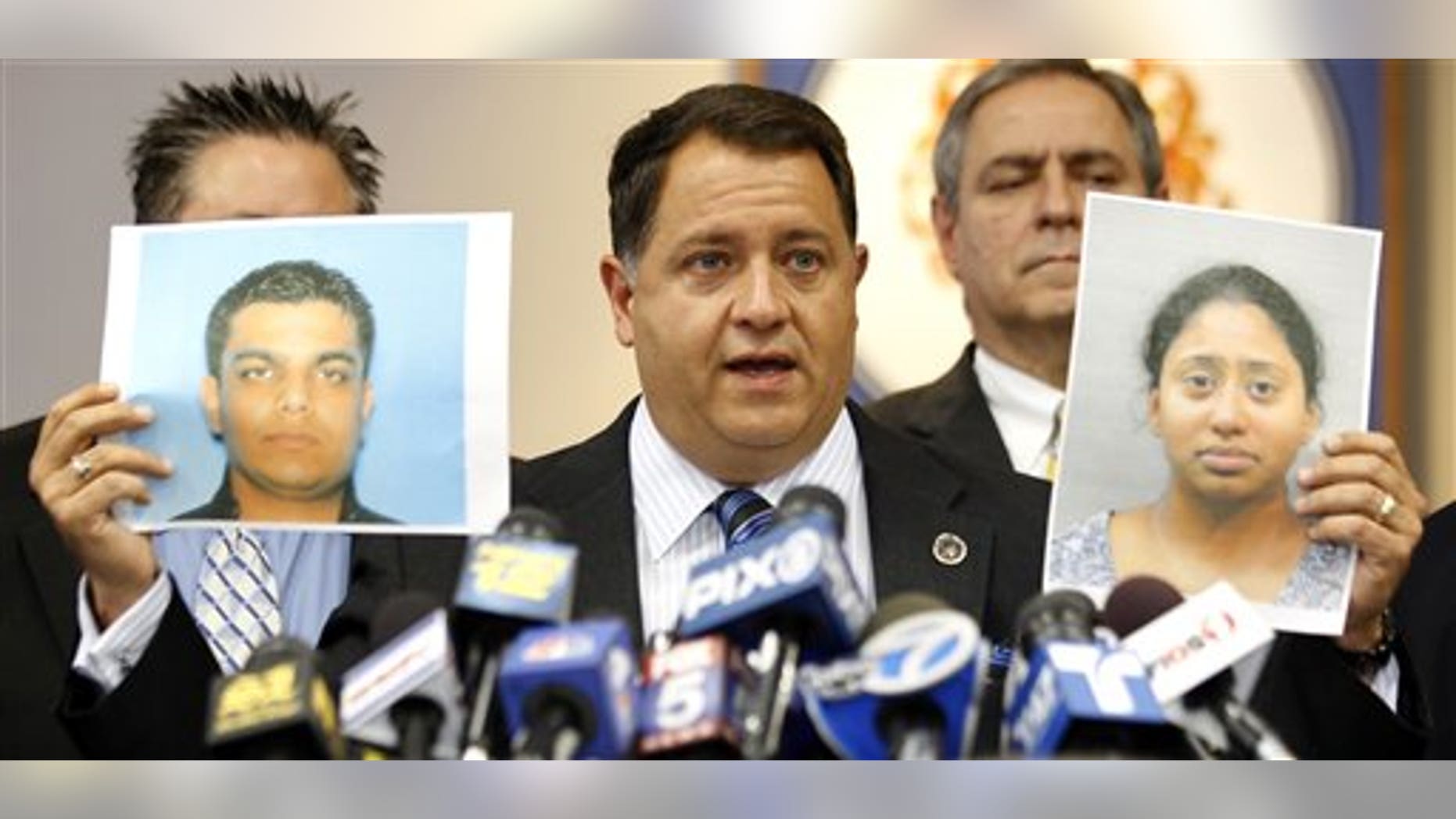 BOONTON, N.J. -- A Pakistani-American man whose wife was gunned down while they and their son walked along a quiet suburban street plotted the killing and hired his mistress to assassinate his wife, authorities said Friday.
Kashif Parvaiz, 26, suffered non-life-threatening wounds in the shooting that killed his 27-year-old wife, Nazish Noorani. They were walking with their 3-year-old son, who was in a stroller, to a relative's house in Boonton when shots rang out Tuesday night. The boy was unharmed. The couple's 5-year-old son was with Noorani's family inside the house.
Parvaiz told police his family had been attacked by a group of men who called them terrorists, authorities said.
Parvaiz and 26-year-old Antionette Stephen of Billerica, Mass., both face charges of murder, conspiracy and weapons offenses. He also faces child-endangerment charges.
Stephen and Parvaiz exchanged text messages in the days leading up to the shooting, according to an arrest affidavit released by the Morris County Prosecutor's Office.
"You hang in there. Freedom is just around ur corner," read one text sent from a phone listed to Stephen's father to Parvaiz, according to the affidavit.
Subsequent texts from Stephen's number describe driving around the neighborhood to see how far away the nearest police station was, according to the affidavit. The exchange of texts continued up until 2 p.m. on the day of the shooting, authorities said.
The New York Post reports that the night before Tuesday's bloodshed, Parvaiz even stood in the spot where the slaying would take place to firm up last-minute details.
According to Morris County Prosecutor Robert Bianchi, Parvaiz's accounts of the attack were inconsistent and immediately raised suspicions.
"That this matter was allegedly so well thought out, planned, plotted and orchestrated is chilling to say the least," said Morris County Prosecutor Robert Bianchi.
Parvaiz, who has been in the hospital, was arrested several days ago, authorities said. He was being held on $1 million bail. Authorities said they did not know whether he had a lawyer.
Stephen was arrested Thursday night in Massachusetts. She was arraigned Friday on a fugitive-from-justice charge and was being held without bail at a women's prison in Framingham, Mass.
It's not clear when she might be returned to New Jersey. Meghan Spring, the attorney who represented her at her arraignment, did not immediately return a call seeking comment.
Parvaiz, his wife and their son were walking from Noorani's sister's house to her father's house a few blocks away when the shooting occurred.
Parvaiz told investigators the couple was attacked by a different combination of black and white males who shouted ethnic slurs, authorities said. In his initial story, the group shouted something about the family being "terrorists," authorities said.
Bianchi said investigators were deeply concerned when Parvaiz suggested it was a bias crime, but within hours "it was obvious to investigators that this was sadly the alleged handy work of the victim's husband who allegedly did the unthinkable and plotted to murder his wife."
The couple had been in a romantic relationship "for a substantial period of time," The Post reports. Parvaiz turned to Stephen-- to get rid of his wife, a law-enforcement source told The Post.
Bianchi didn't say whether Stephen and Parvaiz were romantically involved, but investigators wrote in the arrest affidavit that Parvaiz and Noorani had a turbulent relationship. Authorities said Parvaiz met Stephen in Brooklyn, N.Y., and the two discussed murdering Noorani.
Bianchi wouldn't say who pulled the trigger or whether the same person shot both Parvaiz and Noorani.
Noorani was buried Friday after services at an Islamic center in Boonton, a small town about 25 miles west of New York with a solid Pakistani population.
"We want to thank the community for being so supportive," family spokesman Danish Iqbal said after the funeral. "We never believed this was a hate crime. This is a fantastic area to live in."
Friends and family had set up a website, www.nazishmemorialfund.org , to help the couple's two children.
The affidavit quotes a text message from Noorani to her brother in which she wrote: "Someday u will find me dead but its cuz of kashi ... He wants to kill me."
Noorani was a native of Karachi, Pakistan, while Parvaiz was originally from Brooklyn, relatives have said. The couple was wed six years ago after meeting at a music festival in Brooklyn, family members said. They were in Boonton to visit relatives.
Parvaiz told family he was attending graduate school at Harvard, but the school has no record of him studying there. He told investigators that he had had extramarital affairs, according to the affidavit.
He also had some legal troubles earlier this year.
Boston authorities said that Parvaiz was arrested and charged with assault and battery on Feb. 25 in a domestic violence case.
According to a police report, a 20-year-old woman from Brooklyn called police just before midnight and told them that Parvaiz was refusing to let her leave his East Boston apartment. The woman, whose name was not released, said Parvaiz slapped her after accusing her of being unfaithful.
The police report said Parvaiz admitted pushing her but not hitting her. Police took the woman to Boston's South Station where she took a train back to New York.
Jake Wark, a spokesman for Suffolk District Attorney Dan Conley, said the woman was subpoenaed to appear in court May 3 but did not show up. When authorities tried to contact her by phone, the number was disconnected, Wark said.
The charges were then dropped, he said.
New Jersey authorities gave the spelling of Stephen's first name as Antoinette, but it is spelled Antionette in court papers in Massachusetts and in public records.
Stephen, a native of India, was arrested Thursday at her home in Billerica, where she lives with her parents and a sister. Susan Busch, a spokeswoman for Best Buy, confirmed that Stephen works at the Best Buy store in Cambridge, Mass., but would not provide any additional information, citing the ongoing criminal investigation.
"My thoughts and prayers are with those affected by this tragic event," Busch said.
Neighbors said the family moved into the neighborhood about five years ago, renovating an abandoned Colonial house on a quiet residential street.
Debbie Stillings said the family was Americanized and did not speak with much of an accent. She said Stephen was sometimes visited by a male friend on a motorcycle.
"They were very friendly and quiet," Stillings said. "My husband teased (Antionette) about the guy on the motorcycle, saying, `Is that your boyfriend?' and she said, `No, he's just a friend."'
Click here for more information on the murder of Nazish Noorani from The New York Post.
The Associated Press contributed to this report.