Placemat propaganda: Harvard sorry for giving students tabletop talking points
Harvard administrators are crimson-faced over a misguided effort to get students ready for the holidays by handing out pointers to help them debate tuition-paying grownups who don't know a micro-aggression from mistletoe.
The venerable school's Office for Equity, Diversity and Inclusion and the Freshman Dean's Office printed up and handed out laminated placemats described as "[guides] for holiday discussions on race and justice with loved ones." The table-setting talking points are designed to help SAT-crushing Ivy Leaguers put pesky parents, aunts and uncles in their place on such subjects as race, diversity and even the Syrian refugee crisis.
"Why are black students complaining? Shouldn't they be happy to be in college?" reads one question anticipated on the "Holiday Placemat for Social Justice." The proper response, according to the Cambridge braintrust, is to respond by saying, "When I hear students expressing their experiences on campus I don't hear complaining."
"I don't think that's the place of any Harvard employee to tell students the right way to think about the Syrian refugee crisis."
In the center of the placemats, which are in school dining halls, are "tips for talking to families," with helpful recommendations such as "Listen mindfully," and "Breathe."
Not all Harvard men and women are happy with the placemat programming, with some even insisting to The Harvard Crimson that they can think for themselves. Two deans apologized and Harvard's College Republicans chapter responded with a placemat of its own, lampooning the one put out by the school, according to The College Fix.
Aaron Henricks told the school newspaper the publication of the placemats is "beyond inappropriate and arrogant," criticizing their one-sided presentation of "highly debatable subjects."
"I don't think that's the place of any Harvard employee to tell students the right way to think about the Syrian refugee crisis," Henricks said, alluding to one tabletop tip that states "Racial justice involves welcoming Syrian refugees."
But Jasmine Waddell, a freshman resident dean, said the placemats give first-year students strategies for discussing thorny issues with the family.
"This is a way to say, 'You've been exposed to a lot of different ideas, and particularly in this moment when there's a lot of discussion about various topics, you're going to go home and you may or may not be able to speak the same language,'" Waddell told the newspaper. "It's not that you have to believe in what's on the placemat, but it gives you some tools to be able to have productive conversations."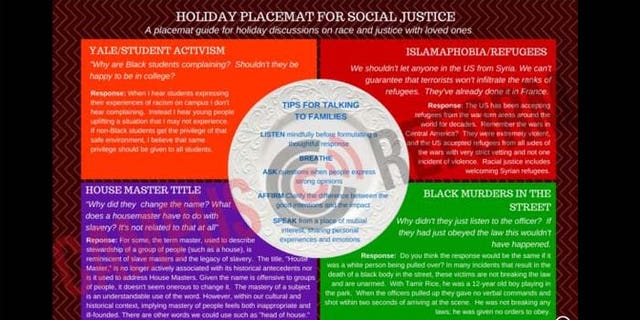 She said the Freshman Dean's Office opted not to email the placemats directly to students, instead leaving them in dining halls as "passive programming."
On Wednesday, Stephen Lassoed, dean of student life, and Thomas Dingman, dean of freshmen, apologized for the placemats.
"We write to acknowledge that the placemat distributed in some of your dining halls this week failed to account for the many viewpoints that exist on our campus on some of the most complex issues we confront as a community and society today," they said in a letter to students. "Our goal was to provide a framework for you to engage in conversations with peers and family members as you return home for the winter break, however, it was not effectively presented and it ultimately caused confusion in our community."