Philly high schooler gets lesson in hate after penning column on Missouri race friction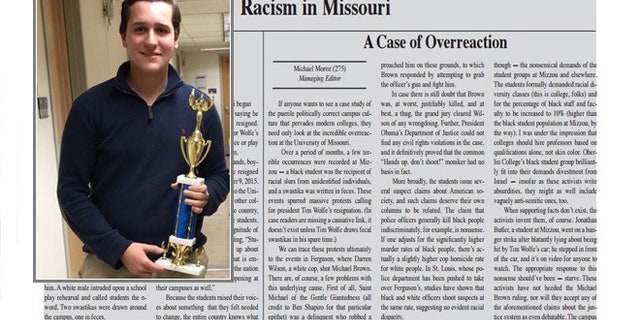 NEWYou can now listen to Fox News articles!
Philadelphia high school senior Michael Moroz knew he was courting controversy when he wrote about race in the school newspaper, but he never expected death threats from classmates and strangers.
Just before Christmas break, the 17-year-old wrote an opinion piece for the Central High school paper, the Centralizer. In it, he criticized the racially charged University of Missouri protests and opined that Michael Brown, the black teenager killed in 2014 by a white police officer in Ferguson, Mo., was "a delinquent" who was "at worst, justifiably killed, and at best, [was] a thug."
The story hit the paper's Facebook page while school was out, and that's when the threats poured in. Moroz is now afraid to return to school and worried he could lose his place next fall at an Ivy League university.
"I feel as if I am a pariah in the community," Moroz told FoxNews.com. "People I see on a daily basis have threatened my life. I don't know how I am going to deal with it."
"They are looking for the destruction of a 17-year-old boy simply because they didn't agree with his opinion."
The article ran alongside another piece supportive of the University of Missouri demonstrations, which were triggered by claims the school was slow to react to incidents that alienated African-American students there. The demonstrations drew national headlines and resulted in the resignation of the school president.
Soon after Moroz's writing appeared online, Internet trolls took to social media, urging "someone" to "deal with" and even "shoot" him. Dozens of other posts labeled him a racist and urged University of Pennsylvania to rescind the acceptance it recently offered Moroz.

When classes resumed this week, a shaken Moroz stayed home.
He claims at least five fellow students at Central threatened his life, and his family has hired an attorney and filed a complaint with the Philadelphia Police Department.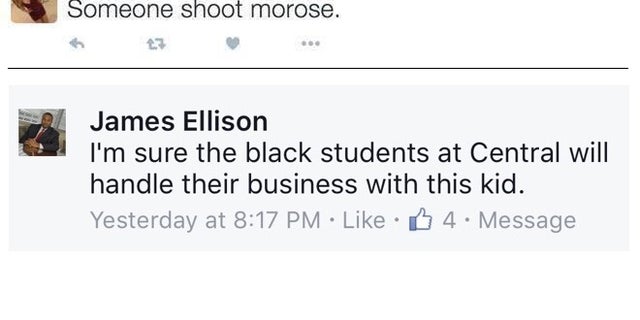 "They are looking for the destruction of a 17-year-old boy simply because they didn't agree with his opinion," Jordan Rushie, Moroz's attorney told FoxNews.com. "They are saying that what Michael wrote is something they don't agree with and that it justifies their actions. This is something that is becoming more common in America, and that is frightening."
The opinion piece was pulled from the Facebook page by student editors once the backlash began, but the counterpoint article supporting the movement was left alone.
"Neither the Centralizer nor its members necessarily agree with the content/message of the piece," read a noted posted by the Centralizer staff. "However, the situation has escalated such that the writer and editors on the staff have received direct threats.
"We do not want to suppress any one voice, but we must also be aware that our readers will not always agree with the methods of communication articles utilize to get their points across."
Officials for Central High and Philadelphia public schools declined to comment when contacted by FoxNews.com, but on Tuesday, Central Principal Timothy McKenna defended the decision to take down the article by saying no printed copies were collected or destroyed.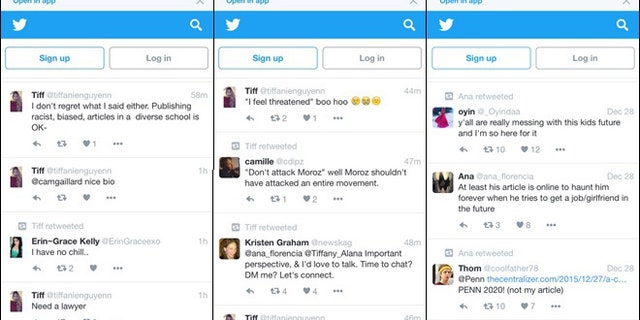 "We truly take these threats seriously," McKenna said, adding that three students had issued specific threats.
But Moroz believes removal of the article give the appearance that the harassment he's endured is justified.
"It certainly doesn't feel like the administration is supporting me," Moroz said. "They took the onus from themselves and put it on me, saying that it was a police matter and that I had to call and inform them. This isn't a way for a school district to act. This is something I didn't expect.
"Their actions fed into the backlash."
Rushie said Moroz is "between a rock and a hard place" -- due to acceptance guidelines at University of Pennsylvania. If he changes schools or classes during the remainder of his senior year, it could cost him dearly.
"If he leaves Central, he could lose his acceptance at Penn," Rushie said. "That would be horrible. This has had a strong physical and emotional toll on him."