Pennsylvania pastor appeals defrocking over gay wedding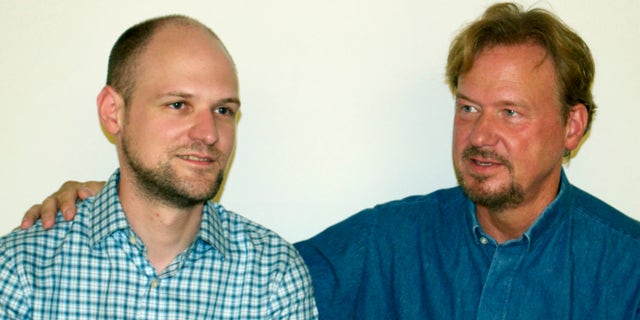 PHILADELPHIA – A United Methodist pastor defrocked for officiating at his son's same-sex wedding has appealed the decision, a move that offered the latest evidence of a split in the nation's largest mainline Protestant denomination and came as yet another state legalized gay marriage.
Frank Schaefer, who lives in central Pennsylvania, said he was shocked and upset that he could be punished for showing love for his son. He said he believed the penalty was meted out reluctantly by members of the church's regional Board of Ordained Ministry.
"So many of them came to me and they shook my hand and some hugged me, and so many of them had tears in their eyes," Schaefer said. "They said, `We really don't want to do this, you know that, don't you?"'
Most other Protestant denominations have decided their position on the issue. But the Methodists, with about 7.7 million members in the U.S. and many more overseas, remain divided. At their last national meeting in 2012, delegates reaffirmed the church's 40-year-old policy on gays.
Although the church accepts gay and lesbian members, it rejects homosexual acts as "incompatible with Christian teaching" and bars clergy from performing same-sex unions.
Yet hundreds of Methodist ministers have publicly rejected the doctrine, and some face discipline for presiding over same-sex unions. Last month, in a public challenge to church rules, a retired Methodist bishop officiated at a wedding for two men in Alabama.
Board members of the church's Eastern Pennsylvania Conference declined to comment after meeting privately with Schaefer on Thursday at their offices in Norristown, outside Philadelphia. But spokesman John Coleman said Schaefer left officials no choice after defying the order of a religious jury to resign.
"When asked to surrender his credentials as required by the verdict, he refused to do so," Coleman said. "Therefore, because of his decision, the board was compelled by the jury's decision to deem his credentials surrendered."
Schaefer has led a congregation in the town of Lebanon for more than a decade. Earlier this year, a church member filed a complaint over Schaefer performing the 2007 wedding of his gay son in Massachusetts, where same-sex unions are legal.
Last month, a church jury suspended Schaefer for 30 days and said he should use the time to decide whether he could uphold the church's Book of Discipline. If he decided he could not, he was told to resign from the clergy by Thursday.
Schaefer said he told officials Thursday morning that he could not follow a book that he feels is contradictory and biased against gays. He refused to voluntarily surrender his credentials when asked by the board president.
"To which she said, `Well, we're taking them.' And that was the end of it," Schaefer said.
Schaefer, making his remarks at a gay-friendly, or "reconciling," Methodist church in Philadelphia, had held out hope as late as Thursday morning that officials would have a change of heart.
"I said to myself, `You know, I just can't see them taking my credentials.' I mean, what I did was an act of love for my son. And they did anyhow," he said.
The closely watched church decision came down the same day as a flurry of other news demonstrating the societal split on gays and lesbians:
-- New Mexico's highest court declared it unconstitutional to deny marriage licenses to gay and lesbian couples. It joins 16 other states and the District of Columbia in allowing gay marriage either through legislation, court rulings or public votes.
-- Olympic figure skating champion Brian Boitano came out as gay two days after he was named to the U.S. delegation for the Olympics in Sochi, Russia, along with openly gay athletes Billie Jean King and Caitlin Cahow. President Barack Obama's decision to include openly gay athletes in the delegation is widely seen as a message to Russia about its treatment of gays and lesbians.
-- Key supporters came to the defense of "Duck Dynasty" patriarch Phil Robertson, who was suspended Wednesday from the A&E reality series indefinitely after making disparaging remarks about gays. Sarah Palin posted a picture on Facebook of her with the reality show clan with the message, "Free Speech is an endangered species," and Louisiana Gov. Bobby Jindal also lamented the suspension on free speech terms.