Pennsylvania man wins raffle for $1M Picasso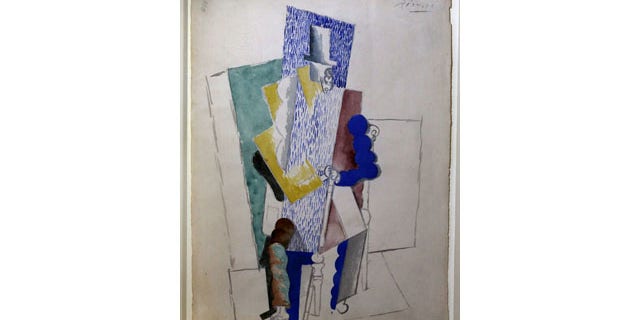 A western Pennsylvania man won an international raffle for an original Picasso painting worth $1 million Wednesday.
Jeffrey Gonano, 25, of Wexford, Pa., told the Pittsburgh Tribune-Review that he bought ticket No. 747815 approximately two months before Wednesday's drawing at Sotheby's in Paris. At about 2 p.m. Eastern time, he got a call informing him that his ticket had been randomly selected by a computer.
"They announced that I won. It was actually very noisy. It sounded like it was some sort of live event," Gonano told the paper. "I'm sort of shy. It's hard to digest something like this. I never thought I'd ever see a Picasso."
An international charity dedicated to preserving the ancient city of Tyre, in Lebanon, put Picasso's 1914 work "Man with Opera Hat" up for the unusual auction after buying it from a New York City gallery with the help of a large bank loan. The International Association to Save Tyre issued 50,000 tickets priced at 100 euros apiece (approximately $137), with the goal of raising 5 million euros (approximately $6.9 million).
"I'm still in shock. It's still very odd" said Gonano, who works as a project manager for his family's sprinkler contracting firm in nearby Ross Township, Pa. "I never thought I would win. I just saw a news article on Yahoo and bought a ticket. I don't even know why."
Gonano says he won't hang the painting on a wall in his home, and he has no plans to put it up for sale.
"I want to keep it," he told the Tribune-Review. "Maybe I'll lend it to a museum and let them put it on display rather than putting it in a vault, so other people can enjoy it. It all depends. I don't know what the taxes are or anything."