Paralyzed war veteran says hotel worker mocked his request for help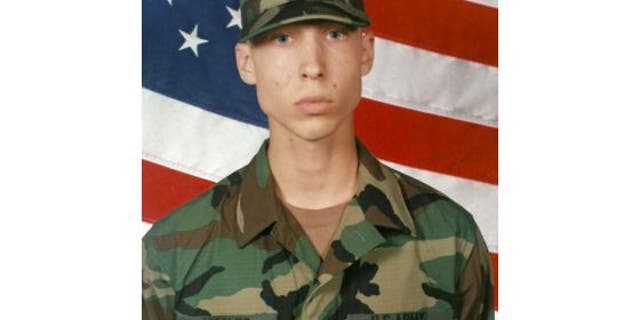 A paralyzed Army veteran wants "major policy changes" from a national hotel chain following an incident in which he was mocked when he asked for help down a flight of stairs, his father told FoxNews.com.
Staff Sgt. Chad Staples, 28, was checking out of Best Western Plus Monahans Inn & Suites in Monahans, Texas, on Tuesday when he discovered the elevator was out of service, his father Robert Staples said. The former Army sniper, who was paralyzed from the waist down after being shot in Baghdad in 2007, then called the front desk for help down the stairs from his third-floor room.
"He wanted somebody to take his bags and wheelchair down," Robert Staples told FoxNews.com by phone from his Maine home. "Basically, the girl said, 'Are you serious?' He said, 'Uh yeah, I'm in a wheelchair. I need some help.'"
The hotel employee, Staples said, replied: "'What do you want me to do about it?' She laughed at him."
At that point, Staples said his son used a couple "poor word choices" by using two expletives.
"He said, 'Are you [expletive] serious? I'm in an [expletive] wheelchair,'" Robert Staples said. "He then hung up the phone and then threw his bags and wheelchair down the stairs and slid down on his backside."
[pullquote]
Best Western representatives, in a statement posted Thursday on its website, apologized for the incident, citing a power outage that impacted the area.
"We spoke directly to Mr. Staples and offered a full and sincere apology and reimbursed his expenses while at Best Western," the statement read. "Best Western has been an industry leader in proactively communicating ADA requirements to its hotels and provides extensive training to address the needs of our disabled guests."
Best Western will now "look to do an even better job" ensuring that all guests are treated with dignity and respect, the statement continued.
"We respect Mr. Staples's status as a disabled veteran and the sacrifices he has made for our country," the statement read. "We can only hope that Mr. Staples will stay at a Best Western hotel in the future, as our guest, and afford us an opportunity to express our gratitude."
Craig Smith, a Best Western spokesman, said the hotel chain planned to issue another statement later Friday. A post on the chain's Facebook page said the staff member had been placed on administrative leave as the case is being investigated.
But Staples, who lives in North Carolina and could not be reached for comment Friday, isn't satisfied with an apology, however. He wants "major policy changes," his father said.
"This corporation needs to make major changes in how they do things," Robert Staples said. "He was adamant — this isn't about money. He wants things changed."
Staples said the hotel employee — identified in news reports as Holly Oyerbides — could have offered extra help or explained to his son that she could not leave the hotel's front desk. The Monahans News reported hotel owner Andy Patel said staff could have injured Staples if they attempted to help him. Patel also told the newspaper that hotel policy is to call emergency medical services to request help, but he was not sure why that policy was not followed.
Staples received a Bronze Star Medal for Valor for his actions in Baghdad on April 10, 2007, when his convoy was ambushed and he used his body to shield another downed soldier, his father said. Despite his service to the country, Staples said the incident has nothing to do with being a veteran.
"It goes beyond serving his country," Robert Staples said. "He's concerned about anyone who's handicapped. He was fully capable of getting down the stairs by himself, just not capable of getting his bags and wheelchair down. What if there was a fire? What if someone else wasn't able to do that?"