Romney, Obama compete for veteran vote, Florida emerging as battleground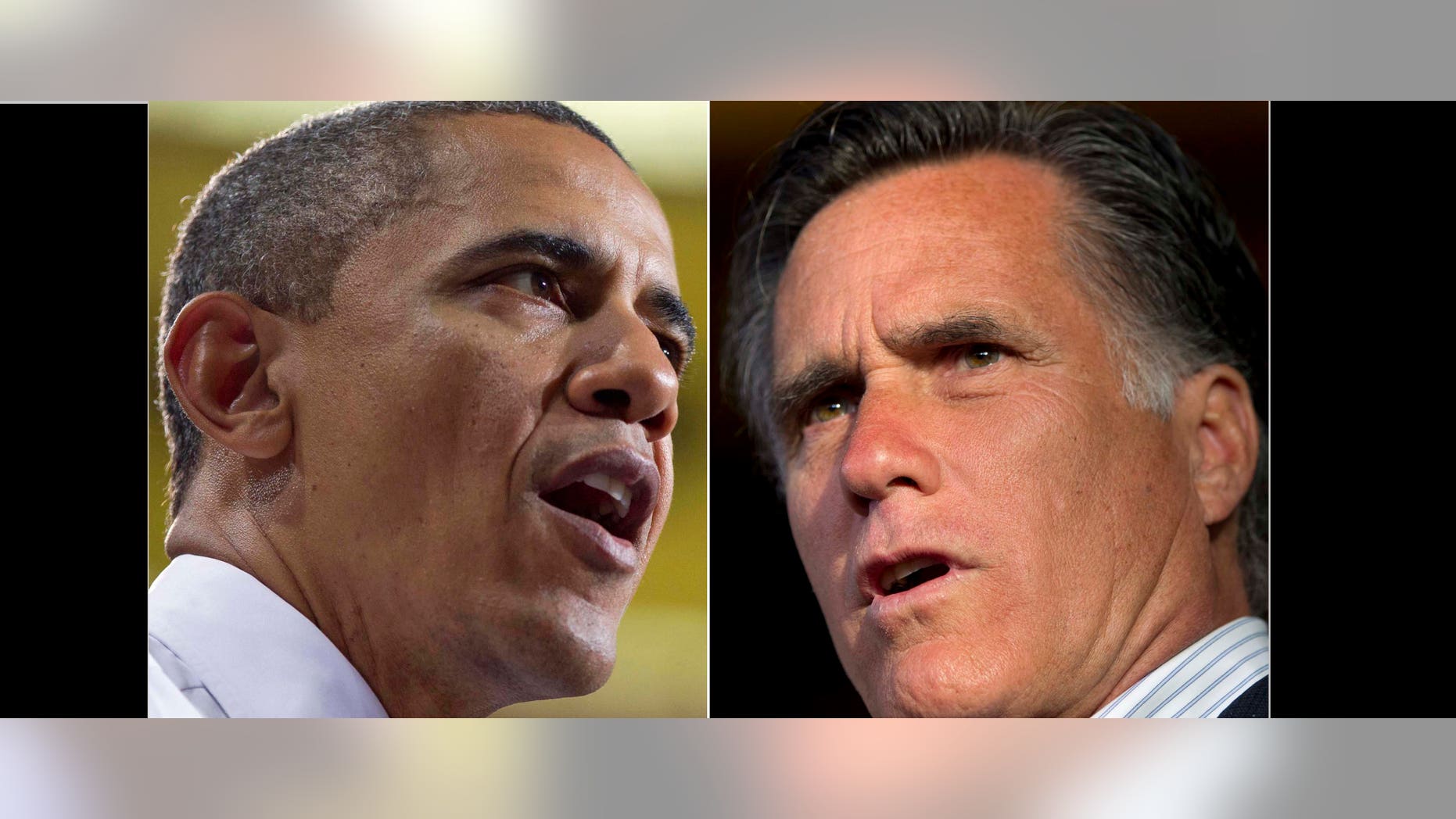 The effort to win the votes of military veterans in the presidential election takes the spotlight Memorial Day weekend, with President Obama and Mitt Romney each attending public events and arguing he has a better plan to improve veterans' weak unemployment situation and other issues.
Romney is scheduled to appear Monday with Arizona GOP Sen. John McCain at a Veterans Museum and Memorial Center in San Diego, a conservative region and so-called Navy town.
McCain, a decorated Navy officer and Vietnam prisoner, won the veteran vote over Obama as the Republican nominee in the 2008 election.
The GOP has long been considered the party that supports a strong national defense and holds the vote of veterans and active-duty members. But the percentages are dropping and the vote appears to be up for grabs this year.
President George W. Bush won the veteran vote by 16 percentage points in his 2004 race against Democrat and Vietnam veteran Sen. John Kerry.
McCain won in 2008 against Obama, though only by 10 percent, 54 percent to 45 percent.
A recent Wall Street Journal-NBC poll shows Romney leading Obama by 8 percentage points among military voters. But a Reuters-Ipsos poll shows Obama winning the veterans' vote over Romney by as much as 7 percentage points.
Large pockets of veterans live in such states as Colorado, Florida, North Carolina, Ohio and Virginia. But whether they can assemble a big enough voting bloc to help either candidate win or lose a state remains unclear.
The most likely place will be Florida, a key election state with 1.6 million veterans, Martin Lee, spokesman for Vets for Romney, said Saturday.
"If we can motivate veterans to go to the polls, with elections so close now, the difference of 100,000 votes could change the election," said Lee, a Navy veteran.
While jobs and the economy are likely to remain the major topics of the general election, veterans' affairs, including high unemployment, will be a factor, especially since their votes could influence the tight race.
A recent Bureau of Labor Statistic report shows unemployment for U.S. Armed Forces veterans who served on active duty September 2001 was 12.1 percent. The jobless rate for all veterans was 8.3 percent, about the same as the national average, according to the agency's March 20 report.
President Obama has recently seized on the opportunity to win votes from the estimated 22 million veterans, re-launching his Veterans and Military Families for Obama campaign.
"There is nothing I take more serious than my responsibility to those who have risked their own safety to defend ours," the president said in a video he released earlier this month with first lady Michelle Obama. "That's why Michelle and I have made supporting veterans and military families a top priority from the start."
The president also touted the capture of Usama bin Laden under his leadership, the withdraw of troops in Iraq and plans to provide tax credits to businesses that hire veterans.
On Saturday, the president said in his weekly radio address that the county has to serve veterans "as well as they have served us" in part by making sure they get the healthcare and benefits they need.
Obama is scheduled to visit the Arlington National Cemetery and the Vietnam Veterans Memorial on Monday.
Still, at least one veterans' organization thinks he could do more. The Rolling Thunder group that represents the plight of U.S. war prisoners said members were supposed to talk with the president Friday at the White House, as part of their annual Memorial Day rally in Washington. However, members got little more than a photo op.
"We thought we were going to meet with the president," Nancy Regg, the group spokeswoman told FoxNews.com "We were disappointed."
Former Army Sgt. Artie Muller,  the group's executive director, recalled how the group rumbled right up to the White House doors to meet with George W. Bush when he was president, then suggested those days appear long gone.
He said Romney turned down a request to meet the group in Washington and that he is not sure who, if either of the candidates, will get the Rolling Thunder endorsement.
"They have plenty of money to fight wars," he said. "But when it's over, to heck with veterans."
Romney had no public appearances on his schedule Saturday, and the president began a round of golf at about 1:30 p.m.
Romney, who has his own veterans campaign, has argued since the start of the campaign that his business experience makes him a better candidate to help all Americans find a job.
He also has criticized the president's call for billions in cuts from the defense budget and accused him of negotiating with the Taliban and apologizing in the Middle East and elsewhere around the world.