Packing for school: Pennsylvania's Kutztown University lifts ban on guns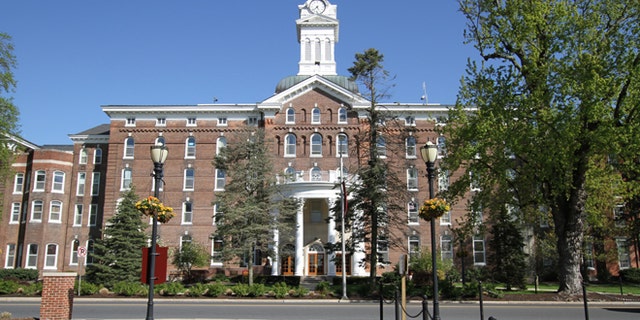 NEWYou can now listen to Fox News articles!
A state-run Pennsylvania university has revised its campus policy to allow students and employees with permits to carry concealed guns in open areas.
Under the new policy at Kutztown University, any university employee or student with a legal permit and "compelling" personal safety reasons can request authorization from campus police on a case-by-case basis. All weapons, including legally-registered firearms, will still be banned from academic buildings, student residence halls, dining facilities and sporting events. The reversal came after state lawyers warned public colleges all-out weapons bans that go farther than federal laws put them on shaky legal ground.
"While I am cognizant of the concerns associated with this change, as a state institution we must follow the advice of legal counsel and do what is necessary to comply with the Second Amendment," Kutztown President F. Javier Cevallos wrote students in an email obtained by FoxNews.com. "I can assure you that we have done everything to implement the strongest policy possible, while staying in compliance with constitutional rights."
The policy change was made following a determination by the Pennsylvania State System of Higher Education (PASSHE) that a blanket prohibition against the possession of weapons on campus is legally unenforceable. As a result, the presidents of Pennsylvania's 14 state-owned universities were advised by attorneys from the state's Office of General Counsel to review current weapons policies to ensure they are defensible in a court of law, PASSHE spokesman Kenn Marshall told FoxNews.com.
"Basically, an outright weapons ban would not withstand a legal challenge," Marshall said Friday, adding that he was unaware of a specific complaint that led to the reconsideration. Marshall was unaware of changes to weapons policies at the state's other higher learning institutions, he said.
The issue of guns on college campuses has made national headlines since the 2007 shooting at Virginia Tech University, in which 32 people died and 17 others were wounded in the deadliest shooting incident by a single gunman in U.S. history. Twenty-two states, including California, New York and Florida, currently ban carrying a concealed weapon on a college campus. Sixteen states introduced legislation to allow concealed carry on campus under certain conditions, but none of those measures passed, according to the National Conference of State Legislatures.
[pullquote]
Furthermore, five states, including Colorado and Oregon, currently have provisions allowing the carrying of concealed weapons on public postsecondary campuses. Utah, meanwhile, remains the only state to specifically name public universities as public entities that do not have the authority to ban concealed carry. As such, all 10 public institutions in Utah allow concealed weapons on campuses.
In Texas, lawmakers approved a bill on Thursday that drastically reduces the number of training hours needed to obtain a state concealed handgun license. Texas has more than 500,000 concealed handgun license holders, the Associated Press reports, including Gov. Rick Perry, who can now sign or veto the bill.
Calls seeking comment from Pennsylvania Gov. Tom Corbett were not immediately Friday. Officials from the National Rifle Association also did not return messages seeking comment.
Nils Hagen-Frederiksen, press secretary for Gov. Corbett's office of general counsel, told FoxNews.com that questions were raised last year by students who possessed a valid license to carry a firearm about the constitutionality of blanket firearms bans on state-owned campuses.
"Kutztown University considered the more narrowly tailored model policy, made revisions to it, and the administrative council (comprised of student, faculty and administration leaders) adopted it as the policy of the university," Hagen-Frederiksen wrote in an email.
Kutztown University, which was founded in 1866, had an enrollment of 9,804 students from more than 20 states and countries in 2012, according to its website, and is located on 289 acres in Berks County.
John Haller, Pennsylvania director of the Students for Concealed Carry, told FoxNews.com he welcomed Kutztown's revised policy.
"It's a positive movement," Haller said. "Properly trained and licensed Pennsylvanians should be able to exercise their Second Amendment rights on a college campus the same way they would elsewhere."
While the weapons policies of private universities remain a separate issue, Haller said he strongly disagrees with critics of the change who say firearms have no place on college campuses under any circumstance.
"Criminal activity can happen anywhere and I think you saw that very clearly with the Boston bombings," Haller said. "Of course, universities want to create a dynamic academic environment where people can exchange ideas safely, but the carrying of firearms by properly trained and licensed people is not incompatible with that, quite frankly. We should be allowing college students the ability to defend themselves."