Pa. teen who vanished after getting note from school committed suicide, officials say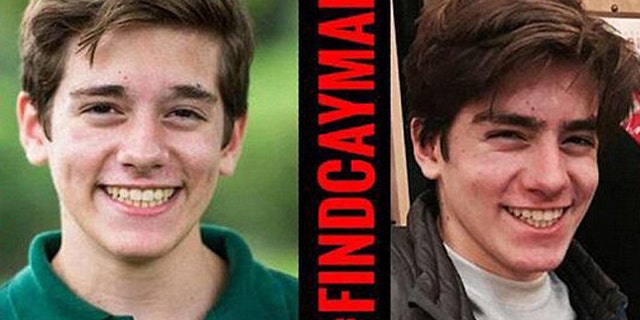 NEWYou can now listen to Fox News articles!
An autopsy has determined a missing teen found dead outside Philadelphia committed suicide, the Associated Press reported.
The Delaware County medical examiner's office declared Cayman Naib, 13, suffered a self-inflicted gunshot wound before he was later found in a shallow creek near his family's Newtown Square home.
Grief counselors were sent to a Philadelphia-area school Monday after the frantic search for a teen who disappeared after getting an email from school about overdue homework came to a sad end Sunday, when searchers found his body buried in snow in a shallow creek on his family's property.
Cayman Naib, 13, was remembered by classmates at the Bryn Mawr school he attended as a "thoughtful, bright, fun-loving" student at a candlelight vigil, hours after his body was found. Hundreds of searchers had looked for Cayman since he vanished last Wednesday just hours ahead of a snowstorm. Thousands more followed the search on social media via a Facebook page called "Find Cayman."
"This is every parent's nightmare."
"This is every parent's nightmare," Steve Piltch, head of Shipley School, told Philly.com.
Hundreds of students and parents gathered and lit candles at a vigil Sunday at the school. Cayman's parents, Farid Naib and Becky Malcolm-Naib, were devastated by their son's death, Piltch said. The parents wrote on the Facebook page that Cayman left home 30 minutes after getting an email from Shipley on Wednesday about overdue homework.
"He is a good kid and has no substance abuse or other issues," they posted. "This is the first time he has ever done anything like this."
Mark Hopkins, chief of Greater Philadelphia Search and Rescue, which Newtown Square Township police had brought in, led a K-9 team that made the grim discovery. Neither he nor other authorities would comment on reports that a gun may have been found near the body.
"Once the autopsy is done on Monday, we will have more to comment on that issue," Delaware County District Attorney Jack Whelan told the newspaper.
The search for Cayman involved hundreds of volunteers, the Civil Air Patrol, Newtown Square Township police and dog teams. The FBI also was involved, examining Cayman's cellphone and computer for clues.
After his body was discovered on the edge of the family's 13-acre property, the Naibs posted the news on the Facebook page, which Sunday night was changed to "Celebrating Cayman" and had attracted more than 20,000 "likes."
"It is with a heavy heart that we share news that the family has just learned through the search-and-rescue team and local law enforcement that Cayman has been found deceased," the family said. "Please understand that the family is still processing and struggling with this most recent news, but that they would like to thank all of the thousands of people over the last five days-- friends, family, community, law enforcement, local, county, and federal, search and rescue, fire departments, the school communities, especially Shipley and Episcopal Academy, and even perfect strangers -- who have come together to support the family to find Cayman.
Click for more from Philly.com
The Associated Press contributed to this report.