Oklahoma officer honored for adopting 8-year-old boy he saved from severe child abuse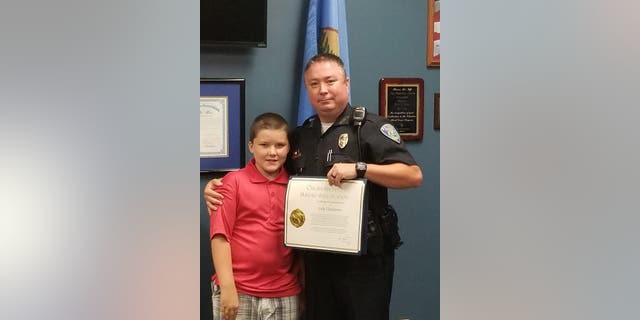 An Oklahoma police officer was honored last week after he adopted an 8-year-old boy that he'd saved from severe abuse in 2015.
Poteau Police Officer Jody Thompson was awarded a certificate of commendation in Oklahoma. He'd also adopted the boy's little sister.
Thompson responded to a physical child abuse call in 2015, where he met the boy named John, according to police.
"He did not have a spot on his body that didn't have a bruise or abrasion… It was the worst thing I've ever seen," Thompson said.
OFF-DUTY COPY WHO KILLED DAUGHTER'S BOYFRIEND FACES 3RD TRIAL
The officer took the boy to an Oklahoma Children's Advocacy Center and then drove him to the hospital, where he stayed with the child until the next day.
A few days later, Thompson became a certified foster parent and brought John home.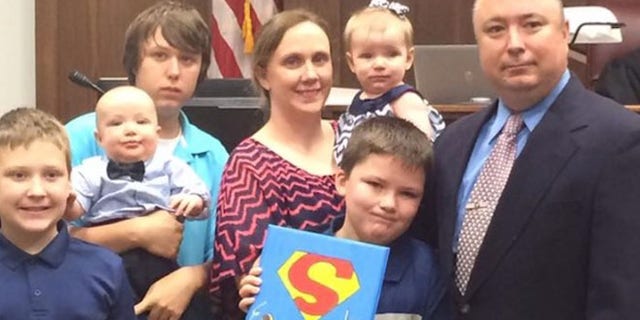 "At the time, I had a 15-year-old and an 8-year-old son. When I brought John home, I didn't tell them or my wife," Thompson said.
The Thompsons welcomed John into their home in April 2015. Seven months later, they brought home John's baby sister after she was born while their biological mother was in jail, CBS News reported.
COP'S FATAL SHOOTING OF MICHIGAN, 73, RULED JUSTIFIED
John's biological parents reportedly gave up their rights as parents and he was officially adopted in August 2016. After a lengthy trial, the Thompsons adopted Paizley, John's sister, in February.
"John is amazing, He's a straight-A student, on the honor roll, in the gifted and talented program, involved with the local drama club," Thompson said of his adopted son -- who is now 10 years old.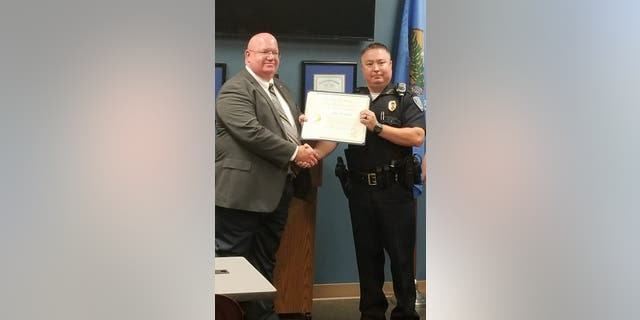 OKLAHOMA ARMY VETERAN LEAVES $2.25 MILLION ESTATE TO HABITAT FOR HUMANITY, 24 HOMES TO BE BUILT
"Jody's actions as well as his families are second to none. The example of love and compassion he has shown to this young man and his sister is an example everyone should follow," Poteau Police Chief Stephen Fruen said.
Poteau is a three-hour drive southeast of Oklahoma City.