Oklahoma mayor apologizes after husband dresses up as KKK member in Halloween 'prank'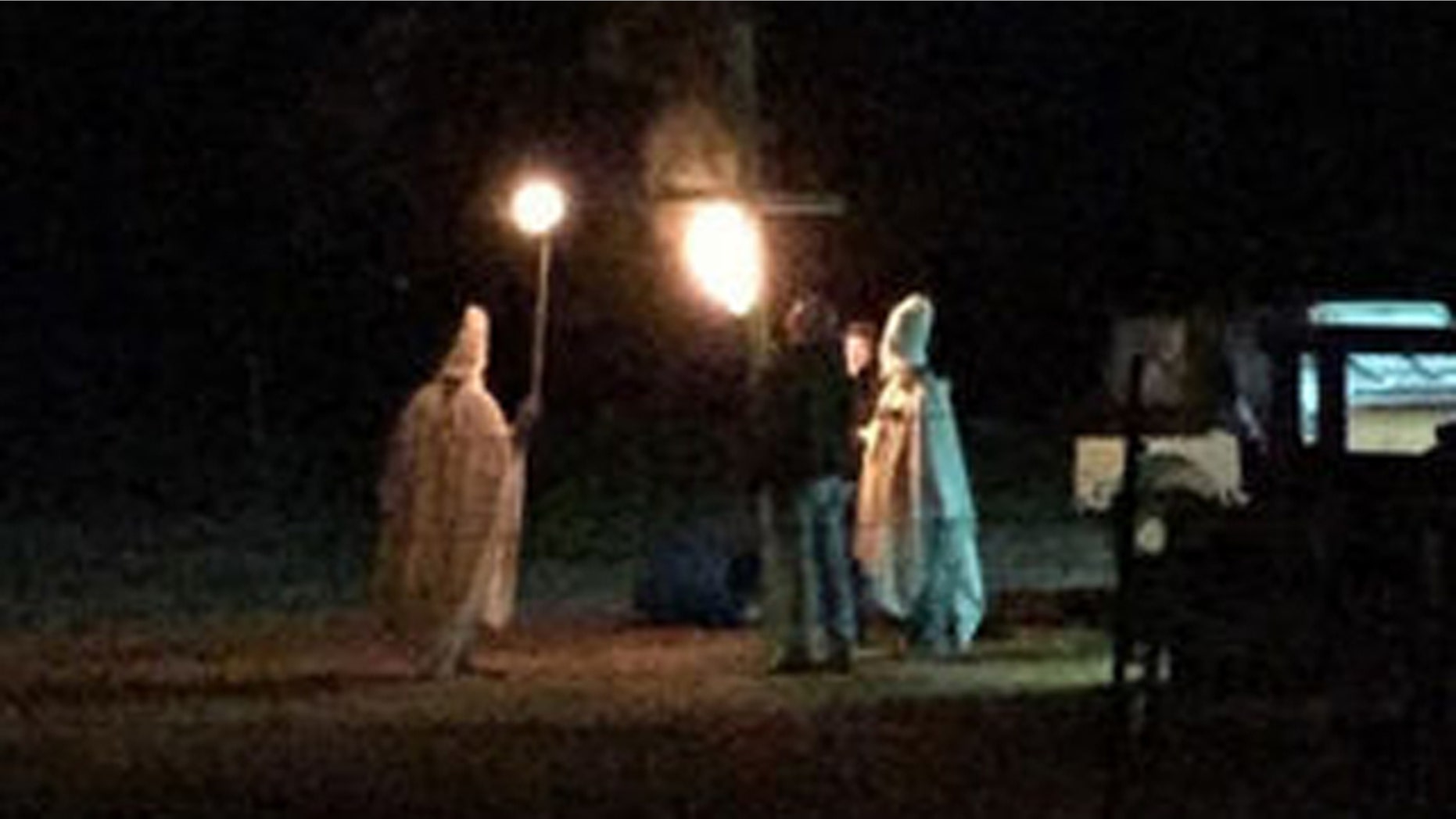 The mayor of a small Oklahoma town apologized Monday after a photo of her husband and his friends holding a mock Ku Klux Klan rally went viral on Facebook over the weekend in what authorities described as a "Halloween prank gone bad".
The Oklahoman reported that Cary Sharp, 47, was with his friends in Lahoma on Saturday night when they decided to dress up for Halloween. Sharp told local news outlets that they decided to don white robes and hoods and hold up crosses near a bonfire.
A neighbor, identified by the Enid News as Misty Meisner, spotted the group and called authorities. Garfield County Sheriff's Deputy Aaron Moore wrote in his report that he told Meisner that he couldn't make Cary Sharp and his friends stop what they were doing.
"[Lahoma Police Chief Matt] Hankins and I tried to explain to the woman that although in poor taste, the Constitution protects freedom of speech and that we can't make them stop," Moore wrote. "This further irritated the woman."
Moore went on to say that he told Sharp's group, "although I know it was a joke [I advised] that they save them and myself anymore [sic] headaches to not burn anymore [sic] crosses."
Sharp's husband, Lahoma Mayor Theresa Sharp, told the Oklahoman that she had nothing to do with the "prank".
"It was poor judgment on the part of him and his friends," Theresa Sharp said. "I was not involved. I was trick-or-treating with my child. Myself and the city do not endorse the behavior that was reflected that night."
Cary Sharp also told the paper that he was sorry for his attempt at humor, saying "I'm very sorry that this happened. I have huge regrets, trust me."
Lahoma is a town of just under 650 people approximately 70 miles northwest of Oklahoma City. Theresa Sharp said Monday that some residents are pushing for her to resign as mayor.
"It is upsetting due to the fact that we live in a community with families of different ethnic backgrounds, and this is a symbol of hate and intolerance," Meister told the Enid News. "However, many people and children were out for evening festivities. Unfortunately, now this is something we have to talk to our children about."
Click for more from The Oklahoman.