Oil Change: Tony Hayward Out as BP CEO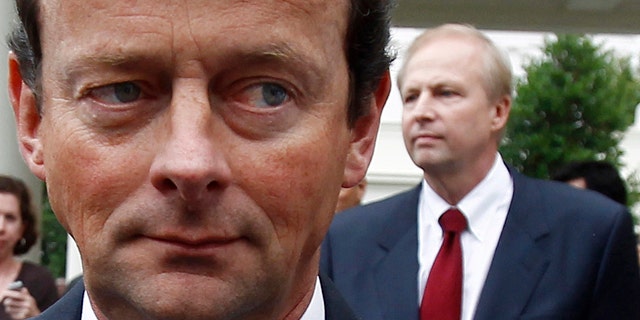 NEW ORLEANS -- BP's embattled boss Tony Hayward is set to be replaced amid "leadership changes" at the firm, Fox News confirmed on Sunday.
Hayward, under heavy fire for his handling of the Gulf of Mexico oil disaster that followed the April explosion and fire on the Deepwater Horizon oil rig, is set to step down Monday.
BP's managing director Bob Dudley will step in as the new CEO, The Wall Street Journal reported.
Earlier Sunday, BP spokesman Toby Odone seemed to downplay media speculation about Hayward's departure, saying he "remains BP's chief executive, and he has the confidence of the board and senior management."
BP's board would have to approve a change in company leadership. An official announcement could come as early as Monday.
BP is due to release its second quarter results on Tuesday, and the board of directors is scheduled to meet before the earnings announcement.
It's been more than three months since an offshore drilling rig operated by BP exploded off Louisiana on April 20, killing 11 workers and setting off the spill. A temporary plug has stopped oil from gushing for more than a week now, but before that the busted well had spewed anywhere from 94 million gallons to 184 million gallons into the Gulf.
Crews trying to plug the leaky well for good had to stop work late last week because of the threat from Tropical Storm Bonnie, but the effort was back on track as skies cleared Sunday.
A drill rig is expected to reconnect at around midnight to the relief tunnel that will be used to pump in mud and cement to seal the well, and drilling could resume in the next few days.
Since the explosion, Hayward has made several highly publicized gaffes. Among them: going to a yacht race while oil washed up on Gulf shores, and uttering the now-infamous: "I want my life back" line.
Oppenheimer & Co. senior analyst Fadel Gheit said in an interview Sunday that it was too bad Hayward's career was derailed by the spill, but "unfortunately he became a sacrificial lamb in a politically charged world."
Dudley would be well-suited to take over, Gheit said, describing him as even-tempered and a good delegator. It's never an easy time to instill new leadership in a company, though, he noted.
"I'm not sure if removing Tony Hayward is going to throw BP's problems away," Gheit said.
The company has already spent roughly $4 billion on its response to the crisis. The final tally could be in the tens of billions of dollars.
News that the CEO will depart came as no surprise to people living along the Gulf.
Patrick Shay, 43, sat on a porch swing of his cottage in Grand Isle, Louisiana, on Sunday, his front yard filled with small, white crosses, each bearing the name of sealife or ways of life the oil spill has killed.
"He seems like a pretty self-absorbed person, so I'm not surprised to hear he would walk away in the middle of all this," he said. "If anything it will help. They need to get him out of the way and get this cleaned up."
In New Orleans, Chris Hearn, a 23-year-old security guard, said what's important is getting the oil stopped permanently.
"It doesn't matter who's in charge," he said. "As long as they clean it up, I really could care less. They just need to get it cleaned up because it's affecting all of us down here."
Completion of the relief well that is the best chance to permanently stop the oil now looks possible by mid-August, but retired Coast Guard Adm. Thad Allen, the government's point man for the spill, said he wouldn't hesitate to order another evacuation based on forecasts similar to the ones for Bonnie.
"We have no choice but to start well ahead of time if we think the storm track is going to bring gale force winds, which are 39 mph or above, anywhere close to well site," Allen said.
Allen said officials will spend the next day determining how Bonnie, which did no real damage on shore, affected the area. Oil may have migrated north to Mississippi Sound, he said, and officials are checking to see if boom that was protecting sensitive marshlands was pushed ashore.
Allen said he had not heard whether Hayward is being replaced.
"I've got no knowledge of the inner workings of BP," he said.
Dudley took over from Hayward as BP's point man on the cleanup in June.
Dudley grew up partly in Hattiesburg, Mississippi. He spent 20 years at Amoco Corp., which merged with BP in 1998, and lost out to Hayward on the CEO's slot three years ago.
Hayward, 53, joined BP in 1982 as a geologist, and currently makes $1.6 million a year as the company's head, according to their annual report. In 2009, he received a performance bonus of more than $3 million plus other remuneration.
The company can terminate the contracts of directors "at any time with immediate effect on payment in lieu of notice equivalent to one year's salary," the report says.
Hayward has a pension pot of about $17.3 million, which would pay 584,000 pounds a year upon retirement.
Hayward took over the top spot at BP in 2007 after a series of events including a fatal explosion at a Texas refinery and an oil spill off the Alaska coast, as well as accusations of misusing company resources, led to the ouster of John Browne.
Upon replacing Browne, Hayward promised to focus "like a laser" on safety. In June, members of Congress repeatedly reminded Hayward how empty that promise sounded with 11 workers dead, BP seemingly unprepared to contain the spill and a Congressional investigation indicating that officials put cost-savings ahead of safety in the days and hours before the rig explosion. BP hasn't completed its own investigation into the cause.
Click here to read more from The Wall Street Journal.
The Associated Press contributed to this report.