Official: Explosion flattens home in Washington, DC, suburb
A house was completely destroyed and its occupant remains unaccounted for after an overnight explosion in Rockville, Maryland.
The explosion was reported around 1 a.m. in the 11400 block of Ashley Drive in the Randolph Hills neighborhood.
Neighbors tell FOX 5 that the force of the explosion shook their homes. Many report that their windows were also damaged.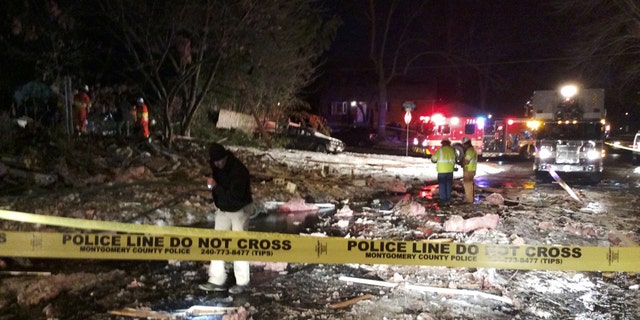 WWII VETERAN'S BODY FOUND IN LARGE SUITCASE ON ARKANSAS FARM
Fire officials say the explosion could be felt over a mile away and that 911 calls were received from residents nearly two miles away.
Emergency crews say several houses near the explosion site suffered damage and a large debris field surrounds the home.
Fire officials say they are aware of reports from neighbors that say ammunition and firearms were kept in the house. Officials do not believe this would have contributed to the explosion.
"It's just a pile of debris; it's just a pile of bricks. There's not anything left of the house," said Pete Piringer, chief spokesman for Montgomery County Fire & Rescue Service. "I've heard there were calls from miles away, people calling."
FLORIDA COP-KILLER CASE REASSIGNED AFTER PROSECUTOR DECLINES DEATH PENALTY
He described the home damage as "catastrophic" and added at least a dozen other homes were damaged because of the "large debris field" from the blast. Investigators were just beginning to probe the rubble, he added, noting a cause of the blast had not yet been determined.
"The status of the occupant is unknown," he said, adding authorities had no further information. But he said investigators would be exhaustively checking the rubble in daylight hours and trying to determine what happened.
Piringer also said there were no reports of any gas leaks before the blast but he said a gas explosion was one possibility that has not been ruled out initially.
Paul Ricci lives in the area and recorded video of the flames following the explosion. He said the impact felt similar to the 2011 earthquake that struck the D.C. area.
"It jolted me right out of bed. We immediately got up and started wondering what was happening," Ricci said. "We took a look around outside and noticed a glow. Someone came running by and said a house blew up – that immediately sent a shiver up our spine."