Officers who used coin flip to decide whether to arrest woman fired
The two Roswell, Georgia police officers who were caught on body camera video using a coin flip to determine whether or not to arrest a woman during a traffic stop in April have been fired.
Officers Courtney Brown and Kristee Wilson were terminated Thursday morning following an internal investigation, Roswell Community Relations Manager Julie Brechbill confirmed to Fox News.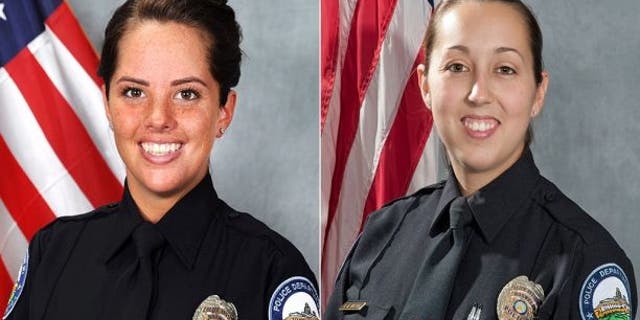 The two were initially put on administrative leave amid the investigation. Police Chief Rusty Grant wrote in their termination letters that the cops engaged in conduct unbecoming of a police officer and cited a human resources policy in which they failed "to perform at an acceptable level."
Body camera footage, uncovered in an investigation by WXIA-TV, revealed that Brown and Wilson used a coin-flipping app to decide whether to arrest Sarah Webb, who was pulled over as part of a traffic stop.
Brown was heard on camera asking Webb if she knew how fast she was going. "The ground is wet and it's been raining and you're going over 80 miles an hour on this type of a road. That's reckless driving," Brown said.
"I'm so sorry," Webb replied.
GEORGIA COPS USE COIN FLIP TO DECIDE WHETHER TO ARREST WOMAN, VIDEO SHOWS
Brown returned to her police vehicle to ask fellow officers if she should arrest Webb or just ticket her.
Wilson, who also responded to the scene, was heard saying, "What do you think?"
Brown said she "didn't have speed detection," but the other officer pointed out that the body camera recorded her cruiser's speed, which would have shown how fast she was going to catch up to Webb.
"Hold on," Brown was then said, as she opened a coin flip app on her phone. Wilson suggested that heads should mean arrest and tails should mean release. Brown agreed and flipped the coin in the app.
"A [arrest] head, R[release] tail," Wilson said.
"Okay," Brown replied.
"This is tails, right?" Wilson asked.
"Yeah, so release?" Brown responded.
"23 (the police code for arrest)," Wilson replied. The officers decided to charge Webb with driving too fast under the conditions and reckless driving.
MAN OFFERED DOUGHNUTS FOR FREEDOM, POLICE SAY
Webb, when she found out what the officers did, told WXIA it was "disgusting" that Brown and Wilson "put my freedom in the hands of a coin flip."
When the station reported on the incident, the charges against Webb were dropped and she called for the cops to be fired.
Fox News' Kathleen Joyce contributed to this report.