Obama Says He 'Fully Supports' Aims of Military Benefits Overhaul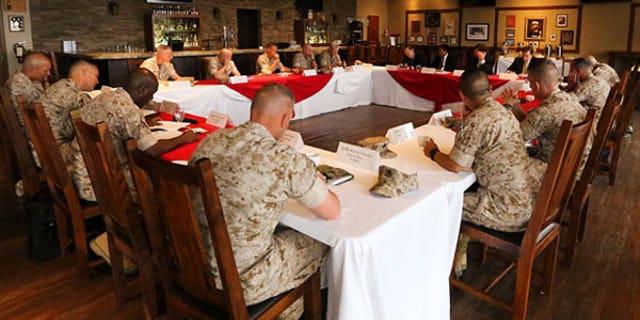 President Obama praised the work of a blue-ribbon panel on military compensation and retirement reform as an "important step forward" and said his administration "fully supports" the aims of the proposals.
Obama made the comments on Monday in letters to congressional leaders, including Senate Majority Leader Mitch McConnell, R-Kentucky, and House Speaker John Boehner, R-Ohio, as well as to the chairman of the Military Compensation and Retirement Modernization Commission, Alphonso Maldon.
"The recommendations are an important step forward in protecting the long-term viability of the All-Volunteer Force, improving quality-of-life for service members and their families, and ensuring the fiscal sustainability of the military compensation and retirement systems," he wrote. "Our men and women in uniform and their families deserve nothing less."
The president added, "My Administration fully supports the underlying objectives of each of the Commission's 15 recommendations."
In January, after nearly two years of review, the congressionally mandated panel released a report detailing the proposals, which included offering troops 401(k)-like retirement plans before they reach 20 years of service, replacing the existing Tricare program for military families and reservists with a choice of commercial health insurance options, and consolidating base commissary and exchange stores.
Related Blog: President Supports Commission's Goals for Pay and Compensation
The recommendations have launched a series of hearings on Capitol Hill and widespread debate over the future of military compensation. The proposals were designed to give troops, retirees and their families more benefit options while saving the Defense Department an estimated $12 billion a year in personnel costs by 2040.
Just last week, officials from the Veterans of Foreign Wars of the United States and the Iraq and Afghanistan Veterans of America told lawmakers that many of their members would support such a radical change to the military's retirement benefit.
"It is fundamentally unfair that one could serve 10 or 12 years, with three, four, five or more deployments, and leave the military with absolutely no retirement benefit at all, yet a careerist who possibly never even deployed could be entitled to a full benefit package," said Chris Neiweem, a legislative associate for IAVA.
Other groups, including the Military Officers Association of America, have warned the new retirement option would be far less predictable than the current model and include, for example, assumptions about investment returns.
In his letters, Obama said he instructed officials to "adopt or refine the specific proposals," but acknowledged that "subsequent analysis may be needed."
As he wrote, "I directed my team to consider these recommendations and to work with the Commission to adopt or refine the specific proposals in as many instances as possible. Given the complexity of military compensation and retirement programs and our solemn responsibility to ensure that any changes further the objectives above, I will report to the Congress by April 30, 2015, on the initial results of this work and with proposals that I recommend be enacted without delay; subsequent analysis may be needed for some of the recommendations."
-- Brendan McGarry can be reached at brendan.mcgarry@military.com