O.J. Simpson: As The Juice awaits parole, his saga continues to enthrall
The Juice could once again be loose.
Imprisoned former football star O.J. Simpson has a parole hearing this week that could see him released from a medium-security Nevada prison as early as Oct. 1. While lawyers familiar with Simpson's case say the now 70-year-old diabetic is likely to make parole, what his life outside of the prison walls will be like is still very much up for debate.
"The big question is, if Simpson is paroled, how would he be received? With open arms? Slammed doors?" columnist Scott Ostler wrote in Simpson's hometown newspaper, the San Francisco Chronicle. "He would be retried a million times in the court of public opinion, gossip TV and social media. Psychopathic murderer or frame-up victim? Rehabilitated soul or consummate con man?"
There is renewed interest in the Simpson saga in the wake of last year's highly popular FX miniseries and Academy Award-winning ESPN documentary.
Simpson's upcoming parole hearing, which comes more than eight years after he was found guilty in 2008 of armed robbery, kidnapping and other charges, is just the latest incident in the decades-long saga of the disgraced Hall of Fame running back.
Orenthal James Simpson was born in 1947 and raised by his hospital administrator mother in the housing projects in San Francisco's Potrero Hill neighborhood.
The future convicted armed robber started having run-ins with the law early on in life, joining a street gang called the Persian Warriors and getting incarcerated at the San Francisco Youth Guidance Center. Speaking about his childhood, Simpson's childhood sweetheart and first wife, Marguerite Whitley, told People Magazine in 1975 that the future NFL star "was a really awful person then."
Seemingly fated for a life of crime, a chance meeting at the home of famed San Francisco Giants slugger Willie Mays changed everything.
"It wasn't any heavy sit-down rap about don't get in trouble. It was just about ability, man," Simpson told Rolling Stone in 1977. "He'd say, 'You got so much ability.' And I really wanted to be a professional baseball or football player. The point that came through to me was: hey man, Willie was from Alabama where he had nothing. And he told me, 'Just your ability can get you over. You got the ability. Don't screw it up, man.'"
After two years playing at a local college because of his poor grades, Simpson joined the powerhouse University of Southern California Trojans, where he won a national championship, a Heisman Trophy and a slew of other accolades before going on to be the first pick in the 1969 AFL-NFL Draft.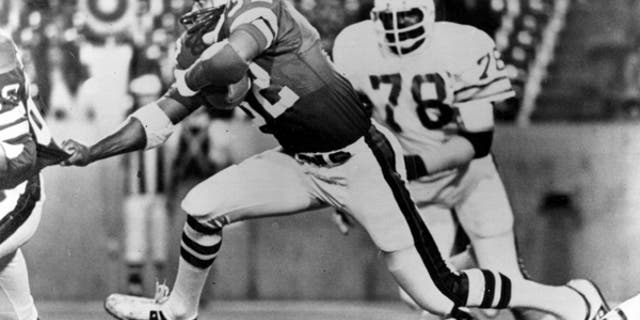 During his decade-long NFL career, Simpson made the Pro Bowl five times, led the league in rushing four times and touchdowns twice and was the league's Most Valuable Player in 1973. He was inducted into the NFL Hall of Fame in 1985, his first year of eligibility.
Simpson parlayed his success on the gridiron – and his amiable persona and charisma -- into a longtime career in movies, television and advertising. He became famous for his role as a spokesperson for Hertz rental car company as well as other brands and starred in numerous films like the 1974 Paul Newman-film "The Towering Inferno" and the crime comedy series, "The Naked Gun."
The Juice's public persona and ease with which he crossed racial lines saw People magazine label him as "the first black athlete to become a bona fide lovable media superstar."
Out of the limelight, however, Simpson's life was anything from picture perfect.
After a bitter divorce and the drowning death of his 1-year-old son, his relationship with Nicole Brown, a nightclub waitress, began to heat up and they eventually wed in 1985. The couple's marital bliss only lasted a few years as Simpson pleaded no contest to spousal abuse in 1989 and, citing irreconcilable differences, Brown eventually filed for divorce in 1992.
Despite the spousal abuse charges, Simpson was still able to maintain his public image as a jovial, charismatic former athlete and celebrity.
That image, however, was forever shattered on June 12, 1994.
That was the day Nicole Brown Simpson and her friend Ron Goldman were discovered stabbed to death outside Brown's condominium in the tony Los Angeles neighborhood of Brentwood. Simpson, who was a person of interest in the murders, failed to turn himself in to authorities and five days later led police on the now infamous, low-speed pursuit through LA as they attempted to pull over Simpson's white Ford Bronco.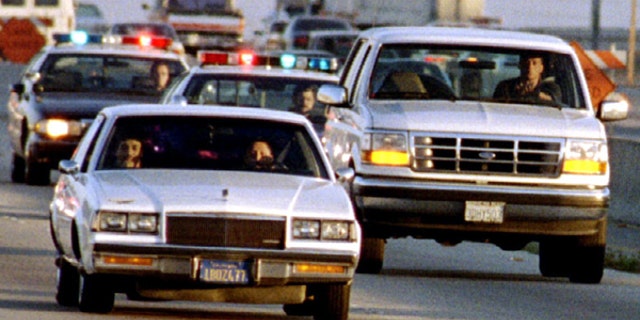 The subsequent murder trial has been dubbed by some as the Trial of the Century, generating an international media frenzy that culminated in a jury acquitting Simpson on Oct. 3, 1995.
Although Simpson avoided jail time, the family of Ron Goldman quickly filed a civil suit against him. In 1997, Simpson was found liable for the wrongful death and battery of Goldman and the battery of Brown and ordered to pay $33.5 million to their estates.
The civil suit wreaked havoc on Simpson's finances, forcing him to auction off his Heisman Trophy and other belongings and seeing him evicted from his home of 20 years after defaulting on his mortgage.
The lingering money woes were compounded by a string of other legal issues that culminated in his conviction in 2008 for armed robbery, kidnapping and other charges stemming from a confrontation with two sports memorabilia dealers at a Las Vegas casino hotel in September 2007.
Simpson was living in Miami at the time when he and several friends hatched a plan with a middleman to meet the collectibles sellers in a room at the Palace Station hotel-casino. Simpson has always maintained he was trying to retrieve personal mementos stolen from him after his 1995 acquittal in the murder trial.
During his time behind bars, Simpson has worked as a gym janitor and softball ump and, according to him, become something of a life coach to fellow inmates.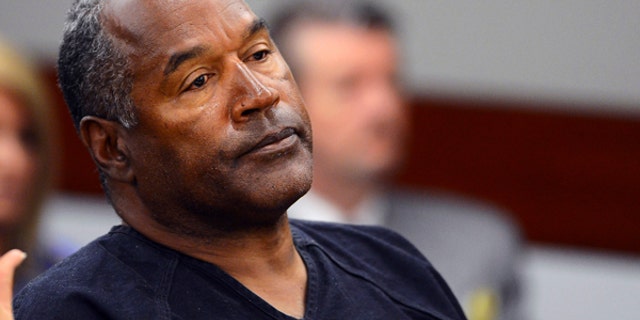 When – and if -- Simpson gets sprung from lockup, he will re-enter society still very much hamstrung by his debt to the Goldman and Brown families. While O.J. is not expected to pay the families the entire $33.5 million sum, a large chunk of his income is expected to go toward paying off the civil suit's ruling. The Goldman family has already been awarded the rights to Simpson's controversial 2008 book, "If I Did It," what Simpson describes as a hypothetical account of how he could have carried out the 1994 murders.
Simpson will, however, be able to collect his pension plan from NFL -- currently valued at just under $3 million, according to some reports – without fear of the money going toward the settlement.
But before The Juice starts planning his life on the outside, he will have to convince members of the Nevada parole board that he is rehabilitated, hasn't joined a prison gang and has remained drug and alcohol free while incarcerated.
"Assuming he didn't do anything bad on the inside, I think nine years is a pretty good stay for his charges," retired Clark County District Attorney David Roger, who won convictions against Simpson in 2008, told the New York Post. "Obviously he'd be on parole and would have to toe the line with parole officers. But I don't know if granting him parole would be out of line here."