NYC subway stabbing: Police say teen, 14, killed in Harlem broad daylight attack
New York City police say that no arrests have been made in the subway stabbing
NEWYou can now listen to Fox News articles!
A 14-year-old in New York City was stabbed to death while on a subway platform in Harlem on Saturday afternoon.
A suspect has been taken into custody, police said late Saturday.
Police were responding to a crime in progress inside the 137 St/City College train station and found the 14-year-old male on the northbound 1 line train platform with a stab wound to the abdomen.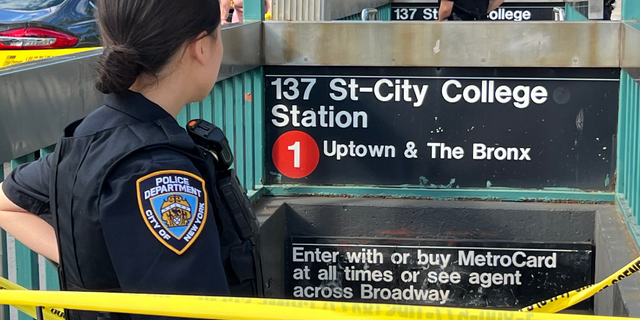 He was transported to Mount Sinai Morningside Hospital and pronounced dead, according to police.
In a 10:45 p.m. ET press conference, police said the attack wasn't believed to have been random and the suspect and the victim likely knew each other.
NYPD Transit Chief Jason Wilcox said police believe an altercation between the victim and suspect started on the street and continued into the subway where the attack occurred.
Investigators found a knife and what appeared to be a broomstick at the scene, Wilcox said.
NYC PREGNANT WOMAN ATTACKED WITH WRENCH IN BROAD DAYLIGHT
Surveillance video in the subway captured the suspect's image and he was found on 173rd Street and Broadway and taken into custody. The unnamed suspect was bleeding from his back and abdomen and taken to a hospital, Wilcox said.
No other suspects are outstanding, he said. "The cause of those wounds and his role in this incident remains part of an ongoing investigation," Wilcox said.
The motive for the attack is also under investigation.
New York City Democratic Mayor Eric Adams said that police are still investigating the incident, but said "this is why we have Saturday Night Lights."
"This is why we have Saturday Night Lights. It's about safe spaces for our young people. And this just reinforces why when we have these safe spaces, we prevent children from being in harm's way. And so being here today and hearing about the stabbing really highlights why we need the lights on in schools like this so our children can have a safe space. And we're going to find out exactly what happened and we're going to find the person that's responsible," Adams said.
The "Saturday Night Lights" program is a partnership between the NYPD, city, and the city's district attorneys "to open 100 gyms and expand its "Saturday Night Lights" (SNL) program. SNL is a summer program that provides access to free youth sports programming on Saturday nights."
CLICK HERE TO GET THE FOX NEWS APP
Richard Davey, MTA NYC Transit President called the crime "senseless" in a statement provided to Fox News.
"This senseless and tragic incident is awful. We are cooperating with the NYPD investigation that remains in its early stages," Davey said.