North Korea captive Otto Warmbier 'got exactly what he deserved,' college prof says
An anthropology professor at the University of Delaware is taking heat for comments she made on Wednesday saying that "Otto Warmbier got exactly what he deserved."
Katherine Dettwyler, an adjunct professor in the school's anthropology department, made her statement about Warmbier on Facebook and in the comments section of an article about the late college student on the website of conservative magazine, the National Review.
"He went to North Korea, for f***'s sake, and then acted like a spoiled, naive, arrogant, US college student who had never had to face the consequences of his actions," Dettwyler wrote. "I see him crying at his sentencing hearing and think 'What did you expect?'
Dettwyler added: "How about a few moments of thought given to all the other people in North Korea who are suffering under the repressive government there? Just because they are North Koreans, and not US citizens, we shouldn't care about them?"
Warmbier, a student at the University of Virginia, was arrested in 2015 on accusations that he tried to steal a propaganda banner during a visit to North Korea and was later convicted of subversion. His family said they were told that he had been in a coma since shortly after he was sentenced to prison with hard labor in March 2016.
When Warmbier returned to Ohio last week after U.S. officials secured his release, doctors determined that he had suffered a "severe neurological injury" of unknown cause. He died on Monday.
Warmbier's family objected to an autopsy, so the Hamilton County coroner's office conducted only an external examination of his body and is still trying to determine his cause of death.
Dettwyler's comments – coming just two days after Warmbier's death -- drew harsh criticism from readers of the National Review, with one commenter saying "you are a hate filled twisted person who should not be teaching at all. The hatred you spew at ordinary white college kids proves the point of the article. Please drop dead soon."
The anthropology professor, who did not respond to Fox News' multiple requests for comment, fired back at her online critics, saying that while she loves her "hard-working, sincere, non-arrogant college students," many of them "don't fall into that demographic."
"They think nothing of raping drunk girls at frat parties and snorting cocaine, cheating on exams, and threatening professors with physical violence," she added. "I would not call them 'ordinary' -- not at all."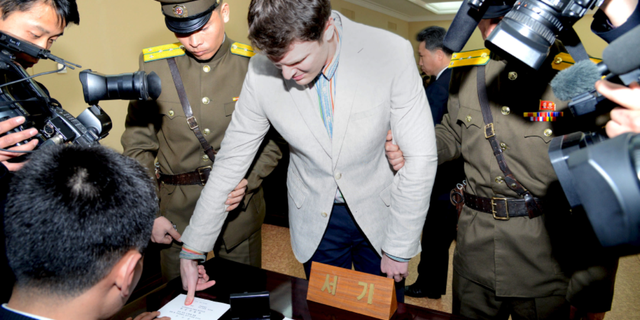 Officials at the University of Delaware on Friday distanced themselves from Dettwyler in a statement to Fox News by noting that her comments "do not reflect the values or position of the University of Delaware."
"We condemn any and all messages that endorse hatred and convey insensitivity toward a tragic event such as the one that Otto Warmbier and his family suffered," the school added. "The University of Delaware values respect and civility and we are committed to global education and study abroad; therefore we find these comments particularly distressing and inconsistent with our values. Our sympathies are with the Warmbier family."
Dettwyler's page on the popular website RateMyProfessors.com shows that she has a mixed history with her students. While most of the postings on the site acknowledge Dettwyler's expertise in her field, almost everyone – both positive and negative – mention how she makes her opinions abundantly clear in the classroom.
"Professor Dettwyler is intelligent, but way too opinionated to the point where she becomes unprofessional," one poster noted.