No charges filed against Mesa police officers caught on video beating man
A group of police officers in suburban Phoenix caught on video beating and kneeing a man before handcuffing him earlier this year should not face criminal charges, outside police investigators said Monday.
The Scottsdale Police Department said in a statement that investigators determined that "the use of force was legally authorized and justified" by Mesa police under state law.
The incident took place on May 23, when Mesa police encountered 33-year-old Robert Johnson after officers responded to a call from a woman who said her ex-boyfriend was trying to break into her apartment.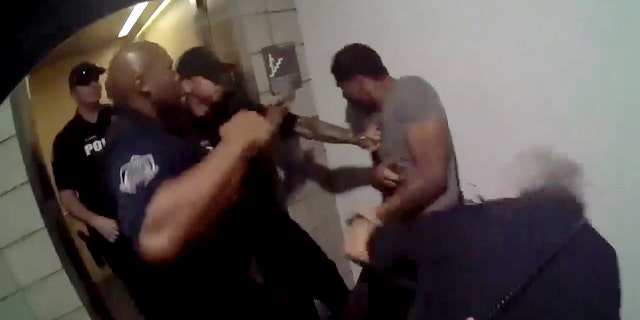 Officers found the ex-boyfriend with Johnson, who said he was helping a neighbor get something from the apartment. Surveillance and body camera video released in June shows a Mesa police officer asking Johnson, who was on his phone, to sit down several times, which he does not.
The officer asks him again to sit, but Johnson instead leans against a wall near an elevator while looking at his phone before several officers then repeatedly punched him.
MULTIPLE INQUIRIES INTO USE OF FORCE AFTER SEVEN ARIZONA OFFICERS ARE PLACED ON LEAVE
A police report said that Johnson was "verbally defiant and confrontational," but his attorneys say there was no reason for officers to attack him.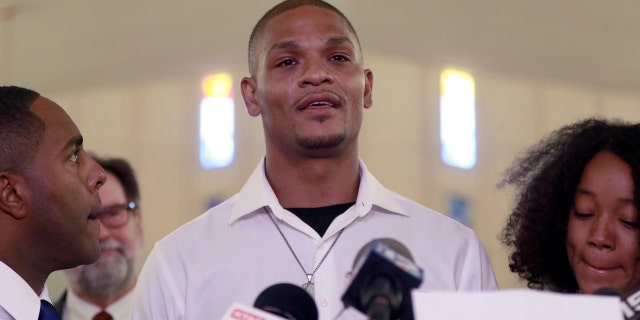 "When officers can get away with assaulting citizens, people in our community will lose trust in them and our justice system," attorney Benjamin Taylor told FOX10 in a statement. "The whole world saw the beating Mr. Johnson took at the hands of these Mesa Police Officers."
Johnson's lawyers said he still is recovering from a concussion, scrapes and bruises and that the matter likely will wind up in court.
"The only justice that he's going to get is from a civil jury," Phoenix attorney Joel Robbins told the Associated Press.
ARIZONA MAN WHO WAS PUNCHED BY MESA POLICE OFFICERS SPEAKS OUT
Scottsdale Police said that investigators reached their decision after reviewing eight body camera videos in addition to the apartment complex surveillance video, and interviewed 15 people. Based on the investigation and consultation with the Maricopa County Attorney's Office, officials determined that no criminal charges are warranted against the officers.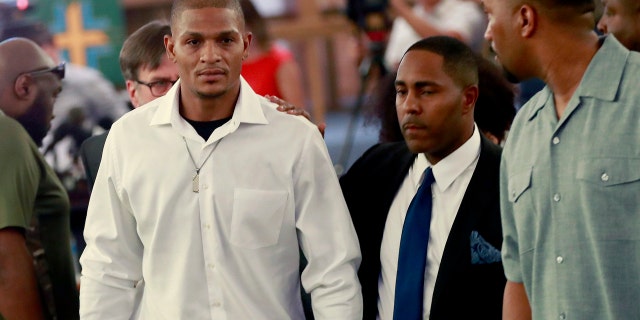 "We're glad to see the decision not to charge police officers for doing their job. Charging police criminally for doing their job can negatively impact the decision-making process for all law enforcement who work to protect the community and must make split-second decisions," Will Biascoechea, president of the Mesa Fraternal Order of Police, said in a statement to FOX10. "It's important for the public to know that camera footage sometimes captures just one perspective without context."
ARIZONA OFFICERS ON LEAVE AFTER VIDEO SHOWS MAN BEING PUMMELED
The Mesa Police Department said Monday that the officers involved in the incident remain on administrative leave, pending the outcome of the department's internal investigation.
The decision by the outside group came after Mesa Police Chief Ramon Batista hired an outside attorney to investigate the Johnson case and the rough treatment of a teenage armed robbery suspect captured on videotape the same month. He also requested an independent review of use-of-force cases over the past three years.
In June, Johnson told reporters he didn't want another incident to happen to anyone else.
"Many of you have seen the video of Mesa police. … I don't want this to happen to no one in this particular system. … I'm a family man, I'm a God-fearing person, I just want Mesa to be accountable to what they have done," he said.
Fox News' Charlie Lapastora and The Associated Press contributed to this report.