Nikolas Cruz's mom, tormented by his behavior, weighed signing over parental rights: family source
Florida school shooter Nikolas Cruz's adoptive mother contemplated signing over her parental rights after enduring his behavior problems for years, a family source told Fox News. The revelation offers yet another glimpse into the 19-year-old's troubles in the years leading up to the bloody massacre.
A family source on Thursday offered Fox News details about Cruz's family life, covering his childhood years until his adoptive mother's death. The source, who asked not to be named, said Cruz's mom, Lynda Cruz, was terrified in the months before her death. Lynda Cruz died of pneumonia on Nov. 1, about three months before the Valentine's Day mass shooting at Marjory Stoneman Douglas High School in Parkland, Fla., in which 17 people were fatally wounded. The 19-year-old Nikolas is accused of multiple counts of first-degree murder.
"The past few months [before she died] she was scared," the source said. "I think that's what killed her."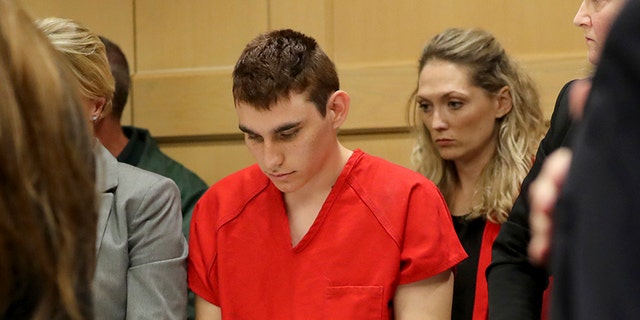 NIKOLAS CRUZ INDICTED ON 17 COUNTS OF MURDER, JAIL RECORDS REVEAL ODD BEHAVIOR IN DAYS AFTER FLORIDA MASSACRE
Lynda Cruz had trouble controlling both her sons, Nikolas and Zachary, despite meeting with therapists and pleading with local police for help. The outbursts at home got so bad that she made a comment about possibly signing over her parental rights. (It is not known to whom she might have relinquished those rights.)
"I don't think she would have done it, she loved the boys more than anything in the world," the source said. "She was just fed up with not getting anywhere, tired of how she was being treated and she was saying, 'Why am I doing this to myself?'"
Nikolas Cruz was found to be on the autism spectrum at age 10, according to the source, and also suffered from attention deficit hyperactivity disorder (ADHA) and depression in his preteen years. Cruz had frequent violent outbursts and would punch holes in walls that his mother would patch.
Outbursts were sparked over events as seemingly innocuous as not stopping at the store. Cruz hit his mother with a vacuum hose when she confiscated his XBox and she would often try to lock the consoles away when it was too much.
NIKOLAS CRUZ INVESTIGATED AFTER SNAPCHAT CUTTING VIDEO, BUT NOT CONSIDERED A THREAT, REPORT SHOWS
In another instance, Cruz punched her in the jaw when she was driving because she wouldn't stop at the store he wanted. Three of her teeth were knocked loose, the family source said.
The mother once told the family source that Nikolas, dressed in a military uniform and holding an air gun, approached her and said: "Drop to your knees b----, I'm going to blow your f---ing brains out."
He later laughed and said, "I'm sorry, Mom."
His mother would say on the phone, "He thinks he's f---ing ISIS."
NIKOLAS CRUZ REPORTED TO POLICE FOR THREATS, PUNCHING WALLS MONTHS BEFORE FLORIDA SHOOTING, REPORT SAYS
It's unclear, the family source said, how much he understood about what he was saying and doing. Despite the outbursts, the source said Cruz's mother loved her son deeply.
"She wrote things off that should have been addressed sooner," the source said.
In the days after the deadly shooting, authorities were looking into social media posts which appeared to include Nikolas posing with guns. His troubled past was previously detailed in reports by police, schools and the Florida Department of Children and Families.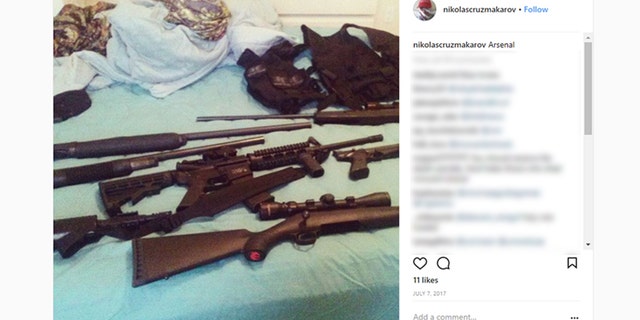 In a September 2016 episode, officials were called to Cruz's house over Snapchat videos that seemed to show him cutting both his arms. Investigators questioned Cruz and his mother, who said her son's behavior was due to a breakup with a girlfriend who had been unfaithful, according to a Florida Department of Children and Families report obtained by Fox News.
Police were also called to a mobile home just after Thanksgiving about Cruz getting into a physical fight. Cruz was allegedly "punching walls and breaking items inside the home" before getting into a fight with Rock Deschamps, the 22-year old son of Lynda Cruz's friend, Rocxanne Deschamps.
It was initially reported that Cruz was expelled from Douglas High due to a "disciplinary problem," but a school source told Fox News the district had recommended to Cruz's mother that he transfer back to Cross Creek – a school in Pompano Beach he had just transitioned out of — so he could have access to more intensive therapy and services. But Cruz reportedly hated it there.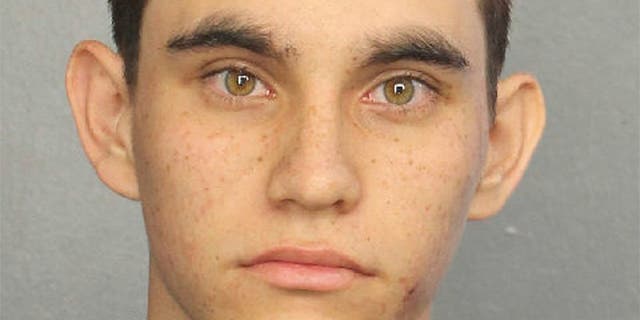 The district then recommended that Cruz enroll in an off-campus alternative school. His mom was convinced it was important for her son to graduate on time and eventually agreed to sign paperwork to "revoke services" for her son, believing if she didn't, the district would force him to go back to Cross Creek, a source said.
Broward County Public Schools Superintendent Robert Runcie recommended Tuesday that there be a comprehensive, independent review of Cruz's educational records through the years.
Cruz was formally charged on Wednesday with 17 counts of premeditated murder and 17 of attempted murder.