New York's climbable art structure under fire for photo policy suggesting visitors don't own personal photographs taken at site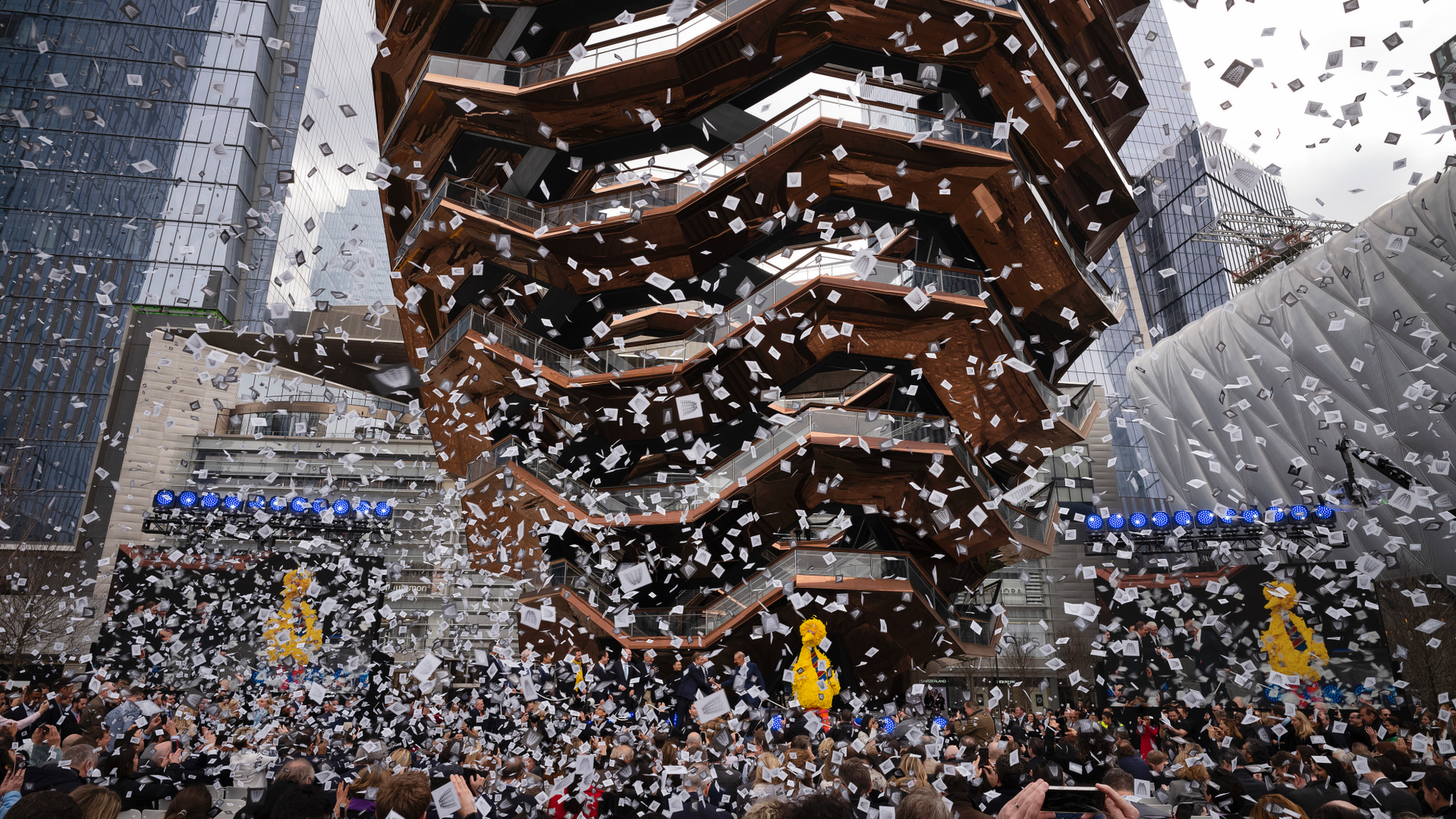 A new 150-foot climbable structure in New York City is leaving visitors who've flocked to the Hudson Yards attraction since its opening Friday perplexed over a photo policy that allegedly gives broad rights to pictures posted to social media.
Videos and pictures posted to visitors' social media accounts from the Vessel can reportedly be used for free by the structure's operator, ERY Vessel LLC, without permission for marketing purposes, even if images of people's faces are shown, CBS New York reported.
People eager to visit the $150 million sculpture, with 15 stories and a bronze wrap-around staircase resembling either an upside down pine cone or even shawarma meat, may have overlooked the terms and conditions they clicked while registering for tickets in a timed entry.
According to the Vessel's photo policy, Hudson Yards retains the right to use any "photos, audio recording, or video footage depicting or relating to the Vessel" posted to visitors' social media accounts, "in all media and formats, whether now known or later developed."
CENTRAL PARK'S 'HOT' MANDARIN DUCK FACES COMPETITION FROM VIBRANT GREAT BLUE HERON
Jessica Scaperotti, a spokesperson for the developer Related Companies, defended the terms and conditions, claiming the policy was designed after those in place at similar local and national attractions.
"As we are a new destination, we wanted to over communicate, be transparent and disclose to all users that we may re-share select social posts on our social channels and website that visitors have already shared publicly on their social channels," Scaperotti told The Associated Press Tuesday.
"If someone takes a great photo we want the ability to share it on our social channels," said Scaperotti.
City Council member Ben Kallos said he will take legal action to protect tourists' photos and videos to ensure they "are not taken and sold to the highest bidder," and will have the council examine similar photo and video policies at other sites in the city.
"Security cameras can help keep us safe, but storing footage for marketing is a nightmare," Kallos said to The Associated Press.
Others are questioning the legality of a photo policy that would allow a company to redistribute the likeness of someone in marketing campaigns without compensation or asking permission. Many photographers, who make a living off of their photos, also are opposed to the concept of their work being used without consent.
Jeremy Sheff, the director of Intellectual Property Law Center at St. John's University, told Bloomberg that a grey area exists with the way Hudson Yards describes the Vessel.
CLICK HERE FOR THE FOX NEWS APP
Because Hudson Yards labels the Vessel "an interactive and immersive architectural experience," Sheff said it's unclear whether the attraction would legally be considered a sculpture, something the artist may have a copyright for.
"They do have the right to prevent others from reproducing or making derivative works of the sculpture, and a photo is arguably one such reproduction," Sheff said. "The public also has rights to record public spaces around them," according to the First Amendment, Sheff explained.
A Related Companies spokesperson told Bloomberg they're revising the language of the photo policy to clarify that ERY Vessel LLC will only have rights to photos taken in and on the Vessel. Therefore, the policy would not apply to people taking pictures while walking by on 11th Avenue.
The Associated Press contributed to this report.