New York scaffolding collapse leaves several injured
Several people were injured when scaffolding collapsed on a busy New York City sidewalk Sunday, officials said.
The incident happened around 11:30 a.m. at the intersection of Broadway and Prince Streets in the trendy SoHo neighborhood in lower Manhattan, famed for shopping and art galleries.
Deputy Inspector Tommy Ng with the New York City Police Department's 5th Precinct said on Twitter there were 5 minor injuries reported.
All of the wounded were transferred to Bellevue Hospital, but none of their injuries are life-threatening, officials with the New York City Fire Department told Fox News.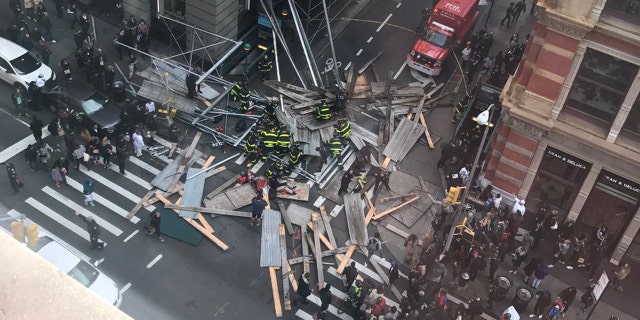 At least one person was said to have been trapped in the collapse, but has since been freed, officials told The New York Post.
It's unclear what caused the collapse, but the New York City area is under a wind advisory until 6 p.m. Sunday, with the National Weather Service warning for wind gusts of up to 50 miles per hour.
"Winds this strong can make driving difficult, especially for high-profile vehicles, in open areas, and on elevated roads and bridges. Use extra caution," the weather service said.
The collapse also caused authorities to shut down Broadway, and several subway lines were bypassing the Prince Street subway station nearby.