New York City suspects steal $10,000 Rolex watch from man at café, police say
The robbery happened in Manhattan's Herald Square neighborhood
NEWYou can now listen to Fox News articles!
New York City police are asking for the public's help Wednesday in tracking down two men accused of stealing a $10,000 Rolex watch at knifepoint from an individual inside a Manhattan café.
The brazen crime unfolded around 10:30 p.m. June 11 at the Toast Café in Manhattan's bustling Herald Square neighborhood, according to the NYPD.
Investigators said the 27-year-old victim and one of the unidentified suspects entered the restaurant and headed to the "upstairs dining area of the location where unknown Individual #2, who was seated at a table, got up and approached the two of them.
"The two individuals, acting in concert, proceeded to place a knife to the victim's back and forcibly removed a Rolex watch from his wrist," the NYPD said in a statement to Fox News Digital. "The two individuals then fled the location on foot heading northbound on 6 Avenue."
Police say the victim was not injured and that the value of the watch is around $10,000.
CLICK HERE TO GET THE FOX NEWS APP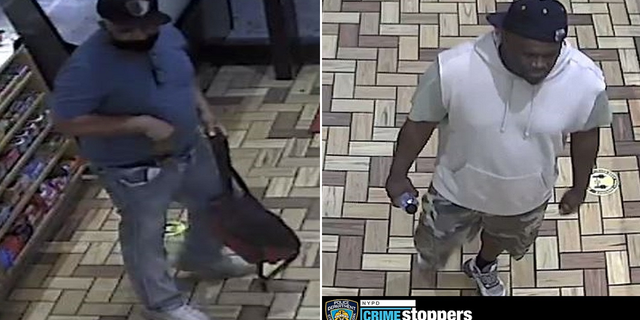 The first suspect is described as a "male with a dark complexion, heavy build, with black hair and facial hair, last seen wearing a black baseball hat, a white hooded sweatshirt with no sleeves, a white T-shirt, green camouflage shorts and white sneakers."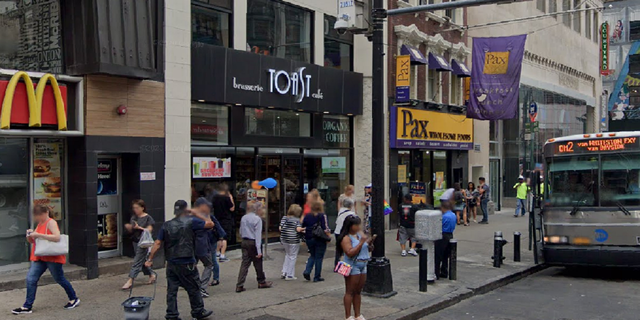 The second suspect, according to police, is a "male with a medium complexion, heavy build, last seen wearing a black baseball hat, a black face mask, blue shirt, blue jeans and gray sneakers."