New Yale college celebrates 'transgressive gender expression', calls its students 'lemurs'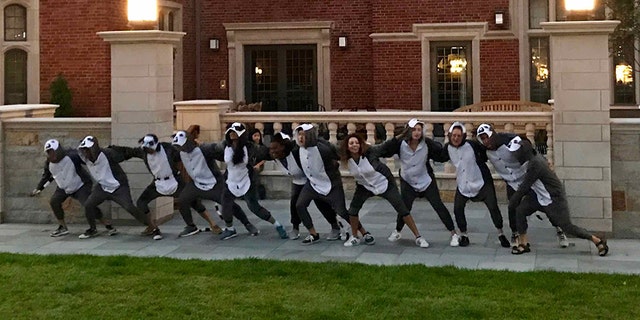 Students at Yale University's newly-opened Pauli Murray residential college donned lemur costumes while performing a chant and dance Monday to reveal the winner of a mascot vote.
The residential facility, which opened its doors this fall semester, chose lemurs as its mascot, as the name of the animal is a play on the name the building is named after (Pau-LI-MUR-ray), Yale Alumni magazine reported.
"Welcome PauliMurs!" reads a message on the website of the residential college, which has a "coat of arms" showcasing Murray's "own sometimes transgressive gender expression."
Murray, a Yale alumna, is heralded by the school for her work on civil rights and the advancement of women. She became the first African American to receive a J.S.D. from the Yale Law School in 1965 and was a co-founder of the National Organization for Women.
"Pauli Murray represents the best of Yale: a pre-eminent intellectual inspired to lead and prepared to serve her community and her country," Yale President Peter Salovey said in April 2016.
According to the school, Murray also helped organize the March on Washington with Martin Luther King, Jr. and was appointed by former President John F. Kennedy to the Committee on Civil and Political Rights of the President's Commission on the Status of Women.
The college's coat of arms features three pierced, eight-pointed "mullets" that signify Murray's work to "spur" changes on issues such as race relations, women's rights and gender identities, according to its website.
"The blue and white circle is conceptually derived from a mark that consistently appeared on Murray's stationery. The counterchanging of its form reflects her transformational activism as well as her own sometimes transgressive gender expression. The red, white, and blue color scheme references the flag of the United States of America—recognizing that this nation has been profoundly changed by Murray's vision and actions," the website adds.