New Jersey lawmaker says NYC federal building gunman got 'raw deal'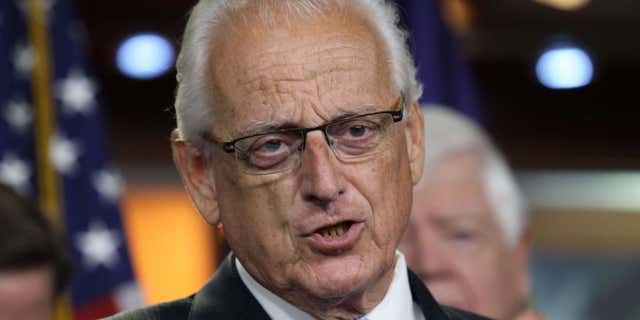 NEWYou can now listen to Fox News articles!
A man who shot and killed a security guard at a Manhattan federal building before turning the gun on himself was a whistleblower who had been given a "raw deal" by the agency that fired him, a New Jersey lawmaker who took up the man's case said on Saturday.
Rep. Bill Pascrell said he didn't know what made military veteran Kevin Downing open fire at the New York federal building on Friday. Downing had once been employed by the Bureau of Labor Statistics.
"What made him snap?" Pascrell told The Associated Press in a telephone interview. "I don't know."
Downing had endured a string of unfortunate events as his live-in fiancee died of breast cancer, his house was in foreclosure and he suffered health problems after a car accident, Pascrell said.
"None of this at all ever indicated to any of us that this was going to happen," Pascrell said.
Federal agents descended on Downing's home in Fort Lee, New Jersey, hours after the shooting, searching for anything that could help them understand his motive.
The 68-year-old opened fire inside the building that houses an immigration court, passport processing center and a regional office for the Labor Department, which oversees the department Downing worked for.
As he approached a metal detector, Downing shot FJC Security Services guard Idrissa Camara in the head, police said. The guard would have been done for the day but agreed to stay for an extra shift, his company said.
After shooting Camara, Downing walked toward an elevator where he encountered another employee, and then shot himself in the head, said James O'Neill, a chief with the New York Police Department.
"We're in the very early stages of the investigation and are working to establish his motive for coming here, if he had an intended target beyond the security officer, and what the motive was behind the crime," O'Neill said.
Downing had been fire from his job at the bureau in 1999 and appealed the firing, claiming he had been targeted because he was a whistleblower, according to federal documents. Downing had complained about the Bureau of Labor Statistics closing its New York regional office.
An administrative judge dismissed the appeal, saying Downing did not reveal gross mismanagement or waste of funds, according to records from the federal Merit Systems Protection Board.
A spokesman for the U.S. Department of Labor and the Bureau of Labor Statistics referred questions to the police on Saturday.
Pascrell said Downing contacted his office in 2013.
"We felt that this person had been given a raw deal to put it mildly and that there was no excuse for it and he had been treated very badly," Pascrell said.
Pascrell had spoken to Downing on the phone and several members of his staff met with him over the last two years, most recently a few weeks ago. The caseworker who was close to Downing said "he was always polite, he was always thankful to the congressman for doing what my job is," Pascrell said.
A neighbor said Downing and his companion moved into to the Fort Lee house more than 20 years ago and "he seemed nice."
"I never thought he'd do something like that," said the neighbor, Anna Guglielmo.
Guglielmo said Downing's companion died three years ago and she believed the woman's cancer treatments may have depleted the couple's finances.
The last time Guglielmo spoke with Downing was three days before the shooting, while she was watering the grass. She said he seemed "very calm."
The FBI and the New York Police Department said they had no new information on the shooting Saturday. The FBI is assisting in the investigation because Camara was working as a contractor for a federal agency.
Camara was armed but never had a chance to defend himself, the security company said.
"Camara ... was an extraordinary senior guard who was well trained, cared deeply about his job and knew that building better than anyone else," said Michael McKeon, a company spokesman.
Hector Figueroa, the president of Camara's union, 32 BJ SEIU, said he was horrified by the news.
"Security officers around the city and country serve on the front line each and every day to keep us safe and secure," Figueroa said. "We are heartbroken that one of our own has fallen."
The Associated Press contributed to this report.