New Jersey college blasted over $219G conference table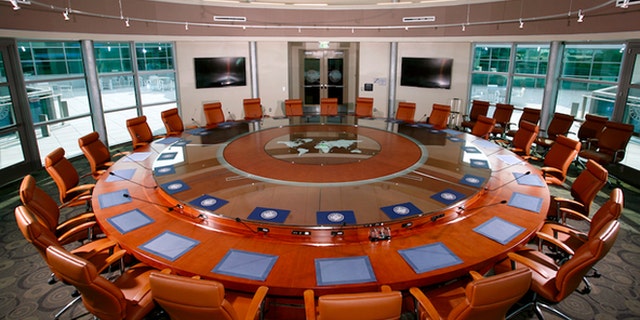 A public university in New Jersey is being accused of putting too much money on the table -- literally.
Kean University, a 16,000-student school in Union, N.J., paid $219,000 for a conference table made in China. While no one denies it is a really nice table, critics, including students and state lawmakers, are not hiding their sticker shock.
"Whether or not this is legal, it's certainly not ethical and it's a waste of taxpayer money," Democrat Assemblyman Joseph Cryan said in a statement. "The time to reform higher education in New Jersey is long past."
Cryan, who sent a letter to New Jersey's attorney general requesting specifics about the dealings behind how a Chinese company secured the no-bid deal, said the table's purchase is just one of many of the university's financial blunders that contribute to its debt soaring to $353 million from $124 million in 11 years. He said the school's board of trustees are quick to approve too many of these expensive projects and, even with the ongoing table controversy, has its eyes on a $25 million piece of land next door.
"Someone has to say no," Cryan fumed, noting that the school, which recently opened a location in China, has dropping enrollment numbers, a plummeting bond rating and a paltry 1-in-5 graduation rate.
"And the students that do graduate are saddled with debt," he said. "You have to say to yourself: what's going on?"
But University President Dawood Farahi defended the purchase, even claiming a similar table would fetch $500,000 in the U.S.
"It is small-minded to focus on the university buying a $200,000 table," Farahi said in a campus interview. "Why not? Why not?"
The Daily Record reported that similar tables have been built for a tenth of the price.
When reached by Fox News, the university said in an email that costs for the conference center will be not be absorbed by students.
The school said it obtained three quotes for the conference center, the first from a company in its town of Union, and was told the table would cost $1 million. That price was revised to $386,000, the school said, but a company in China, Shanghai Rongma Office Furniture, agreed to produce the center for $151,000.
The school defended its spending by providing a chart by the New Jersey Educational Facilities Authority that ranks its debt-per-full-time student about mid-pack when compared to other state schools.
The university sent a letter to students defending the table's purchase, The Star Ledger reported.
"Our world-class meeting spaces let more corporate and community leaders experience the new Kean," Philip Connelly, the executive vice president of operations at the university, wrote to the school's students. Connelly said the table is not a "static furniture item," but rather a "piece of high-tech equipment."
Some students, however, disagreed with his appraisal.
"That's ridiculous," Melrose Johnson, a freshman at the school, told the newspaper. "It's a table. You're just sitting around it."
The university would likely contend that calling this 22-foot oak circle that looks worthy of an international bank's board room is like calling a Ferrari "just a car."
The 22-foot circular table, located on the Union campus' new Green Lane Academic Building, seats 23 people and is made of oak with cherry veneer. The university said the price tag also includes lighting, data ports, gooseneck microphones, an illuminated world map and a motorized, two-tiered glass turntable. There also is a power manager unit with an 8-channel power output independent socket to reduce and restrain surge impact, and a separate cabinet to house the electronic equipment.
Some students at the school have taken to Twitter to knock the school's decision, and have called on Farahi to be fired. One posted, "KEAN University is encouraging people to donate to the school to continue "scholarship support" -- but then spend $219K on conference table."
There also has been a parody Twitter account set up called Kean Table. One of its post deadpanned, "I didn't come with chairs."
The school said, however, that student leaders support the project and those opposed to the project are few and far between.
Kean is no stranger to controversial monetary decisions. The university has a $2.5 million restaurant called Ursino that serves farm-to-table cuisine. The restaurant has a spiral staircase and floor-to-ceiling windows.
Peter Turso, the executive chef at the restaurant, told The New York Times in 2012 that the venue appealed to the administration because it raised the school's profile. Farahi told NJ.com in 2013 that the restaurant "has an amazing marketing value."
"People come to see the new Kean University. It was a good decision," he told the paper.
The Star-Ledger wrote in a recent editorial that the restaurant exists for no other purpose than Farahi's vanity. The editorial points out that there is no culinary program at the school and few students who can afford to eat there.
There are 880 Chinese students at Kean's campus in Wenzhou, which is being financed by the Chinese government. Farahi said it will operate an exchange program allowing New Jersey students to travel to China at little cost.
The school insists that it puts students first and said it would provide any state office with relevant documentation regarding the purchase "just as we would provide the information to [Assemblyman] Joe Cryan if he asked."
"Our wise investments and strategic growth have allowed Kean to remain the most affordable comprehensive University in the State of New Jersey," the school said.
The Associated Press contributed to this report.