Navy SEAL Medal of Honor recipient proved mettle in hand-to-hand combat
NEWYou can now listen to Fox News articles!
The Navy SEAL who will become on Monday the sixth member of that elite force to receive the Medal of Honor proved his mettle in hand-to-hand combat in Afghanistan – or more accurately, hand-to-throat.
During a daring nighttime raid in 2012 to rescue an American citizen from Taliban clutches, Edward Byers Jr. leaped across the room to shield the hostage from oncoming fire while simultaneously engaging a Taliban guard.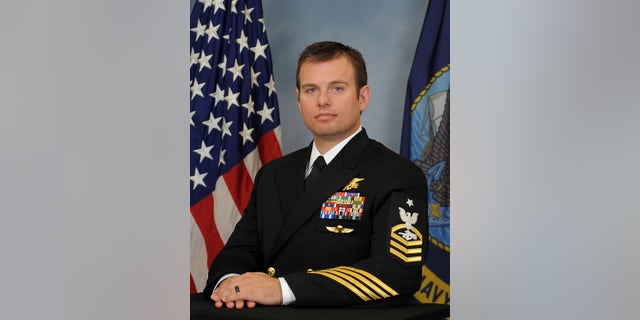 "While covering the hostage with his body, Chief Byers was able to pin the enemy combatant to the wall with his hand around the enemy's throat," according to a Navy news release.
Earlier in the mission, Byers, who will receive the medal Monday from President Obama at the White House, grabbed a Taliban guard with one hand "while adjusting the focus of his night vision goggles with his other."
"Anyone who has been in combat knows that in those moments you either react or you get killed," Byers said in a Navy video.
After his team rescued the hostage and boarded a helicopter, Byers spent the 40-minute flight back to Bagram Airfield attempting to resuscitate another member of his team who had been shot, Nicholas Cheque. Cheque died, but Byers said he'll be accepting the award on behalf of all fallen SEALs.
"I'm going to be a representative for the Navy and the Naval Special Warfare Community and there's a weight that that carries with," Byers said. "And that weight is the sacrifices that everybody has made within this community, guys like Nick Cheque and all my other brothers who have fallen. It's an affirmation, once again, of the job that we do."
Byers, 36, became a SEAL in 2003. He'll be the sixth SEAL Medal of Honor recipient and the first living one since the Vietnam War, The Navy Times reported. Byers is the 11th living service member to receive the Medal of Honor for fighting in Afghanistan, according to Stars and Stripes.
"To be a Navy SEAL means you have to be incredibly resilient," Byers said. "You have to be hardworking. They're the toughest men on the face of this planet. Any mission they're given, they will have success at it, and ultimately they are our brothers who, if they have to, they'll die for you."
Cheque was posthumously awarded the Navy Cross, according to The Washington Post, citing Navy officials.