Naval Academy sex assault hearing wraps up, investigating officer to weigh recommending court-martial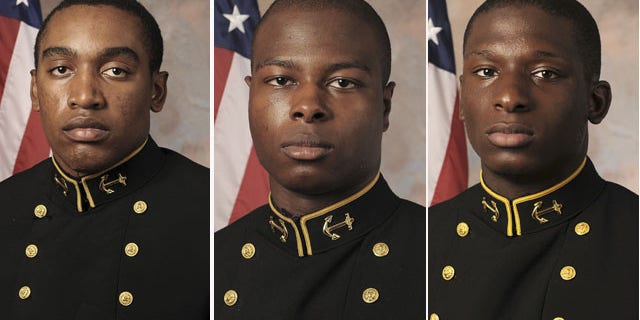 WASHINGTON – A female U.S. Naval Academy student was highly intoxicated on the night last year when she was allegedly sexually assaulted by three midshipmen, a military prosecutor said Tuesday night as he urged an officer to move forward with a court-martial of the men.
But defense attorneys said the woman lied repeatedly about her actions during and after an off-campus party in 2012, and that there was no evidence of a forcible sexual assault.
The woman spent five days testifying during the proceeding, known as an Article 32 hearing. She has said she drank heavily and has no memory of having sex with the midshipmen, but became concerned after hearing gossip shortly after the party that she had had sex with multiple people. The Associated Press generally doesn't name those who authorities say were victims of sexual assault.
Lt. Cmdr. Phil Hamon, a prosecutor, said in his closing argument Tuesday that the woman was "substantially incapacitated" from drinking too much alcohol.
Andrew Weinstein, who is representing Midshipman Tra'ves Bush, said the woman had lied repeatedly. He also said no one at the party saw her passed out or acting as intoxicated as she claimed.
"Blackout is a function of memory," Weinstein said. "It is not an attribute of capacity."
Weinstein said the three former Navy football players -- Bush and Midshipmen Eric Graham and Josh Tate -- never should have been charged.
"She has no credibility," he said.
Lt. Cmdr. Angela Tang, who is representing Graham, said there was no evidence anyone used force.
"Drunk sex is not sexual assault," she said.
Cmdr. Art Record, who is representing Tate, said investigators relied on rumors and innuendos instead of evidence.
"There's not a scintilla of evidence," Record said.
The hearing wrapped up Tuesday night, a week after it began. The investigative officer who presided over the case will now review the evidence and make a recommendation to the academy's superintendent on whether the men should be court-martialed. Such reviews generally take days or weeks to complete.
Tate, Graham and Bush declined to speak in court Tuesday when asked by the investigative officer. Graham has been charged with abusive sexual contact, while Bush and Tate have been charged with aggravated sexual assault. All three also are charged with making a false statement.
The case has drawn attention as the White House, Congress and the Pentagon have been focusing on the issue of sexual assault after a string of cases in the military this year. President Barack Obama highlighted the importance of the issue at the Naval Academy's graduation ceremony in May.
Earlier Tuesday, an investigator testified that the alleged victim said in an interview that she couldn't remember whether sexual encounters with the men charged in the case were consensual or not.
Speaking from Bahrain by video teleconference, Special Agent Michelle Robinson testified that the woman told her in an interview that she wasn't sure whether she had consented to the encounters.
Robinson also testified that Graham told her he had oral sex with the woman in a car outside the party. Graham made the statement in an interview during the investigation.