Nation's largest oil refinery in Port Arthur, Texas shut down; mayor says 'whole city is underwater'
The nation's largest oil refinery was shuttered Wednesday in Texas, as the mayor of Port Arthur said his "whole city is underwater" -- all while Tropical Storm Harvey continued to pummel Southeast Texas with torrential rainfall.
Motiva Enterprises said in a statement Wednesday it began the shutdown around 5 a.m. of all units at the nation's largest refinery, located about 100 miles east of Houston, due to flooding at the Port Arthur plant.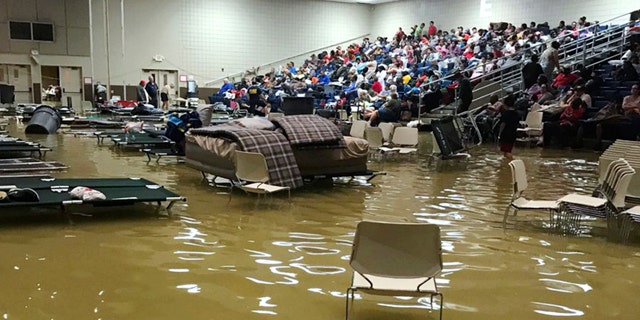 The Port Arthur refinery, which produces 603,000 barrels per day, was lashed by heavy rain and portions of the facility were flooded, Reuters reported. The company that operates the plant said a return to service is "contingent upon recession of flood waters in the area."
The plant supplies gasoline and diesel to thousands of retail outlets under the iconic Shell and 76-brands, according to FOX 26 Houston.
A rain gauge at Beaumont-Port Arthur Airport has received about 25 inches in the last 24 hours, for a total of 39.22 inches in the last three days.
Elsewhere in the Gulf City, weary evacuees at the Bowers Civic Center were overrun by floodwaters spawned by Harvey, according to Jefferson County sheriff's deputy Marcus McLellan.
At least 100 displaced people were forced to head up to bleacher seats, abandoning cots and belongings on the civic center floor, which was under about a foot of water. They were being relocated to the Carl Parker Center, city officials said.
Some residents were also taking shelter in a bowling alley.
Port Arthur Mayor Derrick Freeman said on Facebook that rescue teams were fighting an apartment fire in the midst of the storm, and dump trucks headed to different neighborhoods across the city.
"Our whole city is under water right now but we are coming! If you called, we are coming," Freeman wrote. "Please get to higher ground if you can, but please try stay out of attics."
The city put out a plea for boats Wednesday morning, saying on Twitter "Individuals with boats are needed in Port Arthur for rescues."
City officials put out an additional grim warning, saying "If you need rescued please display a white towel, sheet, shirt or anything to let volunteer rescuers know."
Jefferson County Judge Jeff Branick told KBMT-TV hundreds, if not thousands of homes, are inundated with water, adding the city is "being overwhelmed with calls for service."
"There are people that are needing to be rescued and evacuated, brought to sheltering areas and given the nighttime hours, the darkness, it's impossible to wage a boat rescue and we simply don't have enough high-water vehicles that are available to us," Branick told the television station.
At least one body was found floating in floodwaters in nearby Beaumont, according to KMBT.
After drenching Texas, Harvey is forecast to drop substantial amounts of rain on Louisiana before moving on to Arkansas, Tennessee and parts of Missouri, which could also see flooding.
The Associated Press contributed to this report.