Mystery buyer: Who purchased the $450.3 million Leonardo da Vinci painting?
Who purchased the Leonardo da Vinci painting depicting Jesus Christ for an astonishing $450.3 million at Christie's action house in New York Wednesday night?
The buyer's identity, which is a mystery, has intrigued the world, becoming a source of intense speculation among international art dealers and on social media about who holds the painting by the Italian Renaissance master.
A Russian oligarch, a Saudi prince or a Japanese billionaire? No one knows.
"I think the buyer is unlikely to be an institution. I think it's an individual," said Warren Adelson, who was part of a consortium of art dealers who found and restored the painting in Louisiana in 2005.
"When we had the picture, it was my burning desire to sell it to an American museum because I wanted to keep it in this country," Adelson told Fox News Thursday. "I felt very strongly about that."
"I offered it to a number of institutions in the U.S. and Europe and the money was just too much," he said. "It's a fact of life that museums don't have that kind of stretch to spend that money for a work of art."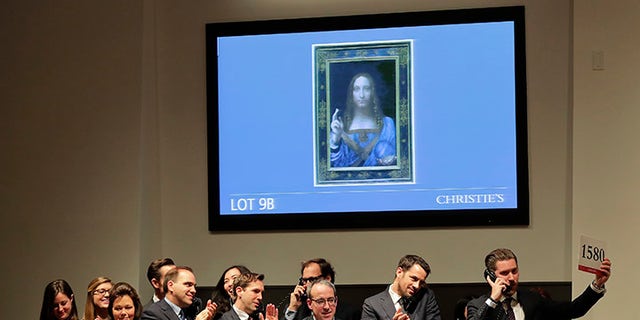 London-based art dealer Charles Beddington said he believes the identity of the buyer will almost certainly be revealed.
"It's quite unusual that something on this level is bought by someone who remains invisible," Beddington said Thursday from his office in London. 
The painting, called "Salvator Mundi," Italian for "Savior of the World," could have been purchased by a private or public museum, according to Beddington. Or it could be in the hands of an individual wealthy enough to buy a small country. 
"I think it's most likely to be an Arab or Chinese buyer," Beddington said. "It's more difficult to see a European or an American paying that money for this painting. I don't think
it was a traditional type of old master buyer."
The painting is one of fewer than 20 paintings by Leonardo known to exist.
The highest price paid for a work of art at auction had been $179 million, for Pablo Picasso's painting "Women of Algiers (Version O)" in May 2015, also at Christie's in New York. The highest known sale price for any artwork had been $300 million, for Willem de Kooning's painting "Interchange," sold privately in September 2015 by the David Geffen Foundation to hedge fund manager Kenneth C. Griffin.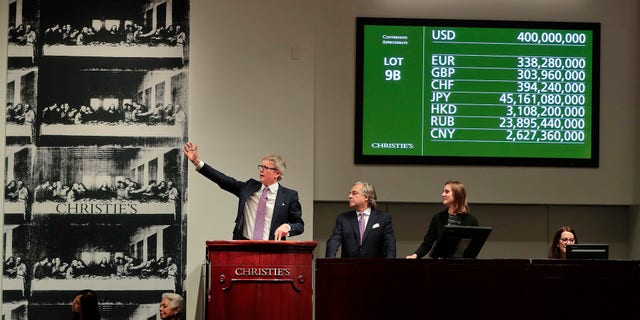 A backer of the "Salvator Mundi" auction had guaranteed a bid of at least $100 million. The bidding opened at $75 million and ran for 19 minutes. The price hit $300 million about halfway through the bidding. 
People in the auction house gallery applauded and cheered when the bidding reached $300 million and when the hammer came down on the final bid, $400 million. The record sale price of $450 million includes the buyer's premium, a fee paid by the winner to the auction house.
The 26-inch-tall Leonardo painting dates from around 1500 and shows Christ dressed in Renaissance-style robes, his right hand raised in blessing as his left hand holds a crystal sphere.
Its path from Leonardo's workshop to the auction block at Christie's was not smooth. Once owned by King Charles I of England, it disappeared from view until 1900, when it resurfaced and was acquired by a British collector. At that time it was attributed to a Leonardo disciple, rather than to the master himself. 
The painting was sold again in 1958 and then was acquired in 2005, badly damaged and partly painted over, by a consortium of art dealers who paid less than $10,000. The art dealers who found and purchased it restored the painting and documented its authenticity as a work by Leonardo.
In 2013, the consortium of dealers -- including Robert Simon, Alexander Parish and Adelson -- sold the painting for $80 million to a company owned by a Swiss businessman and art dealer Yves Bouvier.
Bouvier quickly sold the painting to Russian billionaire Dmitry Rybolovlev for $127.5 million — at an increase of almost $50 million -- which has become the subject of an ongoing lawsuit. The masterpiece was then sold Wednesday by Rybolovlev at Christie's.
"I hope one day it does go to an institution because it's a picture people should see," Adelson told Fox News. "I'm intimately familiar with it and I can say that it is in fine condition," he said. "It's a very, very special work of art."
The Associated Press contributed to this report.