Muslim Convert Who Tried to Join Terrorists Gets 25 Years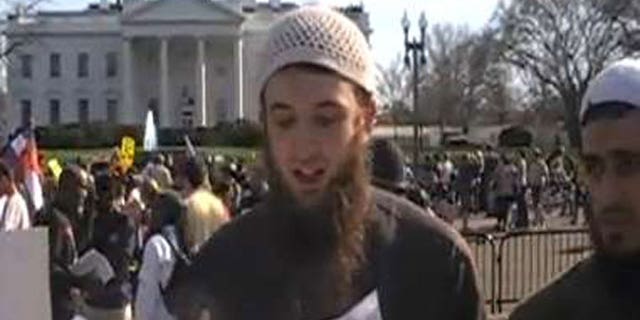 A college dropout and Muslim convert who threatened the creators of the "South Park" cartoon series and then tried to join an Al Qaeda-linked terrorist group in Somalia has been sentenced to 25 years in prison.
Zachary A. Chesser, 21, of Fairfax County, Va., pleaded guilty last year to supporting the al-Shabab terrorist group in Somalia and posting online threats against the "South Park" creators for an episode he perceived as insulting to the Prophet Muhammad. He was sentenced Thursday in U.S. District Court in Alexandria.
Chesser posted a warning on the website RevolutionMuslim.com last April following the 200th episode of "South Park," which included a caricature of the Prophet Muhammad disguised in a bear suit.
Chesser, who just two years earlier was studying foreign languages at George Mason University, wrote on the site that Trey Parker and Matt Stone, the cartoon's creators, "will probably end up" like Theo van Gogh, a Dutch filmmaker who was murdered in 2004 after making a film critical of Islamic society.
"It's not a threat, but it really is a likely outcome," Chesser told FoxNews.com last April. "They're going to be basically on a list in the back of the minds of a large number of Muslims. It's just the reality."
Prosecutors had been seeking the maximum sentence of 30 years. Chesser's lawyers sought a 20-year term. Chesser has said he has renounced violence and is sorry for what he did.
David Kris, assistant attorney general for the Department of Justice's National Security Division, applauded the work of prosecutors in the case.
"Zachary Chesser attempted to provide material support to a foreign terrorist organization and used the Internet to incite violence," Kris said in a statement. "Today he is being held accountable for his actions. I applaud the many agents, prosecutors and analysts who worked tirelessly to bring this man to justice."
According to court documents filed with his plea agreement on Oct. 20, 2010, Chesser maintained several online profiles dedicated to extremist jihad propaganda. He also admitted to taking repeated steps in April to encourage violent jihadists to attack the writers of "South Park" for an episode that included the Prophet Muhammad in a bear suit, including highlighting their residence and urging online readers to "pay them a visit."
Chesser, according to the documents, also posted on multiple occasions speeches by Anwar Al-Awlaki, which explained the Islamic justification for killing those who insult or defame Muhammad. Al-Awlaki was designated by the United States as a "Specially Designated Global Terrorist" on July 12, 2010.
Chesser has also admitted that in May 2010, he posted to a jihadist website the personal contact information of individuals who had joined the "Everybody Draw Muhammad Day" group on Facebook, with the prompting that this is, "Just a place to start."
FoxNews.com's Joshua Rhett Miller and The Associated Press contributed to this report.