Murdered Dallas cops were veterans, husbands and fathers who died protecting protesters' rights
They were military veterans, husbands and fathers who served the city of Dallas – and died protecting the rights of fellow Americans to criticize their brethren in blue.
Five police officers — four from the city's main department and one from Dallas Area Rapid Transit (DART) — were killed by a racist sniper late Thursday as they guarded anti-police brutality marchers. By Friday evening, all had been identified: Brent Thompson, Michael Krol, Patrick Zamarripa, Mike Smith and Lorne Ahrens.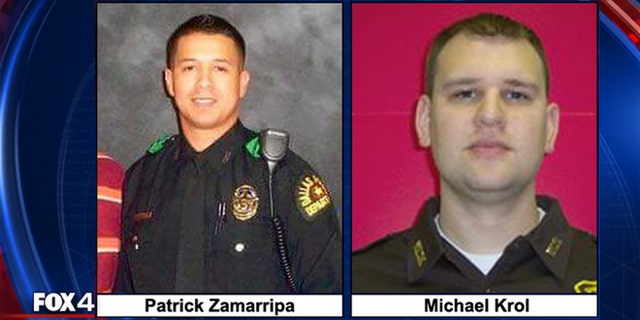 Thompson, 43, who joined the DART police department in 2009, was the first member of the 27-year-old department to die in the line of duty. A former Marine, he had married a fellow police officer just two weeks ago, officials said.
"Our hearts are broken," DART spokesperson Morgan Lyons said. "This is something that touches every part of our organization."
After serving in the Marines, Thompson later worked for a private Pentagon contractor that hired and trained Iraqi and Afghan police in the concepts of "democratic policing." The instruction included training in how to avoid an ambush, according to his LinkedIn page.
"I was responsible for the day to day operations conducted by our American police officers who trained and mentored the Iraqi Police," he wrote.
Krol, 40, was a Redford, Mich. native who joined the Dallas Police Department in 2007 after working for four previous years as a sheriff's deputy in Wayne County, Mich. His mother, Susan Elkhe, released a statement Friday saying her son was "living a dream of being a police officer ... He knew the danger of the job but he never shied away from his duty."
Wayne County Sheriff Benny Napolean said he was "saddened by the loss of the dedicated officers in Dallas — one of whom was a former member of this agency ... Those officers made the ultimate sacrifice and died honoring their oaths to protect and serve."
Zamarripa, 32, a five-year Dallas Police Department veteran, served three tours in Iraq with the Navy, according to The Washington Post. He was married and was the father of a 2-year-old daughter.
"He comes to the United States to protect people here," Zamarripa's father, Rick, told the Post. "And they take his life."
Fox4 KDFW reported Friday that Rick Zamarripa recently put his son in touch with another relative who works in government, hoping to persuade his son to leave the police force for a safer line of work.
"'No, I want to stay here,"' Zamarripa reportedly told his father, "'I like the action.'"
Smith, 55, served for seven years in the U.S. Army. He joined the Dallas Police Department in 1989 after graduating from Lamar University. The Dallas Morning News reported that Smith received 31 stitches on his head after he and a partner were attacked by gang members in 2009.
A native of Port Arthur, Texas, Smith is survived by Heidi, his wife of 17 years, and daughters Victoria and Caroline. He was a volunteer at the YMCA and his church, and was involved in working with kids at risk, and once developed a racquetball program for kids at the local YMCA, a Dallas police newsletter from 2009 said.
"He's just a really nice guy. He loved his wife, loved his daughters. He spent time with his family. The whole situation is really sad," Vanessa Smith, a friend of the officer's wife who is not related to the family, told The Associated Press.

Fox4 reported that Smith family friend Barbara Durkee has set up a GoFundMe page with the goal of raising $50,000 to pay for Smith's funeral and other expenses.
Ahrens, 48, had been with the Dallas Police Department since 2002. Prior to coming to Dallas, the Los Angeles Times reported that Ahrens had worked as a civilian for the Los Angeles County Sheriff's Department for 11 years. The Washington Post reported that Ahrens grew up in the Los Angeles area and still has family in Simi Valley.
The Dallas Morning News reported that Ahrens' work desk was near that of his wife Katrina, is a Dallas police detective. The couple had two children, 10-year-old Sorcha, and 8-year-old Magnus.
The Associated Press contributed to this report.