Murder suspect wants Confederate portraits removed from Virginia court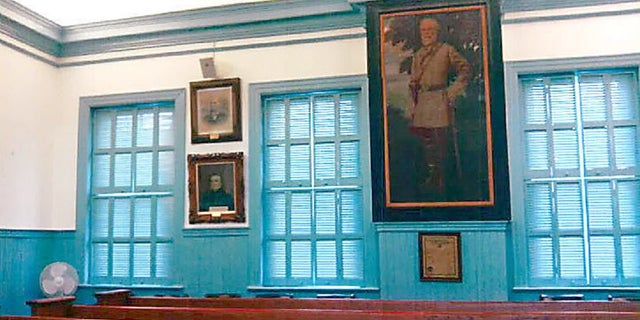 Lawyers for a black suspect in Virginia who is facing a capital murder charge are requesting a portrait of Robert E. Lee and other Confederate memorabilia be removed from the courtroom where his trial is scheduled to begin in May.
Attorneys for Darcel Nathaniel Murphy said the images "could be interpreted as glorifying, memorializing, or otherwise endorsing the efforts of those who fought on behalf of the Confederate cause or its principles" in a 12-page motion filed last week, the Richmond Dispatch-Times reported.
Murphy is charged in the shooting death of Kevin Robinson, 43, in March 2016. Two others are charged in the slaying, but only Murphy faces the death penalty.
The portrait of Lee overlooks the Louisa County courtroom and smaller ones commemorating the Confederate military service of others are also present.
The motion said Lee and the Confederate flag "both have been appropriated for racist purposes and have been used to instill fear amongst African-American citizens."
The presence of Confederate symbols and icons in the courtroom violate their client's right to equal protection under the law, the motion said.
"Even though the defense is satisfied that the court harbors no racial bias, the message being sent by the presence of Confederate symbols and icons in the courtroom can have a powerful influence on other participants and observers, such as jurors, witnesses, family of loved ones involved in this case, and the citizens of Louisa," they contend.
Rusty E. McGuire, the Louisa commonwealth's attorney, told the newspaper that he can't comment on pending litigation but that his office reviews all motions and responds as appropriate. A Nov. 8 hearing is set for the case.