Mother who had the nation's first septuplets dies at 63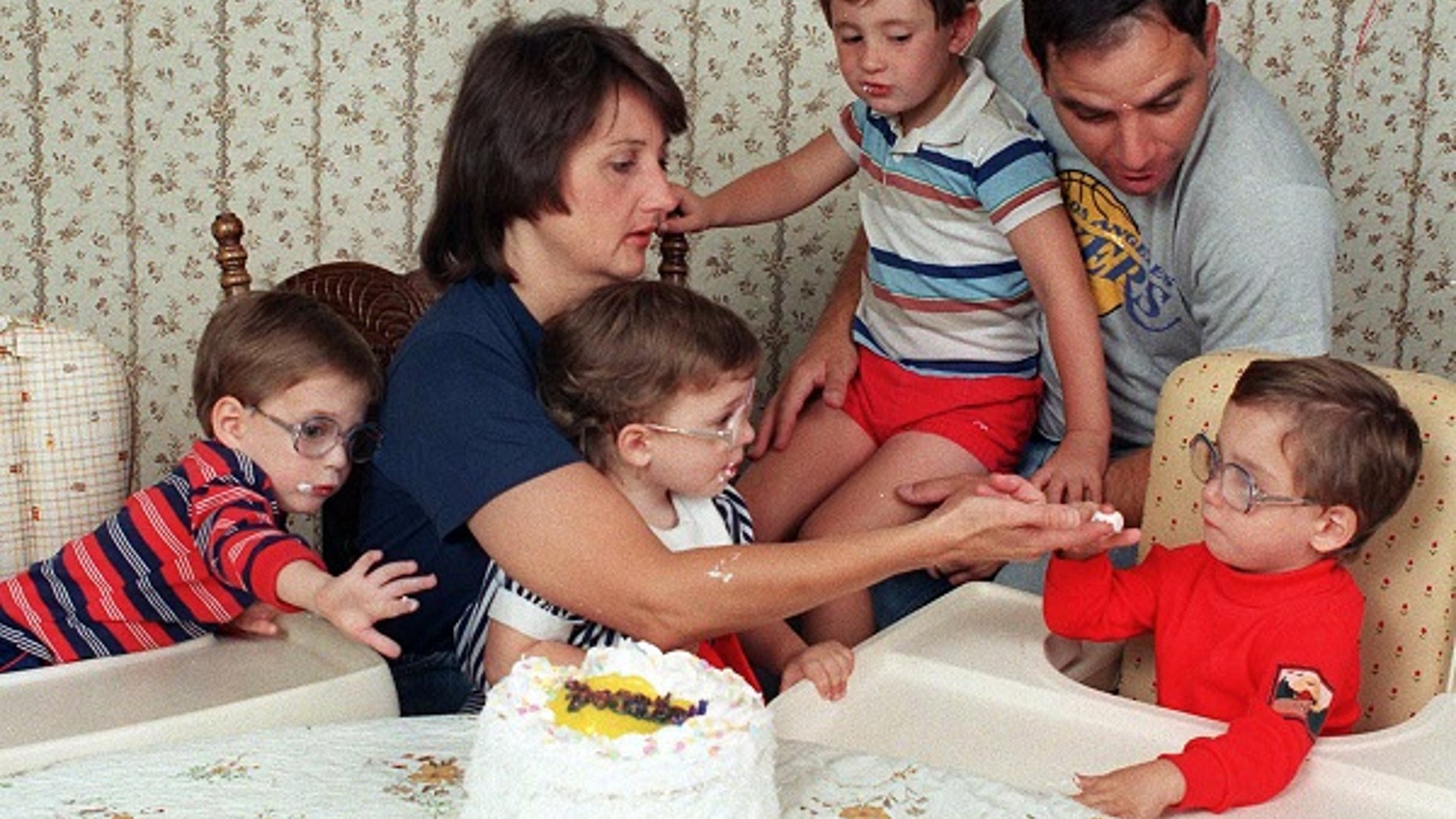 The mother who made national headlines in the 1980's after she gave birth to seven children has died. She was 63.
Patricia Frustaci, who suffered from pulmonary fibrosis, died Saturday, Feb. 10, 2018, at a San Diego hospital, her eldest son, Joseph Frustaci of San Diego, Calif. said Wednesday.
Frustaci, an English teacher in Riverside, gave birth to seven children in 1985 after undergoing fertility treatments. At the time, it was the largest multiple births in the United States.
While Frustaci was pregnant, doctors suggested that she get an abortion to avoid health problems but the mother was a member of the Church of Jesus Christ of Latter-day Saints, which disagrees with abortion, The New York Times reported.
MOTHER PLEADS GUILTY IN SAVAGE DEATH OF TORTURED CALIFORNIA BOY, 8; EXPECTED TO GET LIFE IN PRISON
"With our religious background and all we had gone through to have kids, that just wasn't an option," Frustaci told The New York Times in 1985.
However, the birth was complicated. The babies were delivered 12 weeks prematurely by cesarean section and had a number of serious health problems. One girl was stillborn, and two boys and a girl died within weeks.
Frustaci was in the hospital for more than a week recovering from the birth.
Medical expenses soon topped $1 million. The family sued the fertility clinic, Tyler Medical Clinic in Los Angeles and Dr. Jaroslav Marik alleging wrongful death of the four children and negligence that led to health problems for the surviving children. The suit also alleged Frustaci was prescribed a much too high dosage of Perganol.
"There is not a day that goes by that we don't talk about them," Frustaci, speaking of the dead children, said in a deposition. "There is not a day that goes by that I don't look at their pictures."
The clinic later settled the lawsuit without acknowledging wrongdoing. It agreed to pay $450,000 and to provide monthly payments to the surviving three children for life.
Despite the settlement, the financial troubles, the publicity and the stress of looking after children who needed around-the-clock care took a toll on Frustaci, who also had bipolar disorder, her son said.
Joseph Frustaci also said the media coverage and the criticism from outlets made it hard for her to mourn the loss of her children.
CALIFORNIA DENTIST ACCUSED OF MURDERING MOTHER IN HER BEVERLY HILLS HOME FOR FINANCIAL GAIN
"Really, all she wanted was to be a mother, and I think the media got in the way, for a time, of her being able to be a loving and nurturing mother," he said.
Frustaci was able to have more children following her difficult birth. In 1990, after using the same fertility drug, Frustaci gave birth to healthy twins. That boy and girl are now college graduates, Joseph Frustaci said.
The mother and her husband, Samuel Frustaci, divorced in the mid-1990s. She and Samuel married in 1981. After the divorce, Frustaci lived with her eldest son and his family.
Of the surviving septuplets, the girl is now a happily married mother of two, one boy lives alone and the other lives with his father, Joseph Frustaci said.
Frustaci also is survived by five grandchildren and a sixth "on the way," he said.
Joseph Frustaci described his mother as someone who quickly made friends and "squeezed every drop out of life."
"She was the funnest person I've ever known," he said. "She made regular, mundane errands an adventure.
"We miss her terribly, we miss her deeply," he said.
The Associated Press contributed to this report.