Morning brief: North Korean missiles may not have effective re-entry tech, analysts say
NORTH KOREAN MISSILES STILL LACK EFFECTIVE RE-ENTRY, ANALYSTS SAY
North Korea may have finally developed a missile capable of hitting the U.S., but whether it can do any actual damage is open for debate, according to some analysts. U.S. and South Korean experts said Tuesday that Japanese video footage capturing the Hwasong-14's re-entry vehicle shortly before it crashed into the sea suggests it failed to survive the extreme heat and pressure after re-entering the Earth's atmosphere following its launch from northern North Korea last week. The apparent failure likely means the rogue regime will conduct more flight tests of the Hwasong-14 missile to ensure the warhead could survive the re-entry from space and hit its intended target.
NORTH KOREA'S NIGHT LIGHTS SHOW IMPROVING ECONOMY DESPITE SANCTIONS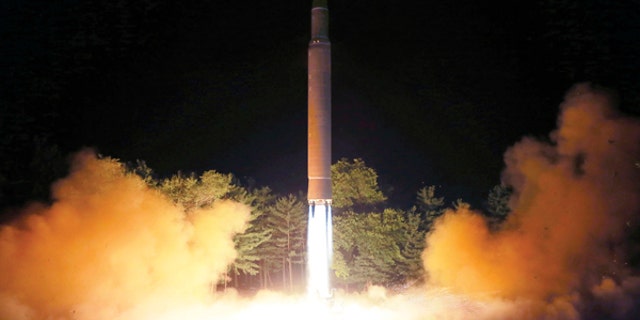 NORTH KOREA UNVEILS 'HOTEL OF DOOM' AFTER YEARS OF SETBACKS
SEN. LINDSEY GRAHAM APPEARS ON 'THE STORY WITH MARTHA MACCALLUM
Sen. Lindsey Graham tells Fox News the Republicans deserve to be "politically horsewhipped" if they don't try again to repeal and replace ObamaCare -- and on Monday he revealed details of his new plan. Despite rocky results in the Senate last week, Graham, R-S.C., is urging the Senate to continuing working on alternatives. Speaking to Dana Perino on "The Story with Martha MacCallum" on Monday night, Graham advocated for his own alternative: a plan that he has assembled with Louisiana Sen. Bill Cassidy.
GRAHAM: 'MR. PRESIDENT DON'T LET US QUIT' ON HEALTH CARE
TRUMP TARGETS CONGRESS MEMBERS' OWN HEALTH PLANS AFTER OBAMACARE REPEAL FALLS FLAT
CONGRESSMAN CALLS FOR MUELLER'S RESIGNATION
Rep. Trent Franks, R-Ariz., is calling on Robert Mueller, special counsel for the Justice Department's investigation into Russia's election meddling, to resign. Franks, who sits on the House Judiciary Committee, said in a statement Tuesday that Mueller is in violation of the law that prohibits Mueller from serving as a special counsel if he has a conflict of interest. Mueller and former FBI Director James Comey have been longtime allies dating back to 2003 when the men both worked in Washington, Mueller as the FBI Director and Comey as Deputy Attorney General. Franks cited the pair's relationship as a reason for Mueller to be disqualified from the probe.
FAMILY MEMBERS: VENEZUELA OPPOSITION LEADERS TAKEN FROM HOMES
Two opposition leaders in Venezuela were taken from their homes Tuesday, according to family members who say that President Nicolas Maduro was responsible. Leopoldo Lopez and Antonio Ledezma were already under house arrest when they were taken, according to Reuters. Both had called for Venezuelans to join protests against Maduro for his creation of an all-powerful legislative body. Lilian Tintori, Lopez's wife, wrote on Twitter about her husband's apparent abduction. "12:27 in the morning: the moment when the dictatorship kidnaps Leopoldo at my house," she wrote on the social media site.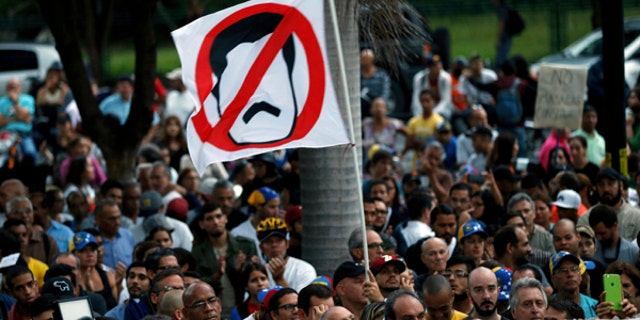 TRUMP ADMINISTRATION HITS VENEZUELA'S MADURO WITH SANCTIONS AFTER 'SHAM' VOTE
SCARAMUCCI REMOVED AS WHITE HOUSE COMMUNICATIONS DIRECTOR
President Trump's headline-grabbing communications director Anthony Scaramucci was shown the door Monday after just 11 days on the job – as retired Gen. John Kelly took command of the White House staff, moving swiftly to impose order on a West Wing gripped for weeks by infighting. White House Press Secretary Sarah Huckabee Sanders would not confirm reports that Kelly personally requested Scaramucci's removal --  but she made clear that the former Homeland Security secretary now has full control of the staff. "General Kelly has the full authority to operate in the White House, and all staff will report to him," Sanders said, adding there are no other anticipated staff shakeups in the works.
BEHIND SCARAMUCCI'S REMOVAL AS WH COMMUNICATIONS DIRECTOR
FORMER TRUMP ADMINISTRATION OFFICIALS, FROM SCARAMUCCI TO COMEY
COMING UP ON FNC
7:00 AM ET: Vice President Pence will make remarks in Georgia.
12:00 PM ET: Attorney General Sessions speaks with law enforcement executives about the DOJ's commitment to support law enforcement and reinforce rule of law. Watch live on FoxNews.com.
3:00 PM ET: President Trump participates in event with small businesses.
FOX BUSINESS COVERAGE
Slow July auto sales hint at late summer discounts (Click here for more)
Paul Ryan meets with DC powerhouses amid tax reform concerns (Click here for more)
COMING UP ON FBN
6:00 AM ET:  David Zaslav, Discovery Communications CEO, will appear on "Mornings with Maria."
7:00 AM ET: Ken Lowe, Scripps Networks CEO, will appear on "Mornings with Maria."
8:30 AM ET: Mack Mclarty, former White House Chief Of Staff under President Clinton, will be on "Mornings with Maria."
10:45 AM ET: Legendary NFL QBs Brett Favre and Kurt Warner will be guests on" Varney & Company."
12:00 PM ET: Dr. Ezekiel Emanuel, Obamacare architect, will be on "Cavuto: Coast to Coast"
3:00 PM ET: - Paul Reilly, Raymond James CEO will be a guest on "Countdown to the Closing Bell"
3:00 PM ET:  Terry Duffy, CME Group Chairman and CEO, will appear on "Countdown to the Closing Bell"