Mom shields 12-day-old baby in deadly California bus crash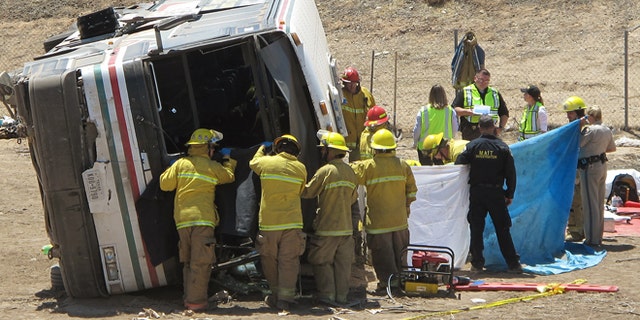 A 12-day-old 'miracle' baby survived a deadly crash early Wednesday that claimed the lives of four people after her mother shielded the newborn in her arms.
NBC Los Angeles reported that Ana Perez, the mom, said two passengers next to her died. She was breast-feeding her daughter at the time of the crash.
"(The driver) was trying to avoid it, but it was too late," she told the station. The bus, which was travelling from El Paso, Texas, to Los Angeles, struck a load of metal pipes scattered across a dark highway west of Blythe, Calif., at about 2:15 a.m.
Only moments before the crash, the pipes tumbled from a flatbed truck that jackknifed after drifting into the dirt median on Interstate 10, the main road linking Southern California and Arizona, the California Highway Patrol said.
After the bus struck the pipes on the remote stretch of desert roadway, it slid down an embankment and overturned. In addition to the four dead, at least seven passengers were seriously injured, officials said.
The bus was about three-quarters through its 800-mile trip from El Paso, Texas, to Los Angeles. Authorities believe there were 33 passengers aboard, but they were checking that against the trip manifest. Seven passengers were seriously hurt and taken to hospitals, and 14 others sought evaluation of minor injuries, according to CHP officer Jason Gerard.
Neither driver was hurt.
The Associated Press contributed to this report.